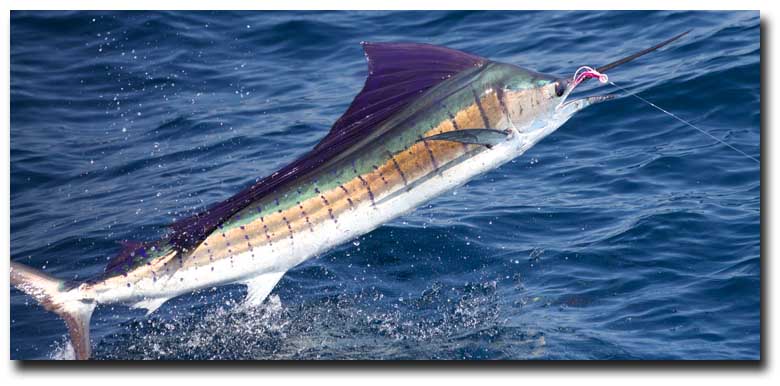 One of most exciting moments in flyrodding is watching an 8-foot long sailfish, lit up with neon and iridescent blues and greens, charge into the spread thrashing his bill trying to destroy your teaser bait! Your heart pounds as you await the call for "neutral" so you can pitch a 9-inch hot pink fly at this psychedelic beast. And when he pounces on your fly and tears off at 65 miles per hour, you'll know beyond any doubt you're attached to one of the world's greatest gamefish.
While there are a number of destinations where you can fulfill this fantasy, Guatemala is the undisputed Sailfish Capital of the World. In the past 25 years, as sportfishing evolved in this country, Guatemala has turned the sportfishing world upside down, shattering records with astounding numbers like Capt Ron Hamlin's 126 sailfish releases in a single day, or Capt Chris Sheeder's 57 sailfish on fly in a single day!
And today, anglers can enjoy this incredible fishery, from the comfort of world class Gameboats with world class captains and top shelf accommodations at the beautiful Casa Vieja Lodge. Casa Vieja is comparable to any of the world's finest fishing lodges with spacious and luxurious accommodations and amenities, 5-star cuisine and a pampering staff.
Casa Vieja's fleet is comprised of 6 fully rigged, state of the art sportfishermen ranging from 37 to 40 feet, skippered by some of the world's most respected blue water captains. And new this season are 2 superfast 35 foot Contender center consoles offering smaller groups a more economical alternative to experience this incredible fishery. All the Casa Vieja boats are equipped with top of the line conventional and fly tackle. Just bring yourself!
Besides incredible numbers of sails, Guatemala provides opportunities for marlin, dorado, tuna, roosterfish and more. Click or Tap here for more information on Casa Vieja Lodge.
Costa Rica
Costa Rica is a great alternative, particularly for families interested in both fishing and non-fishing experiences. Prior to the discovery of the Guatemala sailfishery, Costa Rica was considered the premier Pacific sailfishery, and also offers a broader diversity of species.
Crocodile Bay Resort
Crocodile Bay Lodge on Golfo Dulce is a great choice both for hard core anglers and families looking for a vacation, as well as a fishing trip. Situated minutes from the entrance to Corcovado National Park, Crocodile Bay offer a wide range of non-fishing activities ranging from ecotours to zip lines to sailing, surfing, paddleboarding, or just relaxing by the Olympic size pool or being pampered by a treatment at the lodge's 4,000 sq. foot Spa! Click or Tap here for more information on Crocodile Bay Lodge.
JP Sportfishing
Further north lies the beach resort town of Quepos, also a great fishing destination set in a charming village flanked by world class resort hotels and some of Costa Rica's most spectacular beaches in nearby Manuel Antonio National Park. We've worked with JP Sportfishing of Quepos for over 25 years. They have a great fleet of 32 foot class day boats with experienced crews, and feature relatively short runs to blue water and the abundant sailfish found there from December through April. Click or Tap here for more information on JP Sportfishing.
And for those looking for a customized, privately guided tour experience, Rudy Guzman's Fiesta Tours has been dazzling Angler Adventures' clients with incredible tours and unparalleled personalized service for over 25 years. Some of the most popular tours include the Monteverde Cloud Forest, Arenal Volcano, Tortuguero, and Manuel Antonia areas.
Give us a call and we'll hook you up!
This post is over 1 year old. Contact Angler Adventures for current pricing and discounts.