Enchanted Lake Lodge is located on 54 private acres within beautiful Katmai National Park. The lodge is perched high on a knoll overlooking Lake Nonvianuk and Enchanted Lake and offers breath-taking views in every direction. With the Kulik and Alagnak Rivers reachable by boat, and the Moraine, Funnel, Battle and American Creeks, as well as the Brooks, Big Ku, and Kvichak Rivers a short flight away, Enchanted Lake Lodge is perfectly situated for trophy rainbow trout. And that's what they do!

If you're looking to pursue big rainbows with a fly rod, this is the lodge for you. Early season dry fishing is followed by salmon fry on the surface, and both provide exciting sight fishing opportunities. Once the salmon drop their eggs in July, fishing egg patterns turns into high gear. The guides are focused on one thing, catching you the biggest rainbow of your life.
The trout fishing season at Enchanted Lake Lodge runs from June through September, offering a variety of Alaskan trout fishing experiences.
All of Enchanted Lake Lodge's seven guides have a wealth of fly fishing experience in the Katmai region and have all worked in Alaska numerous years before coming to Enchanted Lake Lodge.This allows guides to cater to each guest's specific abilities and desires.
Each morning Enchanted Lake Lodge's professional Alaskan guide staff meets guests at the lodge's private airplane dock. Once aboard one of the lodges immaculately maintained DeHavilland Beavers, anglers are flown to one of the countless trout streams in the surrounding wilderness. Typical flights are short – 15 to 20 minutes – since the fishing lodge is situated in the heart of some of the world's best rainbow trout fishing. Anglers will spend the rest of the day exploring a diversity of unpressured Alaskan trout water.
Lunches are served a field, over-looking a favorite run or the native Alaskan wildlife. A usual day consists of eight to nine hours of fishing.
The start of the Alaskan fishing season in early June means diverse trout fishing methods: dry fly, nymphs, salmon fry, and streamers. The areas biggest hatches occur as the weather warms during June, making this the best time for catching large, surface-feeding rainbow trout on the dry fly.
This time of year also brings the salmon fry migration. These salmon hatchings from the previous summers spawn are a favorite of rainbow trout, which chase them aggressively and without caution. The majority of takes are explosive, surface busting strikes. Anglers usually fish the smaller streams with dry flies and larger rivers with streamers. The end of the month brings both the Sockeye salmon and King salmon into the waters surrounding Enchanted Lake Lodge.
The 4th of July typically marks the height of the sockeye salmon run in the northern Katmai. As the sockeye migration increases, the salmon fry migration comes to a close, though the dry fly fishing can still be spectacular. July is a transition month at Enchanted Lake Lodge, as the effectiveness of standard fly-fishing methods gives way to egg fishing. For anglers looking to experience the great variety of techniques for catching big trout, this is the month.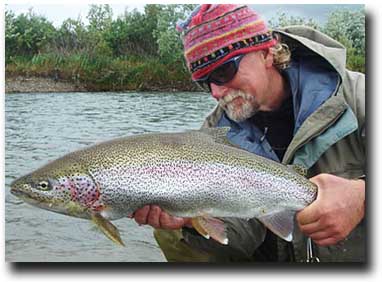 August is the best month for egg fishing for Alaskan rainbow trout. The trout move into streams and gorge themselves on eggs as the salmon begin to spawn. Alaskan rainbow trout are gluttons this time of year, as they must store fat for the approaching winter. Much of the August fishing is done by sight casting to large individual rainbows.
As the sockeye begin to die off in September, the egg fishing slows to a stop. The rainbow trout move toward the outlet streams and tail waters and are typically caught by swinging large streamers. This is the time for Alaskan streamer fishing at its best: fish are strong and extremely fat yet somehow still very hungry. They have a lot of water to work with, however, and are a challenge to land in larger streams. Some of the largest trout are hooked during this time of year.
Like many Alaska fly-out fishing lodges, Enchanted Lake Lodge lays in dramatic contrast to the rugged landscape in which it was built. Enchanted Lake Lodge provides the luxury and service one would expect from any world-class resort.
Eight cedar guest cabins, each with its own private bath, allow a maximum of 12 guests to live in comfortable privacy. The main lodge offers a complimentary bar, well-stocked with fine wines, beer, and liquor. Appetizers are served each evening by the fire while guest lounge in comfortable, over-stuffed furniture in the great room, which is decorated with the flare of the Alaskan fishing lodge: Alaskan animal furs, mounted fish and native Alaska artwork. Outside are several decks offering unparalleled views of the Alaskan wilderness. Dinners are gourmet and served in a glass-enclosed dining room in front of panoramic, pristine views.
An experienced, professional staff is always on call to cater to each guests expectations and preferences. Enchanted Lake Lodge makes guest's comfort, fishing and safety their highest priorities.
In addition to an unparalleled angling experience, the lodge offers the opportunity to view and photograph the many natural wonders and abundant wildlife in Katmai Park. Flightseeing and photographic excursions are easily arranged to any number of sites, including the vast caribou herds of the Alaska Peninsula or the Walrus herds at Puale Bay. Katmai is also home to a huge bear population as well as moose, caribou, wolves and the American Bald Eagle. Enchanted Lake Lodge is your doorway to all that the Katmai National Park has to offer.
Our Services are Free!
Enchanted Lake Lodge 2020Rates
Rates are subject to change.
The 2020cost is $11,500.00 per person, per week (7 nights/6 days fishing).
Included: 7 nights double occupancy accommodations, all meals, all beverages, including alcohol, table wines, 6 days fly-out, guided fishing, fishing licenses, use of all boats and motors and scheduled flights to and from the lodge and King Salmon on Sundays. Some restrictions apply.
Not Included: flights into and out of King Salmon, Alaska.