North Riding Point Club, located on the South Shore of Grand Bahama Island is not only one of the finest bonefish lodges in the Bahamas, but also provides access to one of the best fisheries for trophy bonefish in the world. And this amazing fishery is relatively easy to get to. The Club is located just 20 miles east of Freeport International Airport putting world class bonefishing within 30 minutes of Miami and 2 1/2 hours of New York by air.
The 80 mile long North Shore of Grand Bahama, where North Riding Point Club guests spend much of their fishing time, contains several hundred square miles of flats, inlets and mangrove-covered cays. This is perfect habitat for large bonefish and harbors them in strong number. The pressure is relatively light compared with many other areas in the Bahamas and these bonefish will take a well presented fly readily.
The North Shore of Grand Bahama is home to some of the largest bonefish in the Bahamas. Bonefish in the 10 to 12-pound range, considered a rarity in most areas, are fairly common sights while fishing at North Riding Point Club. Much larger bonefish, including world record class fish in the 15 + pound range have been weighed and released! A safe estimate for the average bonefish landed at North Riding Point Club is a remarkable 5 to 6 pounds.
The Club itself is situated on the ocean side (South Shore) of the island, which also offers some excellent fishing. The South Shore flats are clean, white sand ocean flats that also harbor big bones. And due to the proximity to deep water, large permit are frequent visitors to these flats. There is a productive wading flat right out in front of the lodge for diehard anglers.
Grand Bahama also offers some of the most consistent permit fishing in the Bahamas. While most abundant during the spring months, permit are encountered on both the North and South Shores any time of year when the water temperatures are to their liking. Also during the spring months, migratory tarpon will make an appearance on the flats, making Grand Bahama one of the few Bahamian islands offering shots at tarpon. North Riding Point Club practices strict catch and release fishing.
North Riding Point Club covers a huge fishing territory, taking advantage of six different boat launches up and down the coast (4 on the North Shore, 2 on the South Shore). Rather than taking long, pounding boat runs to the fishing grounds, guests ride 10 – 40 minutes in comfortable, air-conditioned Ford Explorer SUV's, trailering their skiffs to a specific launch site, predetermined by wind, tides, weather and time of year. For North Riding Point Club guests, this means you will fish the best available areas based on prevailing wind and weather conditions, and frequently you are casting to fish within minutes of launching.
North Riding Point Club has six 18-foot Hells Bay Marquesa skiffs with 90-hp Yamaha 4-strokes and an extremely shallow drafting 17-foot Chittum Snake Islamorada powered by a 70 hp Yamaha.  Each boat has a padded U-shaped leaning post on the casting deck, a center steering console, two comfortable bucket seats for anglers in front of the console, automatic trim and tilt engines. Much of the bonefishing is done from one of these skiffs as it is poled across the flats by the guide. However, in many areas the flats are hard sand and the wading can be first rate.
The guide staff is among the most experienced in the Bahamas – many have been with the lodge since it opened in 2001. They enjoy seeing their anglers catch these beautiful fish and will frequently go the extra mile to make that happen.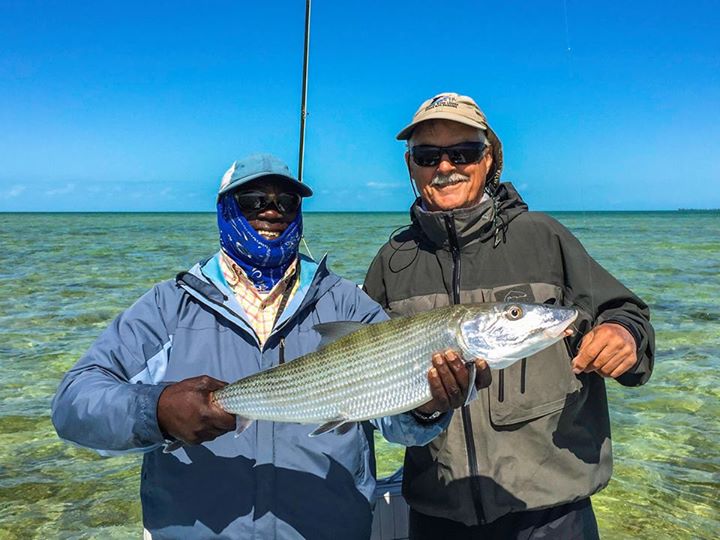 North Riding Point Club is situated on six acres of land with some 400 feet of frontage on the ocean. The main lodge and guest cottages are spaced along the white sand beachfront.
North Riding Point Club's main lodge contains the kitchen, dining area, lounge and bar, plus a guest bedroom. There is also a nicely appointed tackle shop carrying a limited numbers of rods, as well as a good selection of flies, lines, leader material, and other assorted tackle and hats and clothing for sale.
North Riding Point Club can accommodate a total of 14 anglers. The Founder's Cottage has 2 double bedrooms and a common living room area, and accommodates up to 4 guests. 8 guests are accommodated in 2 duplex beach front cottages, each with 2 bedrooms. Another 2 guests are accommodated in the guest room in the main lodge. Each of the guests rooms has 2 plush queen sized beds, private bathroom (with separate tub and shower), extensive walk-in closet space, wall safes and wet-bar refrigerators. French doors open onto individual large porches facing the beach. These are some of the most spacious and luxurious accommodations in the Bahamas.
Each guest room has wi-fi Internet connection as well. The fresh water swimming pool located between the lodge and the guest cottages is a popular gathering spot after a hot day on the flats.
The meals at North Riding Point Club are nothing short of gourmet fare, presented by their award winning Executive Chef, Christian Cappellato  and his capable staff.  Prior to joining NRPC in 2019, Chef Christian, originally from Padua, Italy was Executive Chef at the famous Cappucinos in Freeport.   He offers a "Land or Sea" choice each evening and his menu features the freshest of local seafood such as snapper, lobster and conch to elegant meat dishes such as roasted game hen to rack of lamb. Everything from breakfast to dessert, including Chef's inspired picnic lunches for the boat, will please the most discriminating palate.
North Riding Point Club has benefited greatly from the leadership of Paul Adams, who was hired as their General Manager in 2013. Having literally grown up at a world class fishing operation in the Bahamas, Paul has a unique skill set including insightful local knowledge, a passion for fishing, and extensive lodge management experience. Paul always has a back up or contingency plan for everything (including an extra SUV, skiff and trailer) so that any possible "glitch" is corrected almost immediately. Paul's enthusiasm and attention to detail is reflected in the entire staff's commitment to providing the highest level of service. Having booked North Riding Point for more than 2 decades, we can attest that the Club has simply never run more smoothly than under the management of Paul Adams.
For the flats fished out of North Riding Point Club, we find a 9-foot graphite rod for a 9-weight floating line to be ideal, paired with a dependable, salt-water resistant single-action reel and at least 200 yards of backing to be the best all around set-up for Grand Bahama's big bonefish.
Bonefish flies are generally tied on sizes 2 to 8, with 4's & 6's the most frequently used sizes. Patterns that seem to work consistently well are the Gotcha, Bonefish Clouser, Mini Puff, Horror and all the variations of the Crazy Charlie. The Bully Special, created by NRPC guides, Bully Beavans, tied almost entirely from copper Krystal Flash (they can't miss it!) has been quite effective on big bones at NRPC.
North Riding Point Club operates from mid-October through the end of June, the best times for Bahamas bonefishing.
Our Services are Free!
Contact us for Seasonal Discounts, Special Offers or Promotional Pricing
NORTH RIDING POINT CLUB 2022 – 2023 RATES and RESERVATIONS
(Rates subject to change)
Prices are Per Person

3-nights /
2-days fishing

4-nights /
3-days fishing

5-nights /
4-days fishing

6-nights /
5-days fishing

7-nights /
6 days fishing

Double Occupancy

$3,624.00

$4,779.00

 $6,132.00

 $6,995.00

$7,667.00

Single Occupancy

$5,505.00

$7,485.00

 $9,086.00

 $9,950.00

$11,451.00
Founders Cottage: a surcharge of $175 per night
Included in the Rate: All airport transfers (round-trip transportation from Freeport Airport to the Club is provided by local taxi service); daily guided fishing; daily maid service, breakfast and dinner served in the lodge (with complimentary wine and liquor) and picnic lunches daily for the boat.
Not Included in Rate: guide's tips (recommended minimum $100 per boat per day); housekeeping / kitchen gratuities (recommended $40 per person per day); trips to Sale Cay; rental tackle; Bahamas Value Added Tax; Bahamas fishing license.
Non-fishing rate: North Riding Point Club offers a non-fishing rate throughout the season. Please call for non-fishing rates.
Check-in Time:  any time after 2:00 pm
Check-out Time:  before 12 noon
However, these times are flexible depending upon flight times for both incoming and outgoing guests.
Local taxi service provides transportation to and from the airport.  However, if desired, there are several car rental companies in Freeport and taxi service is available through two or three major companies, as well as privately owned and operated cabs.