Cayo Largo (Long Cay) is a small (16 mile long) island located on the south coast in the small Canarreos Archipelago, between JDR and Isla de la Juventud. Avalon took over management and exclusive use of this phenomenal fishery in 2008. Like Jardines de la Reina (JDR), Cayo Largo and surrounding cays in this Archipelago are a national park. There's no commercial fishing and hence, very little boat traffic. The fishing is restricted to 12-rods, fly only and all catch and release.
This area offers spectacular bonefishing on miles of hard bottomed white sand flats. Bones here are big and will average close to 4 pounds with many fish in the 6 – 10 + pound class. Until the recent development of the north shore Cayo Cruz fishery, Cayo Largo was also considered the premier permit fishery in Cuba. It was here that Avalon fishing program manager, Mauro Ginepri developed and perfected the now famous Avalon fly, which has accounted for over 500 fly caught permit on Cayo Largo! While bones and permit are available year round, permit fishing best April thru August when the permit spawn.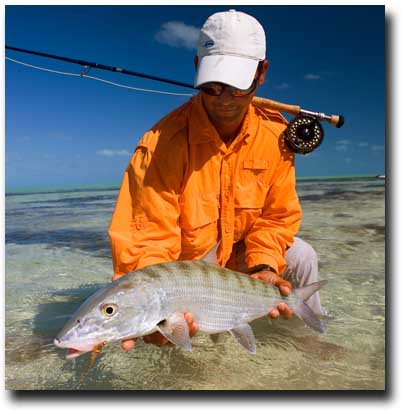 Resident tarpon from juveniles to 50 + pounds are present year round, and larger migratory tarpon are taken from late March through June. The migratory tarpon can range upwards of 100 pounds. Other available species at Cayo Largo include snook, barracuda, mutton snapper, and jacks.
Accommodations on Cayo Largo are land based, either at the 4-star beach resort hotel, Melia Sol Club Cayo Largo, a popular choice for anglers traveling with non-fishing spouses. Or, hardcore anglers may opt for the less luxurious Villa Marinera, located right at the marina. The Sol Club is a beautiful all-inclusive Resort located on the southern shore Cayo Largo del Sur. It offers a total of 296 comfortable rooms with a terrace or balcony overlooking the ocean, including 8 Junior Suites and 52 deluxe rooms. This is the perfect destination to bring along a non-fishing wife or girlfriend. The hotel provides a broad array of services and attractions: a club House for daytime activities, three restaurants, Spanish classes, cocktail and cooking classes, party hall, karaoke night club, a dive school nearby, health Center with gym, sauna, massages at bargain prices, jacuzzi and steam bath, two tennis courts with artificial lighting, multi-purpose courts, bikes, ecological excursions, dancing classes, water sports center for non-motorized water sports, Cuban Club for cultural activities, and theater.
The beginning of the season from November to January is very good, with plenty of bonefish (especially big ones) on the flats and mangrove areas. Fishing for tarpon and other species can also be excellent. The climate is warmer than in the Bahamas with an average temperature of 75*F in January. Peak fishing season is from February to June, when all species are present in the area. Tarpon, bones, permit and jacks will all be encountered during these months. The migratory tarpon, are regularly spotted during this time period and shots at permit are very frequent. This is peak season for the Gland Slam. Numerous are achieved each season as well as a few Super Grand Slams (Tarpon, Bonefish, Permit and Snook) on Cayo Largo.
Cayo Largo also has an international airport just 5 minutes from the resort making it the easiest of the 4 Avalon destinations to get to. The airport also services international arrivals from Canada and Europe. We expect to see direct flights from the US sometime in the future. In the interim, the standard itinerary includes a Friday to Sunday schedule, as follows:
Friday: Arrive & Overnight in Havana
Saturday: Fly 30 minutes from Havana to Cayo Largo & Transfer 25 minutes by car to the Cayo Sol
Sunday – Friday: 6 days fishing
Saturday: Transfer 25 minutes from Cayo Sol to Cayo Largo and fly 30 minutes from Cayo Largo to Havana and Overnight
Sunday: Depart Havana
Our Services are Free!
Please call Angler Adventures 1-800-628-1447 for Pricing Details on Cayo Largo, or for help picking the right Cuban destination for you.
Included: Reception in Havana Airport; all transfers from Hotel in Havana – Cayo Largo – Hotel in Havana; 2 nights accommodation in double room base in 5-star hotel in Havana (on arrival and departure) with breakfast included; 7 nights accommodations; all meals while in Cayo Large; 6 full days fishing (two people per skiff); limited beverages.
Not Included: International Airfare; VIP service on arrival at the Havana Airport; Meals and drink in Havana beyond Breakfast; Fishing tackle (please notify of interest in rentals at time of booking); Cuban Visa; Departure Tax; Gratuities; Personal expenses; Beverages other than stated above; Taxi Transfers Havana Airport – Hotel – Havana Airport; Diving.
Traveling to Cuba Overview
2015 will be remembered in Angling history as the year it became legal for US Citizens, in possession of a "people to people" travel letter from the non-profit fisheries research and conservation organization Bonefish Tarpon Trust (BTT), to sport fish in Cuba.
2015 is also the year travel restrictions were lifted, making it legal for US airlines to fly to Cuba, US travel agents to book travelers to Cuba and US insurance companies to offer travel insurance to US Citizens traveling to Cuba.
Angler Adventures has been assisting a limited number of US anglers traveling legally to Cuba for several years. But, the easing of restrictions in general and the travel license from BTT in particular, opens the door for any US angler wanting to fish Cuba.
What hasn't changed (and will take years to catch up) is the tourist infrastructure within Cuba and the transportation network to Cuba. Traveling to Cuba is still complex. We recommend using a knowledgeable, qualified travel agent, whether it's your first trip or your twelfth.
In addition to having a staff of fishing experts, Angler Adventures is a full service travel agency, licensed to sell travel insurance. Angler Adventures can assist you in selecting a fishing location in Cuba, prepare you for what to fish for and what to bring, assist you in obtaining the travel letter from the BTT, assist with your Cuban Visa, create the most efficient travel itinerary for you and your group and offer you the protection of travel insurance for trip cancellation, trip interruption, emergency medical evacuation, and more.
Call us today at 1-800-628-1447. There is so much more we'd like to share with you about this fascinating country and phenomenal saltwater fishery.