New Zealand is home to some of largest Brown and Rainbow Trout in the world and creates truly special fishing opportunities. New Zealand's trout can reach 15 lbs and while there are only few of these monsters caught each year, the average trout is still an amazing 3 – 6 lbs! Trout fisherman often dream of making casts to these huge, wild rainbows and browns that lurk in New Zealand's crystal clear rivers, streams, and lakes that are surrounded by an extraordinary landscape filled with exotic plants and hulking peaks.
New Zealand trout fishing is spectacular, and anglers who visit New Zealand once, return year after year. They often return home with stories like landing a 7 lb rainbow that moved over 5 feet from behind a boulder to take a big grasshopper imitation or watching a brown slowly rise up through 6 feet of water to inhale a nymph in almost perfectly transparent water. These are the type of moments that make the fishing in New Zealand special however, much of the New Zealand experience comes from the Deluxe Fishing & Hunting Lodges that have established themselves on both Islands and can make a fishing trip unforgettable!
The Deluxe Fishing Lodges we represent are among the top lodges in New Zealand. They each offer luxury accommodations, excellent gourmet meals, world-class guide staffs, access to New Zealand's top trout water, and a list of activities for the non-fishing guest or for anglers who want to experience more of New Zealand than just the trout fishing. Whether you choose to fish surrounding rivers, take exciting Helicopter fly ours to remote rivers and streams, relax around the lodge, or participate in the many non-fishing activities New Zealand has to offer, we can customize any trip to your personal desires.
North Island, New Zealand
The trout on the North Island of New Zealand are primarily Rainbows, but there are a good number of Browns in the North Islands River's and Lakes. The Rainbows of New Zealand are derived from Steelhead strains, making them extremely hard fighters. This also means that the Rainbows that have taken up residency in the lakes, will move to their spawning streams in the New Zealand fall.
Poronui Ranch is one of the top lodges in the world, priced at half the cost of Alaska. Poronui also has the most private water under contract (over 16,000 private acres), two on-property rivers, and offers helicopter fly-outs to wilderness streams, almost guaranteeing that you will be fishing a beat that hasn't seen an angler for 10 days or more. Poronui Ranch is a Deluxe Lodge, with luxury accommodations (made up of a main lodge and 7 individual guest cabins), outstanding gourmet food with a regional feel, a wine cellar with over 10,000 bottles covering most recognized vintages, a modern sports and relaxation center with gym and health club facilities (like steam and sauna rooms and massage rooms), and a cigar room, which includes a full-sized antique English billiard table.
Legendary guide Tony Hayes established Tongariro Lodge in 1982, so anglers could experience one of the world's finest trout fishing regions in the world, Anglers who visit Tongariro can easily see why Tony found that the Tongariro River and Lake Taupo region provided some the world's best trout fishing. Expert guides at Tongariro Lodge maximize the potential of each angler, from beginner to expert, and Tongariro's strategic location, in the middle of the Lake Taupo region, grants anglers access to over 40 rivers, streams, and lakes. Stalking trout at Tongariro Lodge is truly the fishing experience of a lifetime.
This top-notch fishing lodge was created with the New Zealand experience in mind. The lodge itself is strategically located in a park like setting, allow guests to enjoy the New Zealand landscape, flora and fauna. Tongariro also offers superb gourmet meals (with an international reputation for using only the best New Zealand game and preparing delicious traditional New Zealand dishes) accommodations in comfortable elegance, and exceptional selection of the finest wines.
The lodge also has a diverse list of outdoor activities that will highly impress family and friends that choose to hang back, relax or indulge in all New Zealand has to offer. It is not hard to imagine that Tongariro has consistently surpassed angler's expectations for more than 25 years.
South Island, New Zealand
New Zealand's South Island is famous for the large wild Brown Trout that fill the island's rivers, lakes, and streams and the remarkable fishing opportunities those trout create. The Browns average 4 – 5 pounds, will readily eat large dry flies, and aren't nearly as selective as the North American cousins (the hatches are not as drastic in New Zealand as they are in North America, making NZ trout more opportunistic than selective).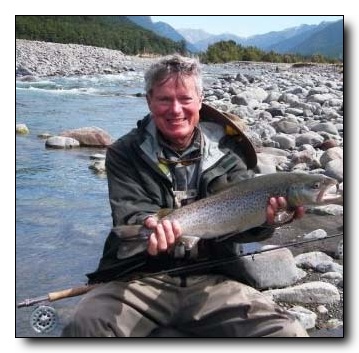 One of the unique features of the South Island, the Southern Alps, makes this part of New Zealand a great trout fishery. The high mountain peaks help protect the northern part of island from weather moving in from the south west and collects substantial rainfall, which creates the cool, crystal clear, freestone streams where these large browns thrive. This mild climate, that creates such wonderful trout fishing, also makes the northern section of the island, New Zealand's most important wine-producing land.
Owen River Lodge is an outstanding contemporary lodge, located in the heart of the best brown trout fishery in the world, the Murchison / Nelson Lakes area of New Zealand's South Island. Owen River is within an hours drive from 30 excellent brown trout rivers and streams, and has access to countless remote water by helicopter. Owner / Manager Felix Borenstein has truly created the ideal place to experience New Zealand's sight fishing for large brown trout in luxury accommodations. Owen River Lodge is also the only 5 star fly fishing lodge in New Zealand.
On the South Island we also recommend: Riverview Lodge, Hanmer Springs; Riverview Farm Lodge, Queenstown; Fjordland Lodge and Blanket Bay Lodge. Please call or email Angler Adventures for more information on these lodges.
New Zealand is a very unique destination, offering visitors fantastic fishing, fabulous vineyards and wineries, breathtaking landscapes, and friendly "kiwi" hospitality, which is unlike anywhere else in the world. Angler Adventures' expertise in planning and implementing detailed itineraries is unsurpassed. We can arrange varied itineraries for experienced anglers or for couples and families, who want to experience the trip of a lifetime.
In addition to the lodges described above, we also represent a number of other destinations on both islands in New Zealand. So, if you don't see a location you are considering listed on our website, the chances are we can arrange your accommodations and much more.
The general trout season in New Zealand is October through April. However, the Tongariro River stays open year round and fishes well May-September.