Alphonse Island Fishing Company (AIFC) is the sole outfitter offering access to the famed flats fishing of St. Francois Island. AIFC is limiting the number of anglers fishing these flats to 12 per week. With no other outfitters allowed to fish these flats, this arrangement promises those 12 anglers exclusivity, which is rare these days.
Guests stay at the fabulous Alphonse Island Resort and a new bonus is single room accommodations which is included in the price.
The Seychelles consists of dozens of islands stretching hundreds of miles north of Madagascar. These islands are a mixture of spectacular, lush, mountainous granite outcroppings and low lying atolls, typical of coral atolls elsewhere in the world, such as the Turneffe Islands, Los Roques and Christmas Island.
The three islands serviced by the Alphonse Island Resort are Alphonse, Bojitier and St. Francois.  They offer rich marine life and complete isolation. None of these islands have permanent residents.
Alphonse Island Fishing Company employs a team of five Seychellois guides. This team represents dozens of years of fly fishing experience. They are enthusiastic and knowledgeable about all aspects of fly fishing and they were chosen for their good people skills.
For daily fishing, the Alphonse Island Fishing Company transports clients the several miles between Alphonse Island and St. Francois Island in a 40-foot catamaran called Tam Tam. Guides then take each pair of anglers among a multitude of diverse flats around St. Francois.Some fishing, such as casting to drop offs for trevally, rainbow runners or dogtooth tuna, is done from the skiff. Otherwise, virtually all the fishing at St. Francois is done wading.
There is adequate bonefishing on Alphonse Island (there are flats within walking distance of the lodge), but the bonefishing on the larger flats around St. Francois is better.  Bonefish around Alphonse and St. Francois average 3-5 pounds, but guides can often find much bigger fish. Eight pounds is the upper range of the fish you will commonly find in the ankle to knee-deep water that comprises the majority of this fishery. Bigger fish are apt to frequent deeper flats.
The best months to find larger bonefish (over 8 pounds) on the flats are May and September, however, these months can be windy and are recommended for experienced casters.
The most striking thing about the bonefishing in Seychelles is that under the right conditions you can stand in one spot for hours and watch hundreds of bonefish pour by in the course of a tide. If you don't think you're seeing enough "big" bonefish, just move.
The flats fishing is not limited to bonefish, although the bonefishing is so good, particularly on the incoming tide, it often overshadows other species seen on the flats.
Milkfish are the second most prolific species on the flats aside from bonefish. Milkfish are incrediby powerful, challenging game fish, growing over 30 pounds. It is common to see 20-30 pound milkfish cruising and tailing just like a bonefish. Medium to large milkfish usually travel alone or in groups of 2-6 fish.
Also seen on the flats are barracuda, triggerfish, trevally and a few African pompano, which look and act very much like a permit. Lemon sharks patrol in good numbers and the occasional tiger shark is seen.
Unlike the bonefish, milkfish are vegetarians and will not respond to a moving fly. However, the Seychelles guides have discovered flies and techniques proven very effective on milkfish, long thought to be uncatchable on a fly.
Giant trevally can be found on the flats occasionally, although they are more common, along with bluefin, bigeye and black trevallys, in the surf along the reef and in the deeper water of the lagoon. The majority of the trevally are in the 10-15 pound range. While trevallys have been caught up to 80 pounds, 30 pounds is the upper end of what you might encounter on a typical trip.
Deep sink line blind fished in deeper water can produce trevally, rainbow runners, dogtooth tuna, jobfish, and more. One angler even hooked a sailfish blind casting a Clouser along a drop off. The guides have nick-named this type of fishing "species bashing;" you never know what's going to hit your fly next.
The Alphonse Island Resort is pleasant, attractive and comfortable. The resort, consists of 25 chalets and each angler gets his own room, which is a standard beachfront chalet. Couples are provided similar double accommodations. The food is outstanding. The resort has a state-of-the-art desalinization plant. Each room comes with air conditioning, ceiling fans, refrigerator, large double sink, bath and outdoor shower.
Our Services are Free!
Contact us for Seasonal Discounts, Special Offers or Promotional Pricing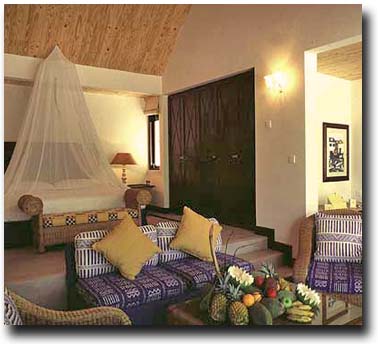 Alphonse Island Fishing Company

All packages are based on 7 nights/ 6 days fishing. With only 12 rods available per week, guides cannot be booked by the day or for stays of less than 6 fishing days.2018 – 2019 Rates
(Rates subject to change)

Accommodations

Fly Fishing
(Per Person)

Beach Bungalow

$9,495

Beach Villa

$12,995
This Rate Includes: air charter from Mahe to Alphonse, round trip; VIP meet and greet at Mahe airport; 7 nights single occupancy accommodations; all meals; 6 full days of guided fishing, two people sharing boat and guide; fishing permit.
This Rate Does Not Include: international airfare; beverages (except coffee & tea); gratuities; baggage overweight charges levied by airline; meals and accommodations in Mahe; conservation levy ($175 per person); any extra transportation services required on Mahe; items of a personal nature including fishing tackle, and any other items not specifically listed in the inclusions.