The Delphi Club at Rolling Harbour is a new luxury bonefishing lodge on Great Abaco Island, close to some of the best bonefishing in the Bahamas. The club overlooks an idyllic beach, with panoramic views of the Atlantic Ocean, on the east coast of Great Abaco, about half an hour south of Marsh Harbour. Delphi's an 8-bedroom lodge, designed in the 18th century colonial plantation house style, with large wrap-around verandahs. The lodge's 5 private acres elevate the secluded and tranquil lodge more than 50 feet above sea level. The grounds are surrounded by manicured gardens of bougainvillea, frangipani, oleander, hibiscus, ficus and a wide variety of palms. The lodge's target clients want a beautiful place to stay, with sun, sand & great food, with a particular focus on fly fishermen in search of somewhere special to relax when not out bonefishing on the world-class bonefishing flats of the Marls and Cherokee Sound.
The west side of Abaco offers anglers top quality bonefishing on productive flats that receive far less fishing pressure than some the better-known islands in the Bahamas. The Delphi Club fishes the Marls on the west side of Abaco and Cherokee Sound, on the east side of the island. The Marls offer over 200 square miles of first-class bonefishing flats and are famous for their numbersof bonefish in the 2 – 3 pound range, occasionally up to 7 lbs. A record fish in the Marls would be 9 pounds. The Marls bonefish are typically aggressive feeders that will charge a fly. Anglers may also get an occasional shot at permit and tarpon while fishing the Marls during the summer. Cherokee Sound offers gorgeous sandy flats with extensive wading opportunities. The bonefish in Cherokee Sound are typically larger than the bonefish in the Marls (3 – 5 lb average, up to 12 lbs), however they can be "spooky" fish and challenging to catch. To access the quality fishing in the Marls and Cherokee Sound, Delphi has purchased four new 16′ Dolphin skiffs that are run by brand-new 40-HP Yamaha engines. Each boat has a removable leaning bar and seats with backrest to ensure that anglers are comfortable during the fishing day. The skiffs are trailered by new Toyota Hi-Lux crew cab pick up trucks 5 minutes to Crossing Rocks, 15 minutes to the Marls and 20 minutes to Cherokee Sound.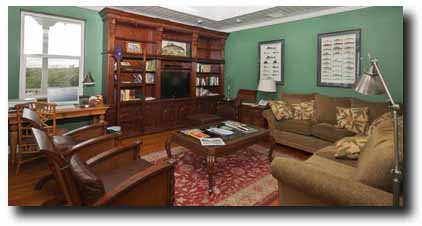 Delphi currently fishes up to four local guides and draws from a pool of talent including: Donnie Lowe, Dana Lower, Robin Albury from Cherokee Sound and Ishy Williams, Tony Russell, Darren Russell and Joe Brodie from Crossing Rocks. The guides are assigned on a rotation basis so you are apt to fish with each of them during a weeks stay.
The Delphi Club at Rolling Harbour was created in the image of Peter Mantle's Delphi Lodge in Ireland. The main house of The Delphi Club is luxurious, more so than your typical fishing lodge, and consists of a Great Room, a Library, a gallery and 8 well-appointed bedrooms. The Great Room is the center of the house and features an enormous dining table, a discreet honor bar, comfortable seating, and stunning views through a number of glass doors. The Great Room is decorated with fine antiques and fishing paraphernalia, providing this common area with character and elegant atmosphere. The adjacent library is well stocked with a variety of books and features (with some reluctance) the Delphi's only TV. Other amenities include an infinity pool, patio with sun loungers, and massage services.
The Delphi Club has a total of eight bedrooms; six are on the first floor and 2 are on the third floor, along with the gallery that also contains the fly shop. Four bedrooms have an oversized King bed and four bedrooms have twin queen sized beds. Each bedroom is decorated with art work and has a private bathroom with shower, Air-Conditioning, a large closet and chest of drawers, desk and chairs, safe, iron and ironing board, and a private deck. The private decks offer beautiful views and are furnished with a sun lounger and a small teak table with two chairs.
Delphi is especially well regarded for it's gourmet meals and extensive wine cellar. Delphi employs a chef from Ireland who has been trained and worked in several Michelin-starred restaurants in Europe. His food is simple, fresh and delicious, making optimal use of local ingredients. Delphi's exceptional wine list is fairly priced and can be paired with the gourmet evening meal for an excellent dining experience.
Non-Angling Activities
Delphi offers a number of options for non-fishers, in addition to relaxing on the club's private beach or reading a selection from the library with a glass of wine at the pool. Private scuba lessons in the pool; guided dives to spectacular coral reefs; golf in Winding Bay or Treasure Cay (20 or 60 minute drive respectively); guided snorkeling; big game fishing (charter boats based out of Marsh Harbour or Sandy Point); miles of beachcombing along Abaco's amazing sandy coastline; boat trips to the charming outer islands; massage and beauty treatments by the pool; shopping for local crafts in Marsh Harbour; or guided nature trips to explore the amazing wild life and flora of Abaco.
The Delphi Club Rates
October 2022 – July 2023
Our Services are Free!
Contact us for Seasonal Discounts, Special Offers or Promotional Pricing
| | | |
| --- | --- | --- |
| Package | Double Occupancy | Single Occupancy |
| 7 Nights / 6 Days Fishing | $7,999 | $12,700 |
| 5 Nights / 4 Days Fishing | $5,450 | $8,720 |
| 4 Nights / 3 Days Fishing | $4,350 | $6,870 |
| 3 Nights / 2 Days Fishing | $3,145 | $4,900 |
Rates Include: Accommodations; Guided Fishing; All meals; Transfers Marsh Harbour to Delphi, round-trip; Bahamas Value Added Tax.
Rates Don't Include: International Airfare; Beverages (Alcoholic or Non-Alcoholic); Tackle; Lures; Flies; Gratuities; Items of Personal Nature; Bahamas fishing license.
The Non-Angler rate is $525 per person per night (subject to change).
Delphi Club has a stocked fly shop with the following: Hardy rods, reels, and fly lines, Rio leaders, and tippets, flies, sunscreen and lip protectors, shirts, caps and t-shirts. Peter Mantle's diverse fly selection includes the classic bonefish patterns, like Charlies, as well as custom patterns like the Delphi Daddy. Flies sell for approximately $5 each.
(Rates subject to change)
Delphi Club also has a limited number of rental rods: Hardy fly rods and reels which rent for $20 per day. Otherwise, we recommend that you bring your own tackle suitable for bonefish, barracuda and shark, the most prominent species at Delphi Club. While shots at permit and tarpon are rare, you may want to bring suitable equipment for each, just in case.