While eastern Canada is blessed with many great quality Atlantic salmon rivers in a number of the provinces such as Labrador / Newfoundland, Nova Scotia and New Brunswick, strong argument can be made that the best Atlantic salmon fishing, and certainly the largest of Canada's Atlantic salmon are to be found in "La Belle Province", Quebec on the beautiful Gaspé Peninsula.

A trio of world-class salmon rivers flow from the Gaspé's Chic Choc Mountains southward to the Bay of Chaleur, the Grand Caspcapédia, the Petite Caspcapédia and the Bonaventure. The Grand, while mostly private, is known as one of the world's top producers of trophy Atlantic salmon, producing 10 or more fish over the magical 40 pound mark each season. However, the Bonaventure and the Petite Caspcapédia Rivers are also capable of producing trophy size salmon as well as impressive numbers. And compared with the arduous travel necessary to reach some other provinces, these Gaspé rivers are easily reachable by car from the northeast states, or by service into nearby airports.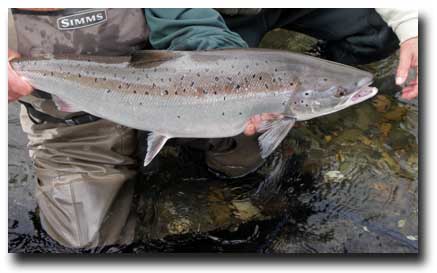 All three of these rivers are no more than an hour's drive from each other and all three may be fished from anyone of a trio of world class salmon lodges. The tremendous advantage is if one of the rivers is not fishing well, these lodges can shift to one of the other rivers, affording anglers the best possible opportunity for good sport. Moving from west to east, these lodges are:
The Salmon Lodge is situated on the Grand Caspcapédia. Built in the late 1800's, this historic Lodge brings anglers back to the era of Atlantic salmon fishing in the "Grand Old Style". The Salmon Lodge is the closest to the Lake and Salmon Branches of the Grand Caspcapédia, and as such, may fish these Grand more often than the other two. They also rotate fishing quality water on both the Petite Caspcapédia as well as the Bonaventure.
Formerly The Canadian Salmon Club a private camp for over 90 years, The Club on the Bonaventure is now open to the public offering access to the most productive stretch of the Bonaventure River. Guests enjoy 5-Star accommodations, gourmet cuisine and pampering attention. 6-rods have exclusive use of 7-miles of river with 26 major pools on the coveted B3 and B4 sectors of the Bonnie.
Camp Bonaventure is one of Quebec's newer salmon lodges. Built in the early 1990's, this elegant contemporary lodge is located on the banks of one of Canada's premier dry fly rivers, the gin clear Bonaventure River, and offers access to trophy waters on the famed Grand Caspcapédia as well as the crystalline Petite Caspcapédia.