The Bahamas offers some of the best, most varied bonefishing in the world. Consisting of dozens of large islands and hundreds of undiscovered smaller cays, the Bahamas sees the creation of new bonefishing lodges at the rate of 2-3 every year. Some of these new Bahamas bonefishing lodges are rustic and remote; others are constantly setting new precedents for quality of accommodations, food, service and bonefish guides available to flats fishing enthusiasts.
No travel agency knows the Bahamas fishery better than Angler Adventures. Staff members Evan Peterson, Doug Schlink, and Liam Rosati make annual trips to the Bahamas and over the past 25 years have accumulated vast experience with the lodges and expansive flats in this beautiful country.
We recommend the Yucatan or Belize for variety of fishing, particularly where permit and tarpon are concerned. But the Bahamas is the place to go for bonefishing.
Please read the Bahamas bonefishing overview below and click on any lodge links for more photos, information and specific pricing.
Andros Island
Andros Island is the largest island of the Bahamas and also offers some of the biggest bonefish anywhere in the world. Five and six pound fish are common. Fifteen pounders have been landed. Andros Island also offers an incredible diversity of flats fishing along the coasts of three distinct bights.
North Andros Fly Fishing is an intimate operation, giving 4 – 6 anglers access to the famous bonefishing on the Joulter Cays' 20 miles of extensive hard sand flats – a wade fisherman's paradise. North Andros Fly Fishing also provides access to the west side of Andros, which offers large bonefish, resident tarpon, and occasional permit.
Located about mid-way down the east coast of Andros Island, Tranquility Hill Lodge and the Andros Island Bonefish Club have good access to the North and Middle Bights and hundreds of square miles of prime Bahamas bonefishing flats as well as the uninhabited west side of Andros.  The flats and creeks on the west side also occasionally produce tarpon.
The Andros Island Bonefish Club has been an icon in Bahamas bonefishing for 20 years. This is the lodge that got things going on Andros. In May 2003, owner Rupert Leadon purchased the adjacent Creekside Lodge (formerly Cargill Creek Lodge). These combined lodges bring many of Andros Island's best bonefishing guides under one roof.
Tranquility Hill Lodge is located at Behring Point, Andros, overlooking the island's North Bight. Tranquility Hill was constructed in the early 90's by legendary Bahamaian bonefish guides Ray Mackey and the late Ivan Neymour. For nearly 20 years Tranquility Hill has offered comfortable, attractive accommodations for 16 anglers and access to the legendary bonefish flats of the North Bight of Andros. Ray is both manager and head guide presiding over a staff of extremely talented guides, many of them members of the Mackey and Neymour families. Tranquility Hill is not only a perennial favorite of Angler Adventures clients but is one of the best values in quality Bahamas bonefishing lodges.
Kamalame Cay has taken Bahamas bonefishing and luxury lodge pricing to a new plateau. Owners Brian and Jennifer Hew represent a new breed of entrepreneurs in the Bahamas. Nothing was spared in their drive to create elegance in this lodge and spa operation located on a private cay in north Andros Island. Located at Stainard Creek, Kamalame Cay angling guests chase bonefish fish on Andros' nearby eastern shore. In addition, the fishing lodge gives guest the option of driving approximately 40 minutes north to fish the much-heralded Joulter Cays. The Joulters are noted for huge populations of bonefish, extensive wading flats and frequent permit sightings. Kamalame Cay employs 8 full time guides and owns a fleet of new and reconditioned Maverick Mirage skiffs.
Middle Andros Island
With the proliferation of lodges on North Andros (above), The Middle Bight of Andros Island has at least one world class bonefishing lodge to offer as well. Mangrove Cay Club is on the south shore of the Middle Bight and offers lodging, food and guided bonefishing on a par with the best lodges in the Bahamas. Mangrove Cay Club also provides access to a part of Andros which has been traditionally under-utilized.
South Andros Island
Click here for an update on the South Andros fishing.
In recent years the southern tip and southwest side of Andros Island, Bahamas, has become one of the hottest bonefishing destinations in the world. South Andros is a relatively new spot on the angling map and is comprised of vast, unpressured flats, tidal creeks, mangroves and unique inland lakes. Check out our report from Evan Peterson's recent trip to Mars Bay Bonefish Lodge Andros.
Bair's Lodge, located slightly south of Kemps Bay, South Andros, is a small but extremely well run bonefishing facility. It is of our perennial Bahamas favorites.
Formerly Bair Bahama Guest House, Bairs Lodge was purchased in May 2003 by Fernado de las Carreras, owner of several successful trout lodges in Tierra del Fuego. The lodge has since been totally renovated. Everything is top shelf. Bair's offers incredible bonefishing on the southern tip and southwest side of Andros.
Andros South (formerly Bonefish Bay Club) offers alternative access to the flats of South Andros and single occupancy accommodations are provided to all anglers. Deneki Outdoors owner, Andrew Bennett, has made numerous upgrades to the facility since taking over operation of Andros South. As we expected, Andros South has quickly become one of the island's most popular lodges.
Pleasant Bay Bonefishing Lodge is a small family owned and operated lodge in the second southernmost Township in South Andros. This location is ideal since it means shorter boat rides to the bonefishing flats of South Andros, as well as access to areas like Grassy Creek and the West Side. Pleasant Bay has been one of South Andros' best-kept secrets and has proven to be one of the islands shining stars.
The southern-most bonefishing operation is Mars Bay Lodge. American manager/owner, Bill Howard, offers simple and clean accommodations and close proximity to prime bonefish flats (Mars Bay is 5 miles further south than any lodge on Andros and offers the quickest access to the wilderness flats of South Andros). With a maximum occupancy of 8 anglers Bill is limiting reservations to 6 anglers at a time. The location, experienced guides and Bill's meticulous attention to detail makes Mars Bay a great choice for anglers primarily interested in bonefishing.
West Andros Island
Flamingo Cay Rod & Gun Club is the only fishing lodge situated on the legendary west coast of Andros. This gives Flamingo Cay Club an extraordinary advantage over any other lodge on Andros in terms of accessing the least fished flats. Andros' west side is also home to some of the biggest bonefish in the Bahamas. Given it's remote location (guests are flown in by private float plane), we would describe Flamingo Cay Club as luxurious. It's not inexpensive, but there's nothing else quite like it in the Bahamas. Space is limited to 8 guests.
Abaco
The Marls refers to the 300 square miles off the west coast of Abaco. This prime and virtually untouched bonefish habitat is mainly comprised of soft-bottom flats, creeks, cuts, and miles of mangroves.
The marls of Abaco have new luxury lodge: The Delphi Club at Rolling Harbour. It's an excellent choice for anglers interested in fly fishing the world class bonefisheries of the Marls and Cherokee Sound, who want a special place to relax after a day of fishing, with or without non-angling companions. The Delphi Club is a colonial plantation style lodge with a spectacular ocean front location located 30 minutes South of Marsh Harbour. The lodge can accommodate 16 guests in 8 well-appointed bedrooms.
Nervous Waters, owners of the successful and popular Bair's Lodge on Andros Island, opened Abaco Lodge in May 2009. Abaco Lodge offers anglers direct access to the northern and central sections of the Marls (the marls are literally steps from the lodge). The lodge takes up to 8 angers at a time, each with their own room. At Abaco Lodge you can expect comfortable and well appointed accommodations, world class cuisine, top of the line boats operated by seasoned, expert guides, and a management & staff committed to providing the utmost in service and attention to detail.
For the wading angler, the best walking flats in the northern Bahamas can be found on the southern tip of Abaco at Sandy Point. Sandy Point offers some good permit fishing too. There are two bonefishing lodges based in Sandy Point: Pete and Gay's Guest House and Rickmon Bonefish Lodge. Accommodations have been upgraded at both lodges.  With good weather the guides can make the one-hour run to Mores Island, a location revered for big Bahamas bonefish, permit and mutton snapper.
Grand Bahama
Grand Bahama has several of the finest bonefishing establishments in the Caribbean. Grand Bahama's bonefish population and close proximity to the U.S. makes it a very popular destination.
North Riding Point Club, one the finest and most luxurious bonefish lodges in the Bahamas, is conveniently located 20 miles east of Freeport.  The North shore of Grand Bahama is truly a world-class fishery and consistently produces world record class bonefish. For discriminating anglers looking for the best lodge and the best fishing, NRPC is clearly the choice.  Click here to read about "What's New" at NRPC, including a fly caught 14 pound bonefish.
Grand Bahama Bonefishing is located in the Port Lucaya section of Freeport. Grand Bahama Bonefishing operates 5 boats and guides including the famed Pinders (formerly of the Deep Water Cay Club). Guest are accommodated at the Westin or the Sheraton hotels in the impressive Radisson Our Lucaya Resort complex, making this a popular choice for families or mixed groups of fishermen and non-fishers.
Water Cay Bonefish Lodge is located on a small cay off the North Shore of Grand Bahama.  There's so much remote and wilderness flats, that you'll forget the major city of Freeport is just over the horizon.
H2O Bahamas Bonefishing uses attractive hotel accommodations in the Lucaya area. Run by passionate flyrodders and veteran guides, Greg Vincent and Jason Franklin, H2O's fishing program is well suited for both hard core anglers as well as those new to the sport. This location also appeals to families or mixed fishing & non-fishing members looking for general resort amenities and activities as well as world class flats fishing.
H2O has state a fleet of state of the art Maverick Mirage skiffs, an experienced and talented guide staff, and access to both the legendary north shore flats as well as productive flats on the south side when conditions dictate. Optional offshore fishing and No Boundaries packages may also be arranged for hard core anglers looking for the ultimate in Bahamas flyrodding.
East End Lodge is located at the East End of Grand Bahama Island.  East End Lodge's proximity to excellent bonefishing (250 square miles of bonefish habitat), the experienced guide roster, and focus on providing access to excellent fishing with quality accommodations at an affordable rate makes it a top choice for any angler considering a fishing trip to Grand Bahama.
The fabled Deep Water Cay Club is also located on Grand Bahama. Originally opened by Gil Drake and A. J. McClane in mid-50's, Deep Water Cay Club is a bonefishing institution that has historically hosted some of the Bahamas' best guides and enjoyed the biggest names in fishing as returning guests.

These lodges access some of the finest bonefishing in the Bahamas. The north shore of Grand Bahama is widely acknowledged as one of the three top locations in the world for big bonefish, and also harbors good numbers of large permit and a seasonal migration of mid-sized tarpon.
Water Cay Bonefish Lodge is located on a small cay off the North Shore of Grand Bahama.  There's so much remote and wilderness flats, that you'll forget the major city of Freeport is just over the horizon.
Acklins & Crooked Islands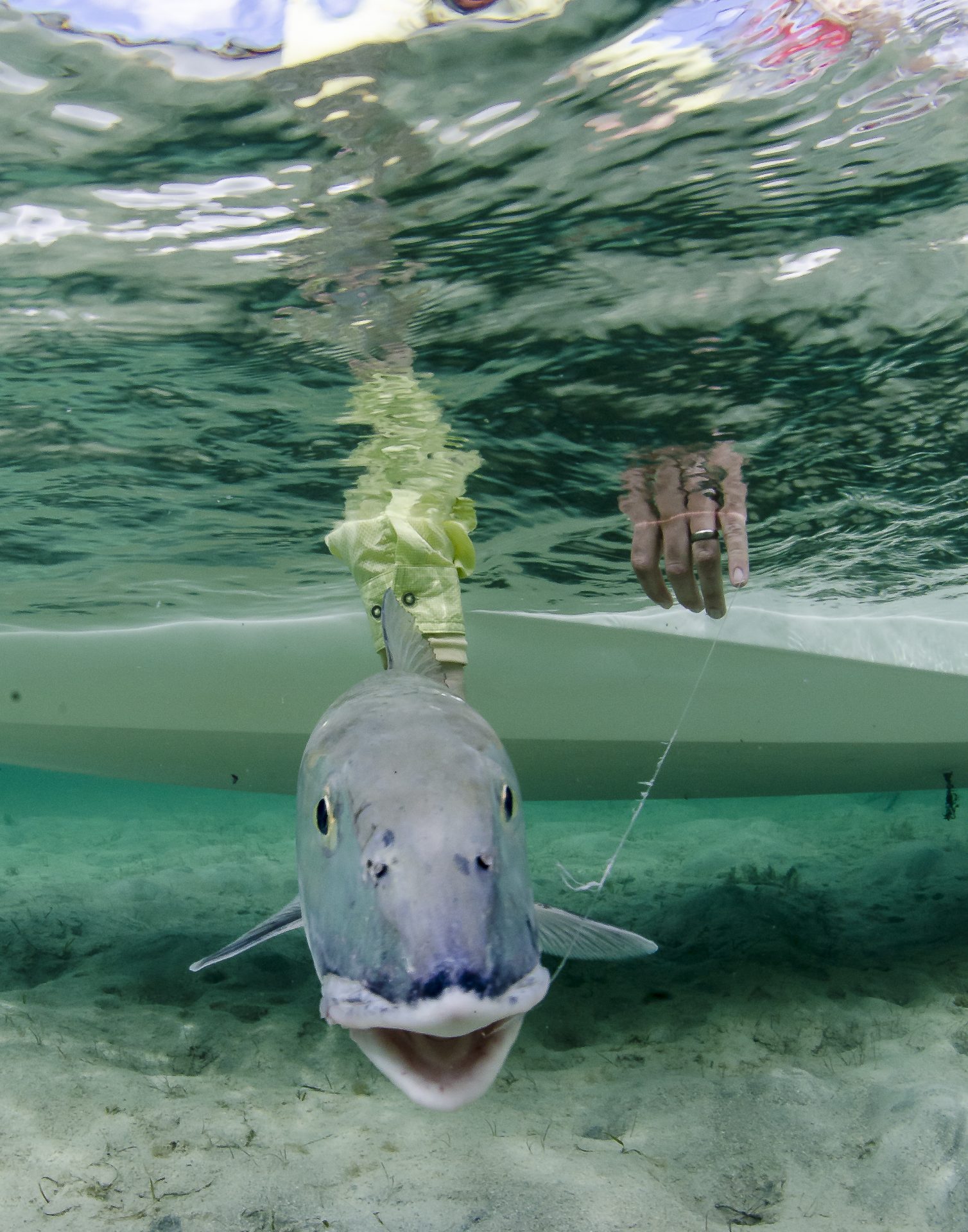 In the past two years we've witnessed a maturation of the outfitting options in the Crooked and Acklin Islands, which lie approximately 450 miles southeast of Miami, Florida.
Crooked and Acklins Trophy Lodge is located on the North Side of Crooked Island. The lodge gets its name from their central location to the best fishing areas on both Crooked and Acklins islands. While we still consider this a bonefish destinations, especially for anglers who love to wade, Crooked and Acklins Islands are among the best Permit destinations for angler interested in chasing permit in the Bahamas. There's a solid population of permit, with fish averaging right around 20 pounds virtually year round! While not as consistent, there is also a healthy population of resident Tarpon.
Anglers may also have shots at larger migratory Tarpon during late Spring and early Summer.
Our favorite bonefishing operation on Acklins Island, Grey's Point Bonefish Inn opened to customers in January 1997. The lodge is a beautifully renovated guesthouse perched on a hill overlooking Relief Bay on northern Acklins.   One of our favorite features is that more than 90% of the fishing from Grey's Point is wading on beautiful, firm bottomed flats, both on Relief Bay, and the appropriately named, Lovely Bay which is a 20 minute car ride from the lodge.  Both of these areas literally miles of lightly fished wading flats.
Crooked Island Lodge offers comfortable beachfront accommodations, prefect for husbands and wives wanting to experience the incredible fishing in the southern Bahamas. Crooked Island Lodge's bonefishing operation runs six flats skiffs fishing French Wells, the northern Bight of Acklins and Turtle Sound. Crooked Island Lodge also has good numbers of permit, and offer optional offshore fishing for wahoo, dorado, yellowfin and some marlin.
Traveling with a Non-Angler?
Stella Maris and Cape Santa Maria on Long Island, are Bahamian retreats that appeal to fishermen and non-fishermen alike, as does North Riding Point Club, H2O Bahamas Bonefishing and Deep Water Cay Club(described above).
Please call Angler Adventures for a comparison of various lodges. We have extensive experience with all of these facilities and love to share it!