Argentina is one of the top destinations to fly fish for trout. The fact that summer in Argentina is our winter only makes it more appealing. The fly fishing lodges and outfitters we represent in Patagonia Argentina span from Esquel to Junin del los Andes with Bariloche in the middle. This region represents the best trout fishing Argentina has to offer, including extensive wade and float fishing options (much of it on private estancias (ranches). The fishing season is open from November to May. November & December in Patagonia offer water and weather conditions similar to North America's Spring, January and February are like our summer, and March and April are similar to the Fall in the Rocky Mountians. Outstanding dry fly fishing is available all season long, but you need to know when and where. To put yourself in the right place and at the right time, please email or call Angler Adventures, we've been booking fly fishing trips to Argentina for 25 years.

Offering miles and miles of access to private waters on multi-thousand acre estancias with rainbows, browns and, in some cases, landlocked salmon in the San Martin de los Andes and Junin de los Andes area of Patagonia. Owner and principal guide, Alberto Cordero Biedma, offers fishing packages at six spectacular lodges (Arroyo Verde, Tipiliuke, San Huberto, Quillen, Collon Cura Lodge and Filo Lodge, and fishing on seven renowned rivers, The Traful, Chimehuin, Malleo, Quillen, Collon Cura, Alumine, and Filo Hua Hum. Alberto Cordero offers highly personal service and flexible scheduling allowing anglers to customize their fishing trip to Patagonia. Experience Argentina, First Class! The season opens in early November and closes the end of May.
The first and only lodge on the incomparable Middle Limay River. The lodge offers the easiest and most complete access to one of the richest fishing resources in Northern Patagonia (the areas North of Bariloche). The Limay River is a 50 mile stretch of tail water with a proven reputation for consistently producing large resident brown trout, strong rainbows, and enormous migratory browns. The Middle Limay River is a large river, with numerous channels, that offers a variety of fishing opportunities: Dry Fly fishing with large attractor patterns or matching the hatch to rising fish, nymphing fishy runs, or stripping streamers to imitate minnows or pancoras. Angler's searching for a little adventure or the "ultimate" Patagonian fly-fishing experience will find a trip to the Limay River Lodge unforgettable.
Moving south in Argentina our next trout-fishing lodge is set beside Lake Hess, at the base of Mount Tronador. Rio Manso Lodge is located 1 ½ hours south of Bariloche, Argentina and over looks the Manso River. Owner Roberto Pandolfi is knowledgeable and passionate about Patagonia, and his team of expert managers and guides share a deep knowledge of the waters surrounding the lodge. Rio Manso offers miles of wadeable streams as well as access to the protected lakes and rivers in Nahuel Huapi National Park via drift boat, belly boat, or skiff. Low fishing pressure around the lodge ensures large numbers of healthy browns, brookies, and rainbows.
Jorge Graziosi, the owner of Arroyo Claro Lodge, has been guiding in Patagonia since 1968. He's company was originally known as Safaris Acuaticos before he built his Arroyo Claro Lodge within walking distance of the Carrileufu River. No one knows the fishing in this incredibly beautiful part of the world better than Señor Graziosi and his brother Patricio Graziosi. Arroyo Claro Lodge is located in Cholila, one hour north of Esquel and three hours south of Bariloche. In addition to the Carrileufu, Arroyo Claro Lodge is close to a collection of fabulous rivers, such as the Rivadavia, Arrayanes, Menendez and the Canal Spring Creeks. Arroyo Claro Lodge also operates a 4-day float trip on the remote Chubut River, where you'll stop counting the number of deep-bellied trout you'll catch on dry flies. The season is early November – May 1.

Tecka Lodge is one of the most unique fishing properties in the world. Located 2 hours south of Esquel, in the Chubut Province of Argentina, Tecka holds more than 90 miles of fishable private water inside a 435,000 acre working estancia, 2 excellent, wildly diverse rivers: 45 miles of the Corcovado and 35-miles of the Tecka Spring Creek. The Corcovado (the Palena in Chile) is a deep river, holding large rainbows, trophy brook trout and browns, which is best fished using one the lodges 11 drift boats. The Tecka is a typical spring creek offering excellent wading and dry fly fishing for rainbows and browns up to 10 pounds.
As a working ranch, Estancia Tecka's main product is organic wool. The vast ranch is home to 80,000 sheep, 6,500 head of cattle, and 600 horses with a staff 85 members. With almost half a million acres, anglers' rarely see another person while fishing, except for one of gaucho's on horseback.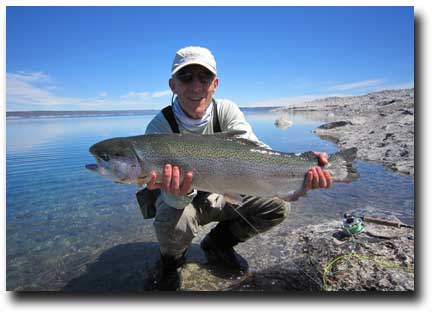 Jurassic Lake, locally known as Lago Strobel, is the place for trophy Rainbow Trout on a fly. Lago Strobel is a 40 square mile lake and the average Rainbow landed from Jurassic Lake is close to 10 pounds, with fish breaking the 20 pound mark caught almost weekly. Jurassic Lake is popular among anglers looking for their personal best Rainbow, but it's not a destination for everyone. It's located in the rugged Steppe Region of the Santa Cruz Province, one of the world's most desolate, windswept landscapes, 5 hours from the closest airport, El Calafate City. Anglers who make the long journey stay at Estancia Laguna Verde Lodge.
Unlike the short sea-run trout fishing season on the nearby Gallegos or in Tierra del Fuego, Jurassic Lake has excellent fishing for almost 6 full months, from November – April. Click or tap here to watch a video filmed at this amazing destination.
Pira Lodge in the Ibera Marshland of Northern Argentina offers 3,500,000 acres of the most exciting Dorado fishing in the world, while enjoying gourmet dinning and world-class accommodations. The freshwater Dorado, known as the "River Tiger" combines the strength of an Atlantic Salmon with the ferocity of a Tiger Shark. Opportunities to catch 14-18 pounders will surely put a bend in your rod!
In addition to the fantastic Brown, Rainbow, and Brook trout fishing the Patagonia Region has to offer, Argentina produces Golden Dorado fishing and Sea-Run Brown Trout fishing that rivals any Sea-Run fishing in the world. Please visit our Tierra del Fuego page for more information on fly fishing for bright Sea-Run Trout in Argentina.