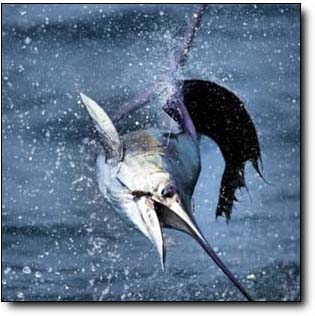 Guatemala is without question the Sailfishing Capital of the World. Guatemalan fishing boats typically average 15 – 20 sailfish bites per day, year round and during hot bites, it's not unusual to raise 30, 40 or 50 or more sailfish in a single day. The incredible numbers of sailfish have attracted some of the world's top international offshore captains to Guatemala and a fleet of comfortable and well equipped sportfishing boats. The top boats release over 2,000 sailfish a year.
Guatemala sailfish average 70 to 90 pounds and commonly exceed 100 pounds, especially are during the fall months. Much of the fishing takes place only 10 to 20 miles offshore.
But fishing in Guatemala in not just about sailfish – marlin, dorado (mahi mahi), and yellowfin tuna are the most common offshore species in Guatemala, and roosterfish are taken inshore. While not as abundant as sailfish, blue marlin are caught on a regular basis. They average 250 to 400 pounds, but larger fish in the 800 pound range have been released.
It's not unusual to encounter large schools of dorado running from 10 to 40 + pounds.These acrobatic gamefish are great fun on light tackle or 9-weight fly rods. But keep a sharp eye – big marlins are frequently found underneath these dorado schools!
There've been a lot of changes in Iztapa, Guatemala since Capt. Hank Robbins pioneered this incredible fishery in the early 80's. While there are many more boats, the fishing seems to get better. Incredible records have been set in recent years, like the legendary Capt. Ron Hamlin's astounding 124 sailfish release day on the Captain Hook, or Capt. Chris Scheeder's 57 sailfish on the fly in one day. Most importantly, the government of Guatemala has recognized the immense value of the resource, passing legislation not only mandating catch and release for sails, but making it illegal to possess any sailfish, effectively protecting the species from any commercial harvest. Such forward thinking will assure that the fishing for sailfish in Guatemala will remain the best in the world for many years to come.
The options for sailfishing in Guatemala have increased substantially since our first explorations with Capt. Hank 20 some years ago. New lodges and some of the world's top offshore Captains bring exciting new choices for anglers looking for world class fishing for sailfish. (Please click on links for rates and information):
Casa Vieja is a beautiful new lodge, located less than one mile from the marina, featuring the most luxurious accommodations, the best game boats in the country, and a stable of some of the world's most renowned blue water captains.
Pacific Fins purchased the well known Fins and Feathers facility and has thoroughly renovated the property in 2007.