Alaska
Big fish and lots of them!
Alaska is synonymous with catching big fish, and lots of fish, in an environment that is wild, rugged and plentiful, like few left on earth. In a week it is possible to catch 10 kinds of the world's greatest game fish, a different species every day. Or, you may choose to go with only one goal; catching the biggest Rainbow of your life. Everything is possible.
In the Bristol Bay watershed, where the lodges we represent are located, the season extends from mid-June to the end of September. The calendar below explains when each species can be caught. Many fisherman plan Alaska trips around one or more species of Salmon, realizing that Trout, Char, Dolly Varden, Pike, and Grayling are available season long.
If you want to pursue Rainbows with a dry fly, focus on June and July. But, if it's a trophy Rainbow you're after, they'll be several pounds heavier in August and September.
Most Alaskan outfitters operate on a weekly schedule, and range in price from $5,000 to $9,000 for 7-nights / 6-days fishing. The difference is largely a matter of accommodations and if the lodge provides daily fly-outs. Other price factors include: the number of boats and airplanes being utilized; how remote the location is; the ratio of customers to staff; fishermen to guides; and whether, tackle, transfers, licenses, and drinks are included.
Fly-out lodges provide tremendous mobility, allowing you to pick prime fishing areas within a 150 mile radius of camp, and by flying to different locations every day, you get to see the vast, spectacular scenery and wildlife Alaska is famous for.
Bristol Bay Area Fishing Calendar

Species
Available
Rainbow Trout (2 – 10 lbs)
JuneThru

September

Dolly Varden (2 – 10 lbs)
Arctic Char (2 – 10 lbs)
Arctic Grayling (1 – 3 lbs)
Northern Pike (5 – 10 lbs)
King Salmon
Average Size 20 – 30 lbs
Trophy Size 50 lbs
Late June thruJuly
Sockeye Salmon
Average Size 6 – 8 lbs
Trophy Size 12 lbs
Late June thruJuly
Chum Salmon
Average Size 7 – 10 lbs
Trophy Size 15 lbs
July
Pink Salmon
Average Size 3 – 4 lbs
Trophy Size 7 lbs
August
Silver Salmon
Average Size 8 – 12 lbs
Trophy Size 18 lbs
August thruEarly September
Fly Out Lodges
Selecting from the lodges we represent in Alaska is a choice of better and best. Mission Lodge is clearly in the category of best. Management, accommodations, food, aircraft, pilots, and guides all get an A+. You can catch Rainbows to 8 lbs on the Agulawok without having to fly out, but, if you want to fly an hour to the Kvichak or the Moraine for a monster, they'll do it. Through lease and permit, they've amassed prime fishing locations second to none. You won't have time to fish all of the river camps they've equipped with guides and jet boats. Their equipment is safe, top notch, and meticulously maintained. The daily orchestration of putting you in the appropriate aircraft to fish the best river, for what you want to catch, is executed with military precision. You'll be treated with the respect of a client and the care of a friend. You pay once and never reach into your wallet again (except for the gratuities, which you'll be anxious to pay). You need a raincoat and clothes, otherwise you'll be outfitted with top of the line fly or spinning rods & reels, waders, flies and lures.
Every piece of the puzzle fits perfectly in place. As all consummate professionals, Mission Lodge Staff make it look easy! You get to relax, joke, enjoy yourself, and catch more, different, and bigger fish than you've ever caught before. Mission Lodge has the highest rebooking rate of any lodge we work with and our clients come back feeling like they got what they paid for and more. Click here for rates and more information on Mission Lodge.
Enchanted Lake Lodge is located on 54 private acres within beautiful Katmai National Park. The lodge is perched high on a knoll overlooking Lake Nonvianuk and Enchanted Lake and offers breath-taking views in every direction. With the Kulik and Alagnak Rivers reachable by boat, and the Moraine, Funnel, Battle and American Creeks, as well as the Brooks, Big Ku, and Kvichak Rivers a short flight away, Enchanted Lake Lodge is perfectly situated for trophy Rainbow Trout. And that's what they do!
If you're looking to pursue big Rainbows with a fly rod, this is the lodge for you. Early season dry fishing is followed by salmon fry on the surface, and both provide exciting sight fishing opportunities. Once the Salmon drop their eggs in July, fishing egg patterns turns into high gear. The guides are focused on one thing, catching you big Rainbows.
Guests are awakened each morning with hot coffee, tea or chocolate and greeted at the airplane dock each evening with their favorite beverage. Sauna, cocktails and hor de'ouerves are available before dinner. There is a complimentary bar.
You'll be flown in pristine DeHavilland Beaver floatplanes and the pilot/guides remain with the guests all day. Jet boats are stationed on productive rivers.
Each of the eight guest cabins has two beds, carpeting, full bath, hot water, spectacular views and accommodates two guests. Capacity is 12 anglers. Click here for rates and more information on Enchanted Lake Lodge.
Most acclaimed of Alaskan lodges, Bristol Bay Lodge represents the classic Alaskan experience. Nestled around Bristol Bay Lodge are cozy cedar cabins, set among tall fir trees. All overlook majestic Lake Aleknagik, in the Wood River, Tikchik Lakes State Park. The ruggedly beautiful area is visited by fewer than 1,000 sport fishermen each year. The Wood, Nushagak, and Togiak Rivers abound in prime fish habitat.
Waiting serenely dockside are three immaculately maintained DeHavilland Beaver floatplanes. Adjacent to the floatplanes, rest the fleet of jet boats, patiently nodding on Aleknagik's morning ripples, ready to explore the lake and its diverse rivers. The Agulowak River, a few minutes by boat from the lodge, offers wonderful fly fishing for Rainbows, Grayling, Dolly Varden, and Char.

Guests can also stay at heated overnight tent camps complete with cots, foam pads, sleeping bags, linens, a cook and two guides. These legendary Outpost Camps, famous for the extraordinary fishing they provide, offer the chance to fish all day and under the midnight sun, then sit around the campfire and truly relax.
The stylish, well-appointed lodge, built in 1972 by Ron and Maggie McMillan is now run by the long time manager Steve Laurent. There are single, double and triple sleeping rooms in the lodge and in out-cabins for up to 6. Each unit has a private bath. The cabins have living rooms and a fireplace. Click here for rates and more information on Briston Bay Lodge.
Crystal Creek was originally located in the famed Wood-Tikchik area on Lake Nunavaugaluk, the southernmost Lake in the Wood River drainage. Built in the late 80's by Terry Ebberly and veteran guide / bush pilot, Dan Michels, the lodge first opened in 1988. Dan bought out Terry a few years later and while the operation flourished and became one of Alaska's premier fly out lodges, Dan was drawn by the by the big rainbows to the east on the Alaskan Peninsula, near the limits of their 120 mile flyout radius. In 2005, Dan found exactly what he was looking for and purchased a beautiful log & river rock lodge overlooking the Naknek River, one of Alaska's premier trophy rainbow fisheries. By the 2006 season, Crystal Creek had moved to the new facility on the Naknek. The new location gave the lodge easy access to massive runs of all 5 species of Pacific Salmon, as well as the bounty of trophy Rainbow waters in the Katmai and Iliamna regions.
Crystal Creek is among the most luxurious lodges in Alaska. The massive 7,500 square foot log and river rock lodge and adjacent guest cabin provide spacious and tastefully appointed accommodations for up to 14 anglers. Meals and wine selections are gourmet, and staff and service top shelf. And with Dan's 30 some years experience in the Alaska sportfishing business, Crystal Creek's fishing program is second to none. Besides daily flyout fishing in the lodge's fleet of impeccably maintained DeHavilland Beavers (2 on floats, 1 on tundra tires), the Salmon and Rainbow fishing can be spectacular within minutes of the lodge. The lodge is located very close to the Naknek Rapids, which stack up Salmon, food and monster Rainbows and is one of the best fishing areas on the river. Further, Crystal Creek also operates the incredible Yantarni Outpost Camp in the complete wilderness area of the southeast peninsula, which provides small stream, high volume Salmon fishing unmatched anywhere. Click here for rates and more information on Crystal Creek Lodge.
Royal Coachman Lodge is uniquely situated on the banks of the Nuyakuk River in the Wood-Tikchik State Park region of Bristol Bay, Alaska. Just downstream of the outlet to Tikchik Lake, its location offers remoteness, solitude and great local fishing on the Nuyakuk River for the rare non-fly out day or after hours fishing. The lodge has no neighbors and no other boats, cars or planes passing by the lodge. Nowhere else on earth will you find such a wide variety of sportfish. The sheer numbers of fish that this fishery supports is mind boggling. The area around Royal Coachman Lodge contains all five species of Pacific Salmon: Kings, Silvers, Sockeye, Chum and Pinks, along with seven species of freshwater gamefish, Rainbow Trout, Dolly Varden, Arctic Char, Arctic Grayling, Northern Pike, Lake Trout, and Sheefish!
Royal Coachman's veteran guides sit with guests each evening, around the fire or tying bench, planning the details of the next day's outing according to each client's preference. The lodge utilizes two DeHavilland Beavers on floats. Royal Coachman's guides have fished around the world and make this their career. They can help the beginner learn how to cast, or show the experienced fly fishermen how to reach a tricky undercut bank. They will give you as much or as little assistance as you desire.
With two exclusive permits in the Togiak National Wildlife Refuge, one private trophy trout fishery permit, permits to fish Katmai National Park and Wood Tikchik State Park, three department of natural resources permits, and nearly 20 boats cached throughout the best fishing locations, Royal Coachman has honed it's competitive edge. Guests fish a variety of waters from very small streams to large rivers, lakes and the throughfares that connect them. By maintaining boats with jet units scattered throughout the region, and because of the variety of waters, private leases, and exclusive use permits held by Royal Coachman, you get the best fishing the region has too offer every day! These fishing destinations are remote and most of the time you'll be the only anglers there. Whether you're an expert fly fisherman or a beginning spin caster, you will find the angling adventure that you are looking for. And, you'll catch a lot of big fish. Click here for rates and more information on Royal Coachman Lodge.
Tent Camps and Float Trips
If you prefer a tent camp or float trip over a fly out lodge, you want to be sure you select a good river as your base of operations. The Kanektok is the best single river we've fished in Alaska. The Kanektok has phenomenal runs of Pacific salmon, plus strikingly colorful "Leopard" Rainbows, sea run Dolly Varden, Char and Grayling. The river is small by Alaskan standards and wadeable. There is no better river to fly fish for Kings (King Salmon 20-50 pounds). Chum fishing is outrageous and the Silver Salmon fishing will blow you away. One week Alaska West caught 1822 Silvers, an average of 22 per rod per day and many of them were taken on dry flies!
Alaska West is located 5.5 miles from the mouth of the Kanektok River, where it empties into the Bering Sea, so the Salmon are consistently fresh and dime bright. Alaska West is a "tent lodge" made up of a combination of permanent and semi-permanent structures providing unbelievable comfort in the middle of the Alaskan Wilderness. The 'tent' part comes from heavy vinyl covers that are removed during the winter. Everything else is permanent – wooden floors, heaters, electrical system, water system, including the permanent shower house.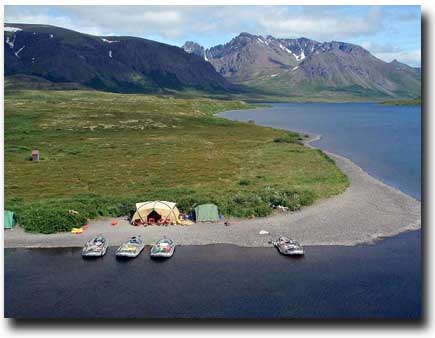 Alaska West puts anglers in the middle of the best fishing on the Kanektok for all 5 species of Pacific Salmon, "Leopard" Rainbow Trout, Char and Grayling. The Kanektok is one the best rivers in Alaska to target King Salmon of the fly, has amazing Chum and Sliver Salmon fishing. Click here for rates and more information on Alaska West.
Dave Duncan & Sons has developed an outstanding reputation after two generations of outfitting on the Kanektok River. From the outset, the Duncan's knew the fishing was so good they called her "The Chosen River" to try and keep it a secret. Now, the Duncan's operate two base camps and do a full river float on the Kanektok. While, both camps offer opportunities for all species, the Lower Base Camp is more focused on dime-bright salmon fresh from the salt and the Upper Base Camp is more focused on trophy "Leopard" Rainbows, particularly fun with a mouse imitation. Dave Duncan and Sons also do a 90-mile float trip that starts at the headwaters of the Kanektok and ends at the Bering Sea. The float is great way to experience the variety of fishing the Kanektok offers, as well the changes in the river's personality as it negotiates its way from Kagati Lake to the Bering Sea. Both base camps and the 90-mile float provide anglers with a true Alaskan adventure on some of the best fishing water in Alaska. Click here for rates and more information on Dave Duncan and Sons.