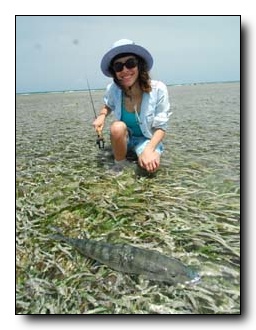 Turneffe Flats Resort is one of the premier resorts in Belize and is located on the northeast section of the Turneffe Atoll. Turneffe Atoll is one of best destinations to target Bonefish, Tarpon and Permit, where the chance of a "Grand Slam" is always a possibility. The Turneffe Atoll is located 30 miles off the coast of Belize and is the fourth largest coral Atoll in the Western Hemisphere. Turneffe Flats' close proximity to ocean-side flats, inland flats, lagoons and channels provides some of the world's most diverse sight fishing opportunities for good numbers of bonefish and permit on the flats, and shots at medium to large rolling Tarpon in the lagoons and creeks. In addition to the miles upon miles of ankle deep flats that lie between the Turneffe Islands and the surrounding reef, there are also clear, pristine flats located close to the resort. There are few better places for wading the flats in pursuit of bonefish and permit.
Bonefishing Turneffe Flats Resort
Bonefish are present in equal numbers throughout the year and they are on the flats most of the time. This differentiates Turneffe's bonefish from those in other areas, such as the Florida Keys, where bonefish only enter the flats in search of a meal. As a result, these fish can become selective. This can make for challenging fishing and the right tackle, flies, presentation and fishing techniques are all important.The bonefish flats at Turneffe are lush flats composed of hard sand, coral and eelgrass, which are full of crabs and shirmp. Nearly all these flats are wadable, providing an excellent opportunity to stalk bonefish on foot. On the ocean side flats, schools of 25 or more tailing bonefish are common, most of which are 2 – 4 pounds. Larger bonefish, up to 10 pounds, have been caught on the ocean side flats, however, most of the larger bonefish caught at Turneffe Flats Resort are found in the mangrove-lined lagoons and flats on the interior of the Atoll.
Permit Fishing Turneffe Flats Resort
Permit have become the prime objective of many saltwater anglers these days and with Turneffe Flats leading the way, Belize has gained a reputation as the "Permit Capital of the World." Permit fishing is as much hunting as it is fishing, and permit present a unique challenge. Many guests have celebrated their first ever permit at Turneffe Flats and anglers may have a better chance to land a permit at Turneffe Flats than anywhere else.
Most permit are found as singles or in small groups on the flats and bars throughout the Turneffe Atoll, although guests at Turneffe Flats also frequently see larger schools of permit tailing in shallow water, especially on the high tide. Most of the permit fishing is done from a poled skiff, however it's not uncommon to see permit on the wadeable ocean-side flats.
Tarpon Fishing Turneffe Flats Resort
Tarpon are one of the ultimate challenges in saltwater fly-fishing and Turneffe Flats has smaller resident tarpon available year round in the creeks channels, and lagoons, however; big migratory tarpon move in from mid-April – October, with the peak tarpon fishing occurring June, July, and August. Most of the tarpon jumped are 60-90 pounds, with some fish in the 100-150 pound range and occasional monsters approaching 200 pounds.
Turneffe Flats Accommodations
Turneffe Flats Resort is comprised of 8 beach cabana style guest rooms, a pair of 3-bedrooms villas, and a main lodge building. The 8 beach cabana guest rooms are large, well appointed double occupancy seaside rooms, with central air-conditioning, ample closet space, dresser, and a sitting area. Each room has a large private bath with two sinks and a shower.
Turneffe Flats' two villas each have 3 air-conditioned bedrooms with their own private bathrooms and showers. The three bedrooms have a shared common area, which is comprised of a comfortable lounging area with a satellite television and kitchenette (sink, refrigerator, and kitchen island with barstools).
The Reef Villa is located on the beach and has possibly the best view of any of the guest rooms. The Garden Villa is set back from beach with a view of the grounds and the Caribbean Sea. The Garden Villa is the newest accommodations at Turneffe Flats and the guest rooms are on the second floor. There is a television area, an exercise room, and a meeting area on the ground floor of the Garden Villa.
The air-conditioned main Resort building serves as the social center of Turneffe Flats Resort. The main lodge consists of the dining room, bar, gift shop fly shop guest computer email, and a lounge. Outside Turneffe Flats' main lodge is a large screened in verandah where you can enjoy a view of the Carrabian Sea.
In addition to a well-established fishing program, Turneffe Flats also has a PADI accredited dive program. Turneffe Flats location offers quick and easy access to some of the most spectacular dive sites in Belize and is also within an hour's boat ride from the famous Blue Hole, Lighthouse Reef, and Half Moon Caye. There is a combination fishing/diving package for anglers who are interested in both diving and fishing, which allows guests to divide time between both activities – fishing one day and diving the next day. There is also some excellent snorkeling and diving right near the lodge. Please call or email for pricing on the combination packages.
OUR SERVICES ARE FREE!
CONTACT US FOR SEASONAL DISCOUNTS, SPECIAL OFFERS OR PROMOTIONAL PRICING
2023 Turneffe Flats Fishing Rates
(Rates below do not include tax and all rates are subject to change)
| | | |
| --- | --- | --- |
| Dates 2022 – Saturday to Saturday | Per Person / Double Occupancy | Single Supplement |
| December 31, 2022 – June 24, 2023 | $5,290 | $7,290 |
| June 24, 2023 – December 30, 2023 | $4,590 | $6,590 |
Atoll Adventure and Non-Activity Packages available and priced upon request. Partial Week Packages, Diving Packages, and Combination Diving/Fishing Packages available on a space available basis and priced upon request.
A 50% deposit is necessary to reserve space at Turneffe Flats, due within 2 weeks of the booking date. After receiving your deposit we will send a complete list of tackle and equipment to bring. Final payment is due 65 days prior to departure, after which time all payments are non-refundable.
Included in Fishing Package: fully guided daily fishing, two anglers per boat and one guide; all land and sea transfers to and from the lodge on Saturdays; all meals at the lodge, including evening hors d'oeuvres; air conditioned, double occupancy lodging as described.
Not Included: Airfare; gratuities; alcoholic beverages; items of a personal nature; equipment rental; $40 Blue Hole entrance fee (where applicable); Belize Taxes. An additional transfer fee may be required when arrival/departure is not done on regularly scheduled days (typically Saturday & Wednesday).
Angler Adventures has considerable experience making arrangements to Belize. We can assure you the lowest airfares. If you are interested in making reservations at Turneffe Flats, please call or email with any questions or to request a reservation. Thank you for your interest.