Fly Fishing Andes offers miles upon miles of private access water on multi-thousand acre estancias (ranches), where you might never see another angler during your fishing day. Large Rainbows and Browns (and landlocked salmon on certain rivers) are actively feeding… and present the wonderful challenge we all love. Every trip is a custom designed itinerary that allows clients to select from 5-6 lodges and a variety of rivers in the San Martin and Junin del los Andes area, such as Arroyo Verde, on the incredibly beautiful Rio Traful, Tipiliuke, on the majestic and world-renowned Rio Chimehuin, San Huberto, on the Malleo, perhaps the most amazing and perfect trout stream in the world. Collon Cura Lodge on the productive Rio Collon Cura and the smallest river we fish with some of the largest trout, the Filo Hua Hum, staying at Filo Lodge. You'll lodge and dine in very comfortable accommodations with private bath and enjoy professional, English-speaking fly fishing guides, the finest Argentine wines and exceptional meals with uniformed service personnel to cater to your every need. This is very civilized fishing!
Hola! My name is Alberto Cordero-Biedma. I am the owner and principal guide for Fly Fishing Andes. I invite you to come to Argentina to experience the romance, the beauty, the warmth and hospitality of native Argentines as they welcome you to their private estancias…and most of all the wonderful fly fishing on private access waters which rivals that of any Rainbow and Brown trout fishery in the world. We're very excited to share our incredible fishing with you! Especially the dry fly action!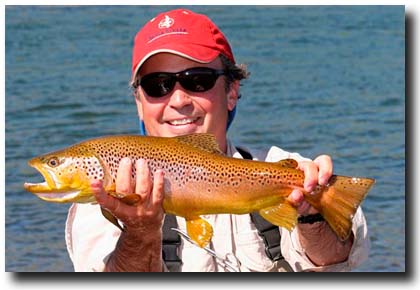 We offer you complete flexibility in choosing how you wish to enjoy Northern Patagonia. We do not offer standard packages; instead you may design your own trip or tell us what you prefer and we'll design one for you to consider.
Stay as few or as many days as you wish. Stay at one, two, three or four lodges. We will plan and execute your trip so thoroughly that all you will have to do is relax, pick up your rod, fish…and enjoy! We promise! We have a passion for our natural Patagonia and for our wild trout…we take pleasure in sharing these resources with our guests.
Compared to the rest of Patagonia, the Northern Zone gives you kinder weather and gentler winds. Normally we experience delightfully warm weather with lighter winds from late December to early April. The exceptional, wild McCloud-strain rainbows, German browns, Sebago landlocked salmon and Eastern brookies that fill the pristine lakes, streams and rivers in Patagonia were transplanted to the cold, gin clear Andean waters over 95 years ago.
Depending on your preference for fly fishing, be it dry fly, wet fly, streamers or all of these, we can offer a variety of waters that will cater to your pleasure. Most of our guests over the years have elected to visit two or three different estancias in a fishing vacation lasting ten days to two weeks. If you can only stay a week, we suggest you visit at least two different waters. We'll work hard to exceed your expectations and make your visit to Argentina your best fishing experience ever. We have been fortunate over the years to fill our vacancies early. To avoid disappointment, we suggest you begin your booking process a year or so in advance. We give priority bookings to returning guests. Please know that fishing conditions vary from year to year depending on our weather. Gracias, Alberto
Tipiliuke is one of Argentina's finest lodges. The lovely stone lodge is in the middle of the 50,000-acre, deer, cattle and sheep "estancia". The lodge shares its magnificent architecture with the rest of the buildings and also has a beautifully crafted interior. Tipiliuke is situated just North of San Martin de los Andes, in the heart of the most famous trout waters in Argentina.
Anglers staying at Tipiliuke have access to seven miles of private water on the world-renowned Chimehuin as it runs through the ranch. The Chimehuin has an amazing variety of waters, allowing fly fishermen to float, wade, sight-fish or hunt for trophy trout with streamers or big attractor style dries. The wild rainbows and browns can be caught up to 30″, with the average fish running 16″ to 20″. Both rainbow and brown trout are frequently caught in the 21″ to 24″ range. There's also access to seven miles of the smaller Rio Quilquihue – a delightful dry-fly stream.
Fishing the private-access sections of the Chimehuin and Quilquihue Rivers with your Fly Fishing Andes guide and enjoying the lodging, food, wine and marvelous settings at Tipiliuke is an unforgettable experience. Click here for more information on Tipiliuke Lodge and the Chimehuin River.
Hosteria San Huberto is one of the most traditional lodges in Patagonia and has capacity for twelve guests. It is on a 25,000-acre ranch with access to 20 miles of the Malleo, one of the world's great dry-fly streams.
The Malleo, which is small in comparison to most Patagonia rivers, is the one in Argentina with the densest, most frequent and most predictable hatches. It is an almost perfect trout stream, combining easy wading, diversity of water types and just the right amount of riparian vegetation The trout quality is second to none, and you'll appreciate the spectacular views such the majestic Lanin volcano. This is the one lodge in Patagonia that regularly gets fully-booked by early July for the months of January, February and March. If you decide to experience this great lodge andstream, do yourself a favor by not waiting too long to book. Click here for more information on the Malleo River and Hosteria San Huberto.
Collon Cura Lodge
To fish the remote private water, the best water on the Collon Cura, clients stay at Collon Cura Lodge. From mid-January to mid-March, small bait fish migrate into the Collon Cura and the trout feed on them voraciously. Mixed with inch worms and evening caddis hatches, the Collon Cura can produce some incredible fishing. The lodge is not as charming and picturesque as some, but what you are buying here is location, location, location.
Tres Rios Lodge is located just south of the junction where the Chimehuin and the Aluminé Rivers join to form the Collon Cura River. Tres Rios Lodge offers access to 9-miles of the lower Chimehuin, 4-miles on the lower Aluminé, and 4-miles on the upper Collon Cura. Anglers can choose to float, float to wade, or exclusively wade these rivers. The lodge is comprised of 3 guest rooms with private bathrooms, kitchen, living and dinning rooms. As a small lodge, Tres Rios is committed to accommodating one group at a time, so guests will experience exclusive use. Click here for more information on Tres Rios Lodge and fishing the Aluminé, Chimehuin, and Collon Cura Rivers.
Arroyo Verde
Arroyo Verde is an elegant lodge located on the Traful, the premier landlocked Atlantic salmon river in Patagonia. The river runs 10 miles through the valley, and it has some of the most spectacular views of any Patagonian river!
Record fish are an 18-lb. salmon, a 16-lb. brown and a 23-lb. rainbow! The lodge, which is a traditional estancia in a magnificent Andean valley, was called by Forbes Magazine: "the finest fishing lodge in the world, period!" Three or four days at this unique lodge, wading this marvelous river, will challenge your fly-fishing skills, and invite you to contemplate the extraordinary scenery. The food and wine served at Arroyo Verde rival any great restaurant in the world!
Filo Lodge
Filo Lodge, located on the Filo Hua Hum River, takes just 8 clients at a time. This elegant lodge is located in a spectacular remote setting, which ensures privacy and little angling pressure.
The Filo Hua Hum, a tributary of the Caleufu River, runs for approximately 7 miles between two lakes and offers fantastic dry fly fishing, beginning with dragonflies in January. This river holds fish that average 16-20″, up to 10 pounds!
Much of the fishing is sight fishing. This is not a place to catch great numbers of trout, it's a place to stalk and catch several good sized fish a day, that are used to looking up and taking dry flies.
Our Services are Free!
2019 – 2020 Fly Fishing Andes Rates
| | | |
| --- | --- | --- |
| | Per Night | 7-nights/6 days |
| Tipiliuke | $1,160.00 per person | $8,120.00 per person |
| Arroyo Verde | $1,160.00 per person | $8,120.00 per person |
| San Huberto | $1,160.00 per person | $8,120.00 per person |
| Tres Rios | $1,160.00 per person | $8,120.00 per person |
| Limay River | $1,120.00 per person | $7,840.00 per person |
| Collon Cura | $1,120.00 per person | $7,840.00 per person |
| Filo Hua Hum | $1,120.00 per person | $7,840.00 per person |
All rates are based on double occupancy accommodations and two anglers sharing a room and guide. Rates are subject to change.