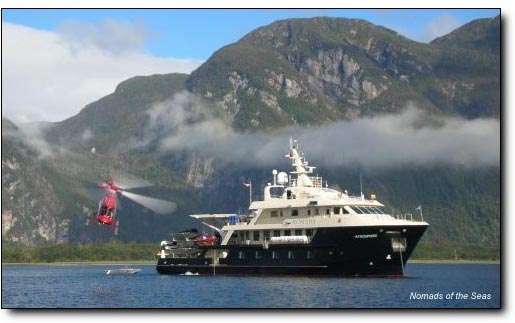 Nomads of the Seas is a new concept that revolves around Chilean Patagonia and a revolutionary approach to fly fishing. Nomads of the Seas has developed a new venture that promises unparalleled levels of personal and professional service in an area many call the world's ultimate fly fishing and ecotourism destination.
Overlooking no detail, Nomads of the Seas has designed one-week extreme fly fishing adventures and ecotourism expedition programs for a very limited amount of guests. All itineraries are based out of Atmosphere, a 150-foot mother ship specifically designed for exploring Chilean fjords in safety and extreme comfort. This ship accommodates a maximum of 18
fishing guests and 10 non-fishing guests for each trip. Atmosphere is also equipped with a Bell 407 helicopter and a fleet of jet boats, enabling anglers to penetrate the very deepest parts of the Patagonian wilderness over land, air and water. The mobility of Nomads of the Seas also allows for the flexibility required for successful fishing in an extremely variable climate.
Because of its isolation and the diversity of its terrain, Chilean Patagonia is one of the world's best places for the kind of exploratory fishing and specialized eco-tourism Nomads of the Seas offers. The coast-to-land ratio is enormous, and the Cordillera generates a huge number of river and lake systems that are close to the ocean fjords. These bodies of water are largely inaccessible by conventional transportation and so have remained virginal and unexplored.

The lakes provide rich vegetation and the ideal environment for insects, crustaceans, nymphs and small fish, creating ideal fishing conditions on the surface and on the bottom. A number of these big lakes have regulatory effects on rivers, transforming them into a calm and clear flowing habitat for fish. Nomads of the Seas calls its fishingprogram "extreme fly fishing," which Nomads defines as "being able to fish at any spot, regardless of its accessibility, without having to stay in any specific place; with all the flexibility to deal with different weather and water conditions, and fluctuating fish behaviors . . . With the assistance of our guides and pilots you will encounter a fisherman's dream: shallow and deep rivers, white waters, tight bends, creeks, lakes, lagoons, mountains, volcanoes, and many confined sites that are almost inaccessible without the proper training, equipment and experience."
There is so much water and coast line and open space in this region that Nomads of the Seas has by no means stopped exploring. On virtually every expedition new water is covered, some of which has never been fished before.
Nomads of the Seas uses its helicopter and an extensive fleet, comprised of 6 fully equipped Jetboats, plus 2 SOLAS Rescue Boats, 4 Helitour Mission Zodiacs (equipped for air transport below the Bell 407), and one Huricane
920 RIB Zodiac to cover these untouched waters. The diversity of these vessels gives guests opportunities to fish for brown trout (sea-run and native), brook trout, rainbow trout, steelhead, chinook salmon and other species of land-locked salmon. One week fishing programs depart every Saturday from mid October through April.
Nomads of the Seas has designed special outings for non-fishing guests as well: sight seeing for a wide variety of dolphins and elusive giant whales in specialized rigid inflatable boats, bird watching, spotting and identifying native and endemic flora and fauna throughout the wilderness. Most will be overwhelmed by the diversity of life and the natural beauty Patagonia offers. Guests will also have access to a variety of on board activities such as daily wine tastings, gourmet regional cuisine, Thalasoterapy and spa relaxation, specialized lectures and more. Few other operations combine so many activities in a single adventure.
Nomads of the Seas describes its on board cuisine as "Chilean gourmet nouvelle." It has been specially designed by Guillermo Rodriguez, one of the most famous chefs in all of Chile. His dishes focus on traditional Chilean flavors with an exciting, modern twist.
Atmosphere is also equipped with a full bar, stocked with top brands of liquor. The bar is open all day and the drinks are included in the package rate (there are certain exceptions to this rule).
The Mothership's cabins have been built with extreme care, priorizing comfort and safety above all. You'll also find the décor quite tasteful, so you won't miss anything from home.
The cabins are specially designed to emphasise passenger privacy and comfort onboard. Great efforts have been made to provide guests with natural and tasteful interiors. The 14 guest cabins are equipped with either one queen or two twin beds as well as a private bath. All guest cabins are exterior. Guests will also enjoy first class service from the attentive, live-aboard crew.The coastal sector of Patagonia and its intermediate valleys have a cold temperate western- coastline climate with peak rainfall in the winter (U.S. summer). However, there is rainfall throughout the entire year. The temperatures are not extremely low due to the influence of the sea and the action of the winds, and the coldest months are rarely below 4º C/39° F. The thermal amplitudes are not very high, with the daily and yearly ranging from 5º to 7º C/41° F to 45° F. The atmospheric humidity has a mean annual value of 87% in the zone, and no month of the year has relative humidity of less than 80%.
Nomads has satellite telephones that have worldwide coverage. They work with prepaid cards, which can be purchased on board.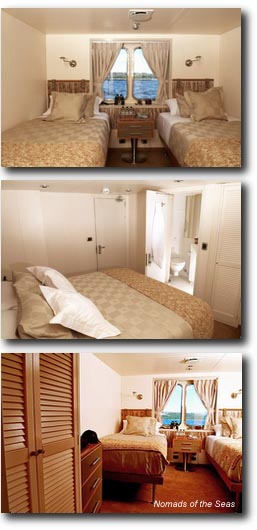 Our Services are Free!
 Nomads of the Seas 2017 Rates
FISHING GUESTS
Occupancy
Cabin
Beds
Rate
Single
Deluxe Cabin
Twins/King
$12,805 per person
Premium Cabin
King
$16,647 per person
Double
Deluxe Cabin
Twins/King
$ 9,850 per person
Premium Cabin
King
$12,805 per person
Included in the above rates: Transfers to / from Puerto Montt; all meals and appetizers, open bar (excluding certain liquors), all on board activities (sauna, lectures, wine tasting, etc.), 8 days and 7 nights accommodations as described, daily guided fly-fishing / daily whale watching and eco-tours, V.A.T. tax.
Not included in the above rates: airfare, gratuities, items purchased in the marina gift shop, massages, laundry, additional helicopter / jet boat hours beyond time specified in reservation, special liquors, use of satellite telephone