Fly fishing adventures in SEYCHELLES:
Farquhar Atoll has a reputation as one of the top flats fishing destination from the exceptional diversity it offers anglers. It's one of the only fisheries in the Seychelles where anglers can target Bumphead Parrotfish on the flats. Farquhar also provides excellent fishing for bonefish, permit, triggerfish and GT. Combine the unbelievable fishing with the remote location and the world-class service makes Farquhar a must visit location for Adventurous Anglers.
More about Farquhar Atoll
Farquhar Atoll is the most southerly atoll in the Seychelles chain of islands lying just over 700km to the southwest of the main island Mahe. This remote atoll has a total area, including the large lagoon, of 170.5 km² which is 18 km north to south and 9 km east to west. The total island land mass is 7.5 km² with a serviced concrete landing strip situated on the most northerly island. The main group of islands form a long curve which describes the eastern side of the atoll. Largest of these are Isle du Nord and Ile du Sud, with the smaller Manaha gaps and islands between them. Further south is Goelette and to the open western side of the atoll lies the small group known as Trois Îles. The large ear-shaped lagoon provides easy access to the countless flats, channels and surf zones which make Farquhar such a diverse fishery. The flats consist of hard white sand, turtle grass and broken coral which make for comfortable wading. Farquhar has a small population of local Seychellois, whose main roles are running a small line-fish operation as well as acting as a skeleton crew which manage the island and service the airstrip.
Accomodations: Farquhar Atoll Guesthouse
Farquhar Atoll Guesthouse is a newly rebuilt facility guesthouse which caters to up to ten anglers at one time. Anglers are accommodated in 3 twin duplex style Chalets with contain two separate bedrooms overlooking the Farquhar Lagoon. Each bedroom is fully air-conditioned, has constant hot water, ensuite bathroom with indoor and outdoor shower, 24-hour 220-volt electricity, housekeeping and daily laundry service. There is also a communal area with an exceptional dining area and fully stocked bar – the magnificent view forms an idyllic backdrop for both breakfast and dinner. All meals are served with the chef preparing a mix of Creole and international food.
Farquhar Atoll Fishing Season & The Typical Day
The season traditionally runs from September to early-April, with a break over the festive season. From May to August, the strong south-eastern monsoon winds blow incessantly. These winds bring cold water onto the flats and the combination makes fly fishing more difficult. However, some of the best GT fishing can happen early and late in the season during these transition times.
Typically anglers will be up early and after a quick breakfast head out to the flats to fish around 8 AM. Anglers stay out on the flats for the whole day taking packed lunches. One of the highlights is the Flats Lunch, where anglers can enjoy lunch and cold beverage while enjoying the unique atmosphere. The following day's activities and schedule will be planned the night before between the guides and the clients, taking into account the tidal movements and the species anglers wish to target.
Farquhar Atoll Region, Aquatic Species, Boats & The Flats
Farquhar has over the years provided all fortunate enough to visit her shores the opportunity to fish some of the finest flats the Indian Ocean has to offer. Thanks to the guesthouse on Isle du Nord, anglers from around the globe the opportunity to fish for the wide variety of species which frequent these waters from the comfort of a lodge. Species such as Bonefish, various Trevally species including ferocious trophy sized Giant Trevally, the finicky Indo-Pacific Permit, Triggerfish, Barracuda, Bumphead Parrotfish, Napoleon Wrasse, and Milkfish call Farquhar and her rich waters home. The guides will lead you onto the flats and help you identify the desired target species, the areas which they frequent and explain the correct techniques with which to catch them.

Deep water begins very close to shore and it's possible to fish these waters from the boats. Here the most common species encountered are Giant Trevally, Barracuda, Wahoo, Yellowfin Tuna, Dogtooth Tuna, Grouper, Bohar Snapper, Jobfish and Sailfish. All of the Farquhar fishing guides are experts in rigging, teasing and the handling of blue water fish.
Anglers will be led by a team of five world class professional guides, all of whom speak English. Each guide is a qualified skipper, has first aid experience and is extremely experienced with regards to all facets of fly fishing the remote saltwater destinations of the Indian Ocean. Their passion and dedication is infectious and rest assured they will definitely go the extra mile in search of your fish of a lifetime. Added to this, each guide has the use of one of five tender boats which are ideally designed for accessing the flats as well as allowing us to maximize the fantastic offshore fishing Farquhar has to offer.

Farquhar Atoll utilizes five brand new 17.3 ft Angler skiffs each of which carries a single 90 HP 2-Stroke Yamaha engine. The boats have been specifically designed and fitted to fish both the flats and offshore waters of the Seychelles in comfort and safety. These Angler boats have a draft of approximately 9 inches allowing us to access some extremely shallow areas of the atolls; however 99% of fishing on Farquhar is done wading the flats. These boats are also sure to make the excellent offshore fishing far more enjoyable and rewarding as all of them are equipped with a fish finder. Other added features include fly rod storage fittings, bimini tops and cushioned seats.
The hard white sand, turtlegrass or coral flats of Farquhar make for easy wading, thus separating it from other destinations in the world. As most of the fishing will be done while wading, good protective footwear is essential. Standard diver's neoprene booties with a reinforced rubber sole are not appropriate. More protective flats wading boots must be worn. We'll be happy to recommend appropriate wading boots and we'll provide each client our "what to bring" list. Guests will not be taken onto the flats without proper footwear!
Farquhar Atoll 2023-2025 Rates
2023
7-nights/6-days fishing
double occupancy accommodations
2024
7-nights/6-days fishing
double occupancy accommodations
2025
7-nights/6-days fishing
double occupancy accommodations
Included: Domestic Flights Mahe-Farquhar-Mahe; 7 nights at the lodge; Double Occupancy Accommodations; 6 days of guided fishing with 2 anglers per boat; All meals; Water, tea, coffee; Soft drinks during activities; Fly Fishing Rod and Reel Rental' Snorkeling equipment; Watersports equipment; Public WiFi; Laundry service; Conservation Fees; Landing fees; VAT.
Not Included: International flights to Mahe, round-trip; Overnight accommodation on Mahe if needed; Ground Transfers on Mahe; Tackle & Flies; Gratuities; Alcohol and other beverages not listed as included; Mandatory emergency medical evacuation policy & Travel insurance (The guesthouse operator reserve the right to cancel a trip if a client is not adequately insured); Personal Expenses.
The Diversity of Fish Species in FARQUHAR ATOLL
in beautiful SEYCHELLES, AFRICA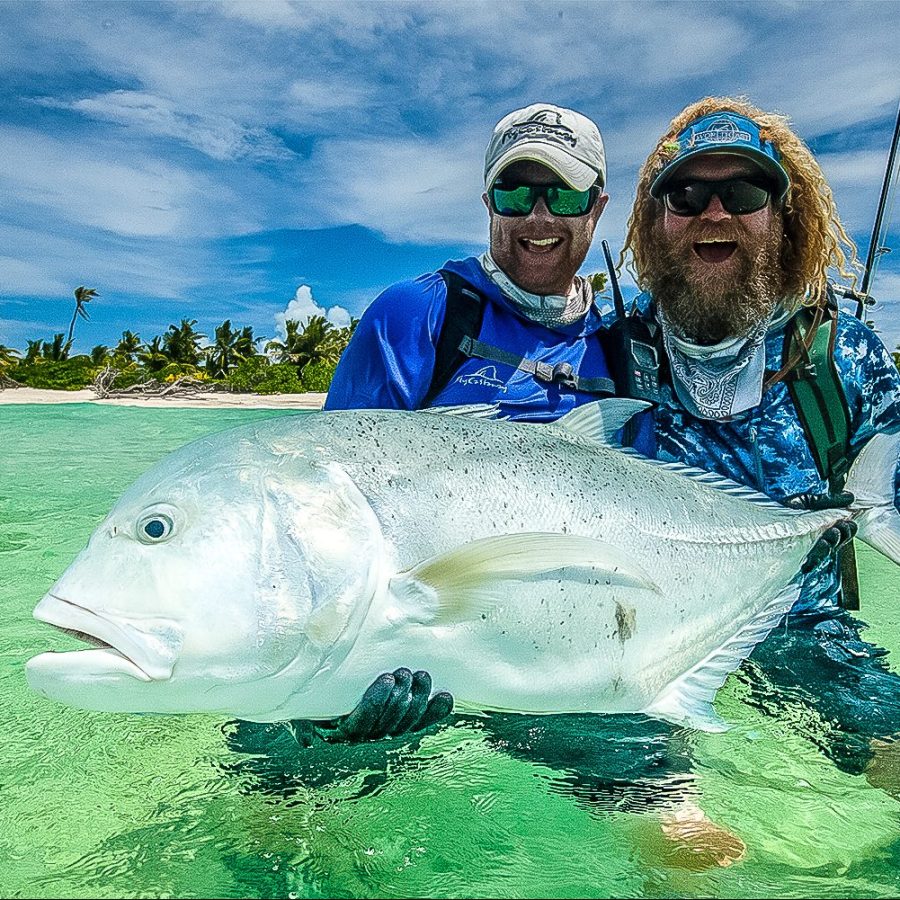 (GT, Geet, Gangster of the Flats)
No matter what you call them, these fish have captured the imaginations of anglers everyone and are the focal point of many Seychelles fishing trips. These large apex predators create viscious, violent and visual takes and are incredibly strong fighters. The Seychelles is the premier destinations for targeting Giant Trevally.
Bonefish are found in excellent numbers across the Seychelles. In some fisheries, they are the predominate game fish and the go to target species for fly anglers. In other destinations, they play a supporting role to more exotic query like Giant Trevally. Either way, the bonefishing in the Seychelles is among the best flats fly fishing available period.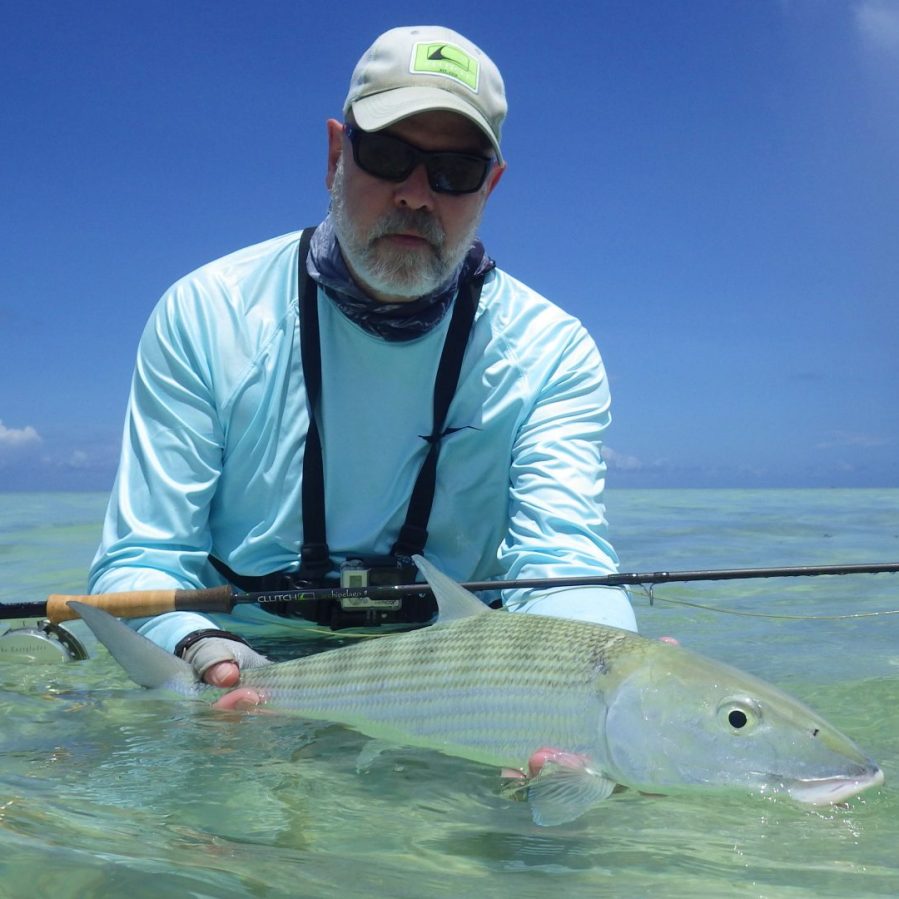 Permit everywhere are recognized as one of the most discerning and difficult species to target on the fly. The Indo-Pacific Permit are no different that the Atlantic counterparts, and can breed the same compulsive focus from serious anglers. Convincing an Indo-Pacific Permit to eat a well-presented crab fly is one of the most rewarding experiences, whether it's on the coral edges of Farquhar Atoll, in the lagoon on Astove, or tailing on the flats of Cosmoledo.
(Bumpies, Buffalo Parrotfish)
"Bumpies" are a totally unique species found in tropical waters near coral. These fish are incredibly beautiful and strong. As a gamefish, they are unpredictable, but can be caught on the fly when feeding on or around the coral, or when they are tailing on large schools, typically on turtle grass flats. The secret is keeping the fly totally still! Bumphead Parrotfish are only found consistently on Farquhar and Providence Atolls. The vivid colors, prominent parrot-like beak, and the massive bump makes this fish recognizable in every photo.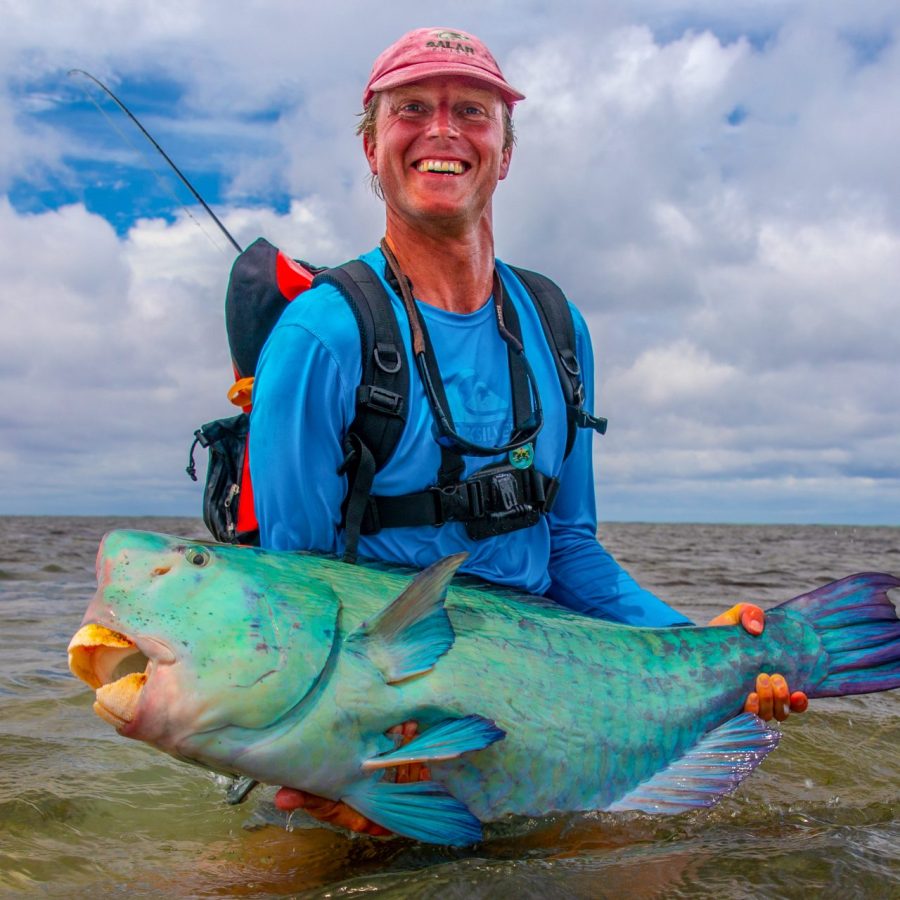 (Milkies, fork-tailed devil, Bandeng, Bangos)
Milkies are a unique species to target because the primary flies  imitate the appearance of algae! They can grow to over 6 feet long and are extremely hard fighting fish with unusual endurance. Milkfish are also known as the fork-tailed devil, because like permit, they are extremely finicky. They're surprisingly easy to spot when on the flats – they are usually found in small pods cruising over algae patches with their tails protruding out of the water as they feed on the bottom. 
(YELLOWMARGIN, Moustache, Picasso )
There are primarily three species of triggerfish found in Seychelles: Yellow Margin, Moustache, and Picasso. They prefer the shallow coral reefs and flats. The yellow margin triggerfish prefers sandy-bottomed areas close to patches of turtle grass and coral. It is also common to find a yellow margin close to a large coral "Bommie" situated on a white sandy flat. Remember these 3 things when fly fishing for triggerfish: Approach quietly and keep maximum distance, make your first cast count, and make your first cast count!
It's time to begin planning your trip.
Save time with Angler Adventures. We've been doing this for 43 years.