Poronui's tradition is to keep the best things very quiet, and so the lodge has only seven exclusive guest cabins. Designed with luxury, comfort and angler's needs in mind, the modern wooden cabins sit only a stone's throw from the water's edge and offer guests comfort and relaxation in a magnificent landscape setting.
Poronui has evolved from what was once only a very basic, remote fishing camp. Today it is one of the world's finest fishing holiday destinations and host to the most discerning international anglers and visitors.

From the main lodge itself, you can watch the Taharua flow through the valley and have a great view of the evening hatch. A huge log fire, the finest books and company to inspire you, and the comfort of a big chair and glass of New Zealand's finest wine is a typically relaxing Poronui evening. The lodge is equipped with a modern drying room and laundry facilities. A well equipped fly tying bench and library of books and journals will fill your mind with possibilities and keep you entertained. There are also excellent storage facilities for rods and all other equipment.

The lodge is famed for its hearty gourmet food and wonderful cellar of fine New Zealand wines. It is here that you will find a roast dinner like no other. You may also discover that a picnic lunch, on the river's edge, in the middle of nowhere, is the best meal you've ever had.
The Taupo region provides lamb, venison and wild duck while its proximity to the ocean also provides an abundance of fresh deep sea fish, salmon and mussels.
As Poronui is close to New Zealand's largest grape growing region, the wine cellar features an extensive selection of local vintages.
Fishing at Poronui
Avid Fly Fisherman from all corners of the globe come to Poronui to test their skills against New Zealand's notoriously large, and wily, brown and rainbow trout. They do it in an isolated and beautiful wilderness.
Every angler with a story to tell has an opinion as to where to find the best trout on the planet. Today, many of these stories refer to the trout of New Zealand. Poronui has a reputation for offering the country's best wilderness fly fishing. Guests will discover secluded streams, home to incredibly large resident browns and rainbows, with angling opportunities to suit every preference or ability. Expect to fish new water everyday, no matter how long you stay at Poronui.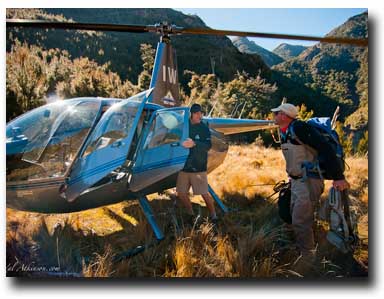 The property has almost 25 miles of private water. The Taharua, a spring creek meanders down the valley, while the Mohaka River, a tumbling freestone stream wraps itself around one boundary. The mountains adjacent to Poronui are vast estates of Maori owned land. Poronui is privileged to have access to much of this wonderful wilderness reserve. Without a doubt, the exclusivity and remoteness of these rivers and streams make them some of the most prized fly fishing waters in the world.
Poronui has a team of permanent full-time guides who are considered the consummate professionals in their field. They share an extraordinary knowledge of the country and collectively have more than a hundred years of fishing experience on New Zealand waters. Poronui guides know every stream intimately and work to ensure angling pressure is constantly monitored and controlled to maintain the health and confidence of the trout.
Poronui accesses it's world class trout fishing available within walking distance of the lodge, with short drives in a 4WD vehicle, and with helicopters to all access the remote rivers and mountain streams. There's a good deal of fishing at Poronui with easy access, good shallow wading, gentle riffles and pristine pools and there are some more challenging rivers within a short drive from the main lodge. There also some remote rivers that require floating to access the best fishing and can be combined with an overnight camp-out for adventures guests. Poronui's 2 helicopters add nearby rivers (like the Legendary Ngaruroro and Rangitikei River in the next valley) and countless remote mountain streams to the menu of world-class trout fishing for anglers to choose from and adds options when the weather doesn't cooperate. Not to mention that the helicopter flights are some the best way to enjoy the New Zealand countryside.
There are fishing opportunities for anglers looking for the classic fly fishing experience of stalking and sight casting to trophy browns and rainbows in shallow, clear water or reaching remote fishing areas with some of the most legendary and challenging fly fishing in the country. There are also easier fishing rivers where beginner anglers can cast to resident wild fish that have rarely seen a dry fly or floating a big dry fly through riffles, inducing dramatic takes.
Non-Fishing Activities
There are a number of activities available for non-anglers at Poronui. There a variety of hose back riding options and more than 100 miles of private road and trails for hiking, sightseeing/cultural tours and food / wilderness experiences are some of the most popular. As is relaxing at the lodge, enjoying a book, a glass of local wine, and the view. An example of the tours would be visiting the neighboring Tuwharetoa tribal land. Master teachers are on hand to give a first hand look of the ways of the wilderness or enjoy the experience of hangi feast, prepared using traditional Maori gathering techniques and cooking for you to enjoy, while sharing in knowledge and stories told by your passionate guide.
There's also hunting at Poronui on 16,000 acres of wilderness that offers for a premier quality hunting experience. The lodge, Safari Camp down by the Mohaka River or the Blake House, (the owners home) are perfect for hunting groups who appreciate fine dining, wines, and beauty that sets Poronui apart from other hunting and fishing experiences.
Fishing Seasons at Poronui
Spring (October)
The opening of the fishing season in most districts means the local trout have been undisturbed for months. Temperatures are still cool, but with longer days, the brown trout become very active and there is excellent fishing with weighted nymphs and dry flies along soft seams in most mountain streams. Some good evening hatches offering very good dry fly fishing later in the day.
Early Summer (November, December)
Undoubtedly the best time to fly fish in mountain streams. Long, warm days and the water is still cool. There are good mayfly hatches and the trout feed recklessly on the surface throughout the day. The fish are not wary and generally very aggressive to the dry fly. This is the least crowded time to fly fish in New Zealand and the weather is very settled around Christmas.
Mid Summer (January, February)
Traditionally the most popular time for fly fishermen to visit New Zealand. Most good lodges are pre booked. Streams are often low and wading is easy. Trout are highly visible but selective. On small streams these conditions demand careful stalking and delicate presentations with small nymphs and dries. On larger freestone rivers in the mountains (accessed by helicopter and float trips) there are some excellent terrestrial activities on the surface.
Late Summer (March, April) & Fall (May)
The weather is still warm and settled. April has the lowest rainfall of any month. The cooler evenings induce good hatches and mountain streams are fishing well for browns on dries. Trout are in peak condition, so this is a good time for trophy fish. This is the ideal time for salmon fishing. Outdoor activities season in New Zealand. There is excellent fly fishing with nymphs in the tributary streams of Lake Taupo for the first runs of spawning rainbows.

Our Services are Free!
Poronui, New Zealand
Rates for the 2020 – 2021 Season
(All rates are subject to change)
Poronui Daily Guiding Fishing Rates

Two anglers sharing a guide
NZ$462.50 per person, per day
Single angler
NZ$925 per day
Included: all equipment, full day of guided fishing including the evening rise; steam-side lunch.
Not Included: Fishing licenses; alcoholic beverages; transfers.
---
Poronui Overnight Accommodations

Season
Double Occupancy
Single Occupancy
March 22, 2018 – December 6, 2018
NZ$ 675 per day, per person
NZ$ 895 per day
December 7, 2018 – March 21, 2019
NZ$ 995 per day, per person
NZ$1,310 per day
March 22, 2019 – December 6, 2019
NZ$ 690 per day, per person
NZ$ 915 per day
Overnight accommodations rate includes laundry facilities, all meals, non-alcoholic beverages and house beer & wine.
---
Package Specials – March 22, 2019 – December 6, 2020
| | | |
| --- | --- | --- |
| Package | Double Occupancy | Single Occupancy |
| 3 Days / 4 Nights | NZ$3,818 per person | NZ$5,997 per person |
| 6 Days / 7 Nights | NZ$6,555 per person | NZ$10,574 per person |
Package Specials – December 7, 2020 – March 21, 2021
| | | |
| --- | --- | --- |
| Package | Double Occupancy | Single Occupancy |
| 3 Days / 4 Nights | NZ$5,368 per person | NZ$9,740 per person |
| 6 Days / 7 Nights | NZ$8,015 per person | NZ$14,720 per person |
Package Specials – March 22, 2021 – December 6, 2021
| | | |
| --- | --- | --- |
| Package | Double Occupancy | Single Occupancy |
| 3 Days / 4 Nights | NZ$3,872 per person | NZ$6,069 per person |
| 6 Days / 7 Nights | NZ$6,639 per person | NZ$10,314 per person |
Included: all equipment, full day of guided fishing including the evening rise, accommodations,all meals, pre-dinner drinks, house beer & wine and same day personal laundry service.
Not Included: Fishing licenses; alcoholic beverages; transfers.
Please call or email Angler Adventures if you have any questions or would like to book Poronui, New Zealand.