Crystal Creek Lodge is located on the famous Naknek River, about 285 miles south-west of Anchorage on the western edge of Katmai National Park. This is protected, unspoiled, untracked wilderness which few fishing outfits can access. Fortunately, Crystal Creek is one of the few. Crystal Creek Lodge offers guests a perfect combination of luxurious accommodations and world-class Alaskan fly-out fishing.
To take full advantage of this wild fishery, the lodge uses a fleet of planes and strategically placed boats. With these tools, Crystal Creek can access a radius of roughly 100 miles of fishable territory. This includes world famous destinations such as the waters of the Katmai National Park, the Becharof, Alaska Peninsula National Wildlife Refuge, the Illiamna and Nushagek River drainages, Wood-Tickchik State Park and the Togiak National Wildlife Reserve.
Crystal Creek has obtained special permission from the state to access and fish many of these areas.
The Naknek River, which offers all 5 species of Pacific salmon and is one of Alaska's premier fisheries for trophy rainbows, can be reached from the lodge in only a few minutes by boat.
Having this resource so close at hand means that spectacular fishing is available even on bad weather days when fly outs are impossible. This proximity also allows for half-days of fishing which is why Crystal Creek is one of the very few Alaskan lodges to offer half-week packages.
Crystal Creek has developed an intimate knowledge of the area in and around Katmai National Park over their 20 some years of guiding there. The sheer size of this fishery puts it to a daily test. Although Crystal Creek specializes in targeting huge rainbows on the fly, the vastness of accessible water allows for an abundantly varied fishing itinerary.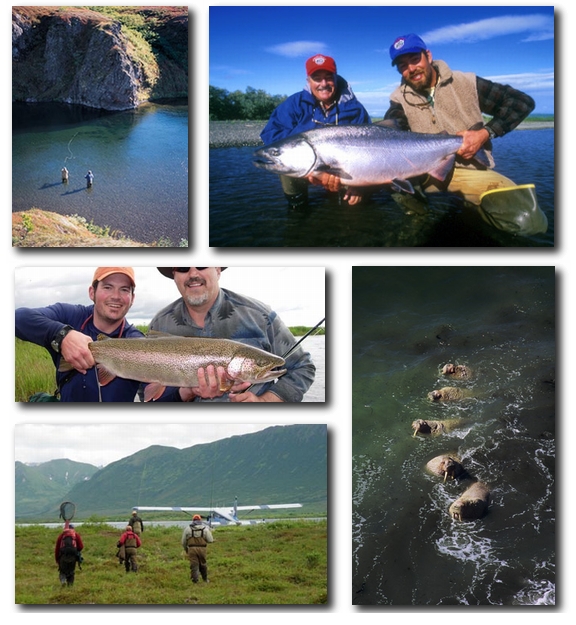 From the lodge you may choose to target all five species of Pacific salmon, including king, chum, silver, pink and sockeye, Atlantic grayling, arctic char, Dolly Varden, northern pike, lake trout and rainbow trout.
Each of the lodges 8 full-time, Orvis endorsed guides can show you exactly where an how to find any of these fish. The guides are very flexible and will consult with guests each night at dinner to plan the next day's fishing.
Salmon limits at Crystal Creek coincide with state limits. The lodge will carefully clean, vacuum pack and freeze all kept salmon in airline-approved wax containers for the trip home.
Resident species, such as trout and char, are designated as strict catch-and-release game and must be fished for with single, barb-less hooks.
The actual lodge at Crystal Creek is luxurious, even by Alaskan standards. Constructed of massive logs, river rock accented by custom cut, knotty pine paneling, the 7,500 square foot main lodge consists of 5 double rooms, 4 with either 2 full size beds, or a queen and a full size bed, and the 5th "King Room" with a king sized bed. Each room has a spacious private bath.

There is also a wader-drying room, full bar, game room, chef's kitchen and dining room overlooking the Naknek River. There are also two disconnected double-occupancy cabins with private baths. While the lodge can comfortably accommodate 18 guests, they normally take a maximum of 14 guests at a time (private groups of up to 16 can book the entire lodge by special request).
The in-house chef creates delicious fare with a dedication to locally grown vegetables and fresh caught fish, crab, oysters and scallops. Chicken, beef and pork are also served. A full bar is available, stocked with domestic and imported spirits and beer. At dinner, choose from an extensive collection of wines from the lodge's wine cellar.
Although many guests prefer to bring their own tackle, Crystal Creek Lodge also offers guests a full line of Orvis rods, reels, flies and waders to use, free of charge. Laundry service is offered by the lodge as well. Just as importantly, there is a professionally licensed massage therapist on staff.
And for the hardcore salmon fisherman, Crystal Creek also offers their incredible Yantarni Salmon Camp. This is an outpost camp on the wilderness southeast coast of the Peninsula Wildlife Reserve, 125 miles from King Salmon. Yantarni Camp fishes three small rivers right at tidewater which fill on each tide with massive numbers of chum, pink and silver salmon. Fresh from the salt, these dime bright salmon are at the peak of their strength and fighting ability. Guides will carry you upstream on ATVs to chase these runs as the move in on the tide. Chums and silvers are of large average size, mostly ranging from 10 – 20 pounds and the numbers can be staggering. This is some of the finest high volume, small stream fishing to be found anywhere in the world. The camp is situated right on the river and your fishing hours are limited only by the duration of your stay in camp.
Far from roughing it, Yantarni accommodations are in heavy duty wall tents with wood floors wood burning stoves, electric lights, carpet, and comfortable beds with sheets and down comforters. There is a common bath/shower area with unlimited hot water and a spacious dining tent with common area for relaxing. A number of Yantarni camp options are available including combo lodge/camp, full camp and lodge with a camp overnight packages are available. Please call for details.
In addition to fly-out fishing, Crystal Creek Lodge also offers a variety of other activities designed to take advantage of surrounding natural beauty. A few examples are guided wildlife tours centered around bears, walrus, sea lyons and a multitude of birds. You might also spend an afternoon exploring the local watershed in a kayak (single and double kayaks are available at the lodge for guests' use), hiking, or enjoying a guided cultural tour.
Our Services are Free!
Crystal Creek Lodge 2020 Rates

7 nights/6 days
$12,500 per person
4 days/4 nights
$ 9,700 per person
All rates based on double occupancy accommodations
The entire lodge can be rented by private groups upon request. Please call or email for prices and availabilty.
These Rates Include: Transfers between the King Salmon airport and the lodge, accommodations as described, daily guided fishing, daily housekeeping, laundry service (mid-week), all meals, use of the lodge's rods, reels and waders, all flies and lures, preparation and packaging of harvested salmon.
These Rates Do Not Include: Airfare to and from King Salmon, gratuities, beer, wine, and liquor, fishing license, fish or game stamps (in season), massages