Fly Fishing Alphonse, St. Francois & Bijoutier Atolls
Alphonse Island has been one of the world's elite flats fishing destinations for over 20 years. In addition to bonefishing where 20, 30 or even 40 fish days are possible, it boasts the world's top fly fishing for milkfish and excellent fishing for dozens of other species.
More about Alphonse Island Resort
Alphonse Island Resort has continued to improve the remote, exotic luxury island facilities that makes it one of the most comfortable and elegant options available today. When you add exclusive access for a maximum of 12 anglers per week to this pristine, magnificent flats fishing eden, Alphonse Island Resort should be on every serious angler's must-visit list.
The Seychelles consist of dozens of islands stretching hundreds of miles north of Madagascar. These islands are a mixture of spectacular, lush, mountainous granite outcroppings and low-lying atolls, typical of coral atolls elsewhere in the world, such as the Turneffe Islands, Los Roques and Christmas Island.
The three islands serviced by the Alphonse Island Resort are Alphonse, Bijoutier and St. Francois. They offer rich marine life and complete isolation. None of these islands have permanent residents.
St. Francois: 10,000 acres of sand flats
The uniqueness that sets St Francois apart from many other saltwater destinations is the ability to wade over 10 000 acres more than 15 miles of hard white sand flats in search of the various species on offer. In addition to the abundant bonefish flats, the lagoon envelopes coral finger flats and coral heads allowing anglers to catch several of the now 60 species targeted on fly, including three species of triggerfish, seven species of trevally, milkfish, barracuda, sailfish, dogtooth tuna, yellowfin tuna and a plethora of other flats and offshore species. Sight fishing for giant trevally is one of the most exhilarating forms of fly fishing one will ever experience, especially when they grow in excess of 150 lbs!
For daily fishing, the Alphonse Island Fishing Company transports clients the several miles between Alphonse Island and St. Francois Island in a 40-foot catamaran. Guides then take each pair of anglers among a multitude of diverse flats around St. Francois. Some fishing, such as casting to drop offs for trevally, rainbow runners or dogtooth tuna, is done from the skiff. Otherwise, virtually all the fishing at St. Francois is done wading.
There is quality bonefishing on Alphonse Island (there are flats within walking distance of the lodge), but the bonefishing on the larger flats around St. Francois is the focal point. Bonefish around Alphonse and St. Francois average 3-5 pounds, but guides can often find much bigger fish. Eight pounds is the upper range of the fish you will commonly find in the ankle to knee-deep water that comprises the majority of this fishery. The largest bonefish landed at Alphonse was 9.5 lbs. Bigger fish are apt to frequent deeper flats.
The most striking thing about the bonefishing in Seychelles is that under the right conditions you can stand in one spot for hours and watch hundreds of bonefish pour by in the course of a tide. If you don't think you're seeing enough "big" bonefish, just move. The "average day" may yield 12-15 bonefish per person. For an experienced angler, it's possible to have 20-40 fish days!
The best months to find larger bonefish (over 8 pounds) on the flats are May and September, however, these months can be windy and are recommended for experienced casters. The fishing season runs September – May.
The flats fishing is not limited to bonefish, although the bonefishing is so good, particularly on the incoming tide, it often overshadows other species seen on the flats.
in beautiful ALPHONSE, SEYCHELLES
(Milkies, fork-tailed devil, Bandeng, Bangos)
Milkfish are the second most prolific species on the flats aside from bonefish. Milkfish are incredibly powerful, challenging game fish, growing over 30 pounds. It is common to see 20-30 pound milkfish cruising and tailing just like a bonefish. Medium to large milkfish usually travel alone or in groups of 2-6 fish.
Unlike the bonefish, milkfish are vegetarians and will not respond to a moving fly. However, the Seychelles guides have discovered flies and techniques proven very effective on milkfish, long thought to be uncatchable on a fly. Most of the techniques and flies used to catch milkfish today were invented and perfected on Alphonse. Currently, about 90% of all milkfish released by anglers are caught at Alphonse.
(GT, Geet, Gangster of the Flats)
Giant trevally can be found on the flats occasionally, although they are more common, along with bluefin, bigeye and black trevallys, in the surf along the reef and in the deeper water of the lagoon. The majority of the trevally are in the 10-15 pound range. While trevallys have been caught up to 80 pounds, 30 pounds is the upper end of what you might encounter on a typical trip.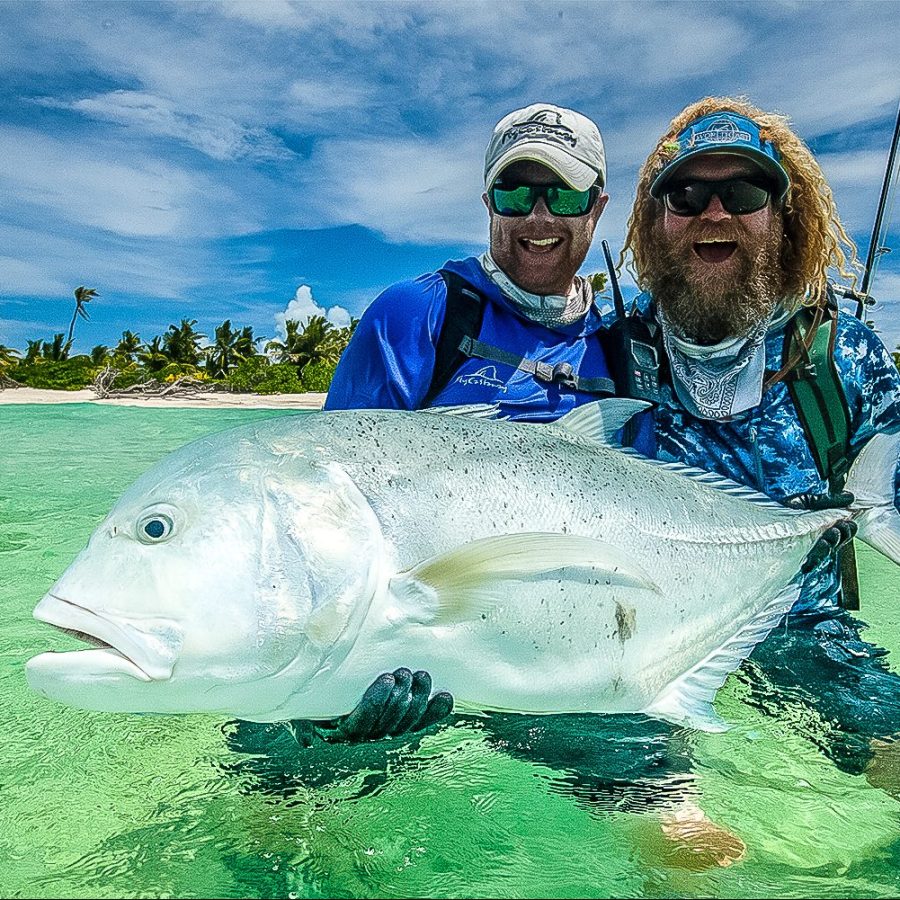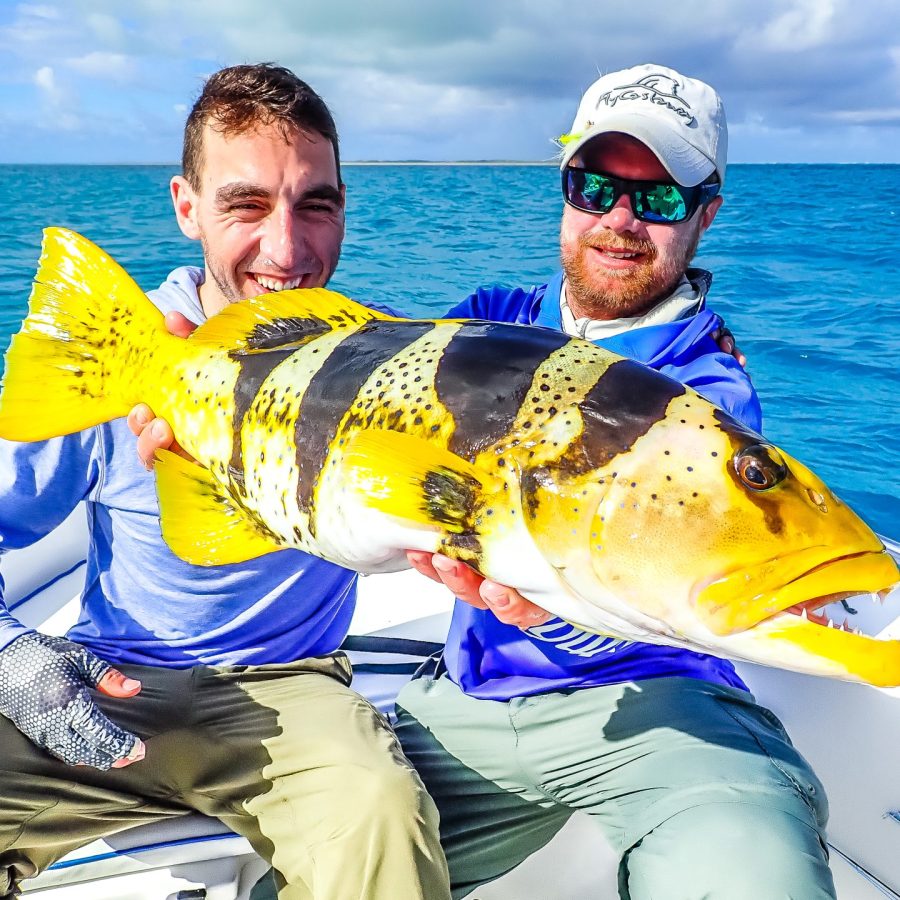 But Wait ... There's More
Barracuda, Triggerfish, African Pompano ...
Also seen on the flats are barracuda, triggerfish, trevally and a few African pompano, which look and act very much like a permit. Lemon sharks patrol in good numbers and the occasional tiger shark is seen.
Deep sink line blind fished in deeper water can produce trevally, rainbow runners, dogtooth tuna, jobfish, and more. One angler even hooked a sailfish blind casting a Clouser along a drop off. The guides have nick-named this type of fishing "species bashing;" you never know what's going to hit your fly next.
Alphonse' Team of Professional Guides
Accomodations at Alphonse Island Fly Fishing Resort
The Alphonse Island Resort is pleasant, attractive and comfortable. The main Alphonse Island Resort consists of a reception area, beach bar, restaurant, swimming pool, tennis court and main office. Guests are accommodated in one of 22 privately spaced air-conditioned Beach Bungalows or five one-bedroom Beach Suites, offering every kind of comfort. The bar area, pool and lounge area provide the ideal venue to relax in the evening breeze after a day out in the sun and houses the restaurant which serves freshly caught fish of the highest quality. The food is outstanding. The resort has a state-of-the-art desalinization plant
The 22 Beach Bungalows are set amongst lush tropical plantations just meters from the beach. Located on the eastern shoreline of the island, Each Bungalow room comes with air conditioning, ceiling fans, refrigerator, large double sink, bath and outdoor shower. The Bungalows are ideally situated to make the most of the beautiful surroundings.
Each Beach Bungalow has its own verandah, overlooking the turquoise waters of the Indian Ocean. Perfect for watching the sunrise with a cup of coffee or watching the sunset with a cocktail in hand.
The five Beach Suites are nestled amongst tropical plants, steps away from the white sandy beach. The one-bedroomed Beach Suites are spaced for optimum privacy. Complete with a private plunge pool, sun deck, open plan living and bedroom, the Beach Suites are ideal for families, honeymooners and couples alike
A large patio, overlooking the ocean, provides the ideal spot to relax between island adventures.
ALPHONSE ISLAND RESORT 2023-2025 RATES
Based On Single Occupancy & Two Anglers Per Guide/Boat
All packages are based on 7 nights/ 6 days fishing. With only 12 rods available per week, guides cannot be booked by the day or for stays of less than 6 fishing days. Rates are subject to change.
2023
7-nights/6-days fishing
2024
7-nights/6-days fishing
2025
7-nights/6-days fishing
RATES INCLUDE: Seven night Fishing Package with three meals daily; Domestic Flights Mahe-Alphonse-Mahe; Six days fully guided fishing (2 anglers per 1 guide & skiff); Fly fishing rod and reel rental; Room amenities; non-motorised and land based activities; Soft drinks during activities; Water, tea and coffee; Complimentary scheduled communal excursions; Snorkeling equipment (Loss of gear charged per item); Watersport equipment (Stand up paddle boards, kayaks); Public Wi-Fi; VAT.
RATES EXCLUDE: International flights; Mahé accommodation and transfers; Travel and medical insurance; Conservation donations; Additional excursions; Motorised activities; Beverages; Laundry and items of a personal nature; Telephone charges; Spa Treatments (where applicable); Boutique and shop purchases; Tackle and flies; Babysitting/Child-minding (where applicable); Gratuities; Private Transfers.
It's time to begin planning your trip.
Save time with Angler Adventures. We've been doing this for 43 years.