Tecka Lodge is a unique fishing property, holding more than 90-miles of fishable private water inside of 435,000 acres. It's hard to imagine a scenario better than sharing 45-miles of the Corcovado, 35-miles of the Tecka Spring Creek, various tributaries and smaller spring creeks with fewer than 20 guests.
The Rio Corcovado is the larger river. It originates in Lago General Vinter and holds Rainbows, Browns and Brookies, some up to 10 pounds. The Corcovado (the Palena when it enters Chile) runs through the Western side of the estancia in the shadow of the Andes. A deep pooled and bolder strewn river, the Corcovado is best fished from a drift boat (15 individual day long floats), with some places where anglers can wade safely. The average fish is between 15 – 18 inches, with 20 – 22 inch caught daily.
The Rio Tecka is a traditional spring creek running through the Eastern side of the Estancia Tecka. The average fish in the Tecka are 12 – 15 inch strong, well-conditioned, hard-fighting trout. The deeper pools hold fish up to 15 pounds. The fishing is exclusively wading or casting from the banks. Rio Tecka provides consistent quality dry fly fishing, which can be spectacular during grasshopper season.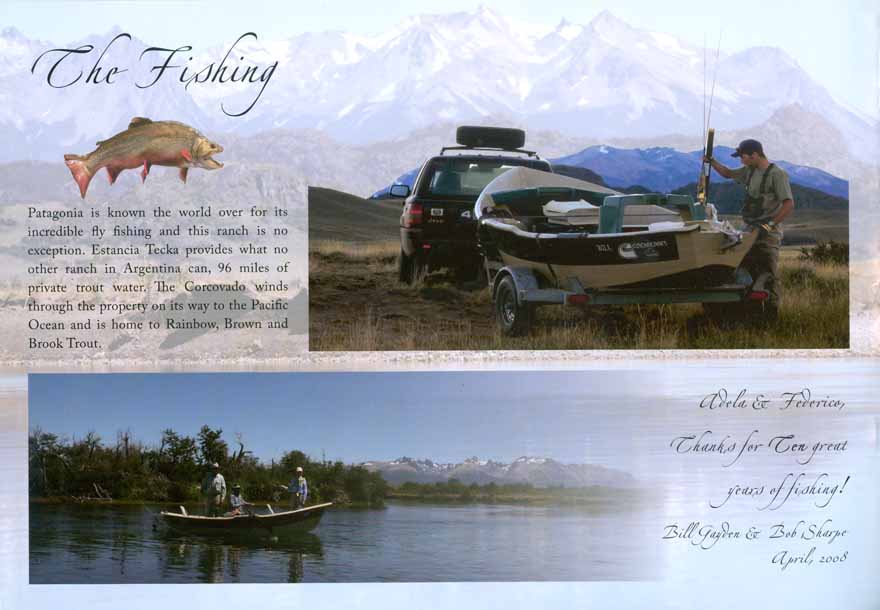 In addition to having 2 quality trout rivers on the Tecka Estancia, there are also 2 well-appointed fishing lodges: Caridad (Corcovado) and Headquarters (Tecka). The lodges are 45-minues apart, close enough that anglers can fish both rivers.
Caridad has 6 bedrooms, each with a private bathroom. While the lodge can accommodate up to 10 anglers, they prefer to have a maximum of 8 per week. From Caridad, anglers can walk to the Corcovado or drive up to an hour to the upper river.
Headquarters was the original house on the Estancia built in 1920's and has 4 bedrooms with private baths with a more traditional Patagonian décor. Headquarters allows anglers to access the Tecka Spring Creek in as little as 5 minutes or as much as 30 minutes. Headquarters also has a fantastic indoor Asado.
Tecka Lodge is located 2 hours south of Esquel, in Argentina's Chubut Province. Guests normally travel through Buenos Aires and will need to fly to Esquel on Saturday, returning the following Saturday.

Our Services are Free
Tecka Lodge 2017 – 2018 Fishing Rates
7-night / 6-day Fishing Packages (Saturday – Saturday)
(subject to change)
| | | |
| --- | --- | --- |
| Dates | Double Occupancy / Shared Boat | Per Night |
| November 1 – December 21 | $4,550 per person | $ 800 per person |
| December 21 – January 4 | $6,300 per person | $1,050 per person |
| January 4 – April 27 | $5,600 per person | $ 950 per person |
Single occupancy rooms are available for $100 per person per night. Non-fishing guests pay 50% of the fishing rate. Anglers wishing to confirm single occupancy accommodations and their own boat / guide will pay twice the double occupancy rate. Please call Angler Adventures for details.
Included: All meals and accommodations, 6-days of guided fishing on the Rio Corcovado and the Rio Tecka (2 anglers per guide), fishing licenses, transportation throughout the ranch, transfer to/from Esquel, all alcoholic beverages, laundry service.
Not Included: Air fare and special transfers, fishing gear, guide & staff gratuities.