Estancia del Zorro is a private ranch located in the Coyhaique Alto mountains on the Chile-Argentina border, 23 miles from Coyhaique, Chile. A great variety of wild trout waters are within easy reach at Estancia del Zorro.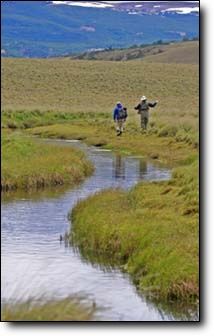 Less than a half-mile from the lodge, by gravel road, lies a spring creek that traverses the 15,000 acre ranch. The deepest runs and pools of this creek are home to brown trout to 30 inches that will rise to a hopper or large terrestrial. Other parts of the creek support greater numbers of smaller fish, averaging twleve to twenty inches. The entire spring creek, more than a mile in length, is reserved exclusively for Estancia del Zorro guests.
To limit pressure on the creek, each guest is allowed to fish it one day during his or her week. For the other 5 days of your stay at Estancia del Zorro, you select from a variety of rivers, streams and creeks in both Chile and Argentina.
Owners Jay Burgin, Mary Jacques and their Chilean partner, Sebastian Galilea have
established a network of private ranch leases that allow their clients to fish an entire week without touching public water. Add in the public water, and the variety of waters available is diverse and exciting, with an emphasis on walk and wade fishing.
Estancia del Zorro guests also have the opportunity to float the Rio Simpson once or twice during their stay. The Simpson is approximately 45 minutes by car from del Zorro.
The Highlands, a small stream tributary of The Petragosa, flows through the del Zorro ranch property and offers another option for a day of walk and wade fishing and usually constant action. Estancia Isabela is less than a half hour drive from Estancia del Zorro and is a small, wadeable creek available exclusively to Estancia del Zorro guests.
Just west of the ranch is the Petragosa, a small stream loaded with large numbers of browns from 12 to 22 inches. Pack your lunch in your guide's backpack and you can walk and wade the Petragosa for miles, sometimes pulling a dozen fish from a single pool. Further west the Petragosa runs through a gorgeous canyon, which is difficult to access and so holds very unsophisticated trout. Estancia del Zorro guides are exploring ways to make the canyon a regular part of their fishing program.
Of course, Estancia del Zorro is surrounded by pristine trout water; these are only a few examples of what guests at the ranch might fish.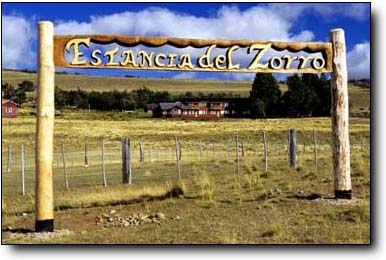 The lodge at Estancia del Zorro can accommodate up to twelve guests at a time in 6 double rooms. A main Great Room invites guests to relax, swap fish stories, and make plans for the next day's angling.
Also located in the main building is the dining room. The chef takes advantage of savory local fare prepared with a distinctive South American style.
Breakfasts and dinners are served in the main dinning room. Guests prepare their own lunches from a selection of cold cuts, breads, fresh fruits and other snacks. Lunches are packed and eaten streamside.
Our Services are Free!
Contact us for Seasonal Discounts, Special Offers or Promotional Pricing
Estancia del Zorro 2020 – 2021 RATES
The rate is $5,495 US per person for 7 nights/6 days guided fishing (in on Saturday, out on Saturday) per person, double occupancy and shared guide.
Rates include: pick-up and return to Balmaceda Airport; daily guided fishing by vehicle / foot and by drift boats or jet boat; accommodations at Estancia del Zorro, all meals with house wine and beer; soft drinks; Pisco Sour before dinner; satellite TV in club house; flies, leaders and tippet material (provided by your guide); tax.
Rates Do Not Include: airfare; fishing license (approximately $15 US to be paid at Estancia del Zorro); airport fees and taxes (to be paid upon arrival in Santiago); laundry; tips to guides and staff; hard liquor (a limited selection is available at the lodge, you may want to bring your own); tackle, possible meals or sightseeing during layovers in Santiago; additional tours; use of fax or telephone.
How to get there: From the United States you will fly into Santiago. An impressive, scenic flight on a 737 jet from Santiago, with a stop in Puerto Montt takes you to Balmecada. Upon arrival in Balmaceda, you will be met by your Estancia del Zorro Chile representative and transferred by vehicle to Estancia del Zorro. This trip takes approximately 1½ hours.