Mangrove Cay Club is one of our favorite Andros bonefishing lodges in terms of accommodations, management and fishing guides.
Formerly a large coconut plantation, Mangrove Cay Club is located on a remote waterfront site on the north shore of Mangrove Cay, on the Middle Bight of Andros Island, Bahamas. This relatively new fishing lodge ushers in a new era of comfort for the visiting angler. Well-appointed cottages, all with breathtaking ocean views, complemented by a large inviting clubhouse that features a Sportsman's Lounge and an equally impressive dinning room, highlight the complex.
More importantly still, this location was strategically chosen for access to mile upon mile of prime bonefish water without ever having to trailer a boat or ride in the open ocean. Mangrove Cay Club is literally located within minutes of the some of the Bahamas' best bonefishing flats and sits poised to take advantage of the whole of the North and Middle Bights of Andros island and the famous West Side, and has channel access to the South Bight.
Andros Island is generally considered one of the world's premier destinations for bonefishing. Notably, when Lefty Kreh, a widely respected angling authority, was asked how he might choose to spend his last fishing day, he replied that it would be stalking the big bonefish of Andros Island. Mangrove Cay is at the epicenter of this fabled fishery. The flats there are immense and offer exceptional visibility, and are usually covered with foraging bonefish.
The fishing around Mangrove Cay Club is legendary for its health and diversity. There are countless tidal creeks, islands and mangrove systems, meaning that guides can usually pick and choose the type of fishing. Whether the angler is partial to casting at schools of bonefish from the boat or stalking huge singles on foot, Mangrove Cay Club guides can usually accommodate. Because of the unique coastal design, the guides can also often find leeward flats in most conditions.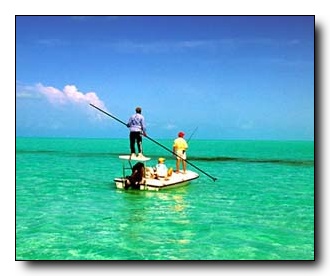 Guests fishing out of Mangrove Cay Club have access to the flats of Andros' Middle and South Bights and its legendary west side. This is a very large and diverse fishery. The typical bonefish at Mangrove Cay are between 3 and 5 pounds. However, chances at 6-10 pounders are common and fish up to 14 pounds can be seen on the west side of the island. Other flats might offer smaller bonefish in schools of a thousand or more.
The flats around Mangrove Cay are also home to barracuda, jacks, and various species of shark. Tarpon sightings are not common but a lucky few will have shots at them rolling in the deeper channels between flats.
Owners/managers Liz Bain with her husband Alton, have succeeded in the difficult task of hiring and training a team of exceptional, local fly fishing guides. The Bains attend to all other lodge details as well and will go to great lengths to insure that each Mangrove Cay Club experience is pleasurable and memorable.
The lodge itself consists of a main lodge with kitchen and dining room, and four cottages, each containing two guest suites. The main lodge opens out on to a large verandah overlooking Middle Bight, followed by a few steps down to the attractive wooden dock, where Mangrove Cay guides pick up guests each morning and dropped them off in the afternoon. Many guests enjoy spending the evenings under the verandah with a few drinks discussing the days fishing.
Each guest suite accommodates two anglers in two queen-sized beds. Liz and Alton wanted to make sure that each guest had plenty of space, privacy and minimal intrusion from neighbors. To accomplish this, each of Mangroves' spacious cottages are divided into two suites by a thick soundproof wall, and separated from the other cottages by a screen of natural vegetation.
The eight suites accommodate a maximum of sixteen guests, which is a comfortable number to ensure high quality of service. The rooms are cleaned daily and stocked with drinking water, fresh ice, towels and glasses. Each guest cottage also has its own hot water system, so the high-pressure showers are never rushed.
On the outside wall of each suite is an extensive rod rack, a bucket for cleaning reels and a freshwater hose for washing rods and all other equipment each day – essentials for the harsh saltwater environment of the Bahamas. The entrance to each cottage leads to the sitting room, which is furnished with sofa, chairs and some small tables. An ideal area for laying out tackle and equipment and offers a place to go if your roommate is asleep. To one side of the sitting room is the bathroom with a very large walk-in shower and lots of shelf and hanging space. Each bathroom has plenty of towels, two waffle-weave robes, a hairdryer, electrical outlet (electricity is standard US 110 volt), as well as a full range of bathroom products. To the other side, through double sliding doors, is a spacious bedroom with two comfortable queen-sized beds.
The layout of Mangrove Cay's accommodations allows an early rising angler, to work with their fishing gear in the sitting room or have an early shower without waking up his companion. Likewise, one guest can take a nap in peace before dinner while the other has another room to do what they wish.
Chef Iyke's daily meals are another of Mangrove Cay Club's achievements. Breakfasts consist of fresh fruits, coffees and pastries as well as eggs, bacon, grits and sausage. Dinners focus on fresh seafood; local fishermen stop at the Mangrove Cay Club dock each day while Iyke selects their freshest catches. His evening meals often include lobster, grouper, snapper, conch and even stone crab. Iyke is also quite popular for his deserts. Hors d'eouvres are served daily at the bar during cocktail hour.
Anglers prepare their own lunches each day from an extensive sandwich bar. From time to time the kitchen will pre-pack a lunch such as fried chicken and salad. In either case, lunches are packed in a cooler and eaten on the water.
Our Services are Free!
Contact us for Seasonal Discounts, Special Offers or Promotional Pricing
Mangrove Cay Club 2022 -2023 Fishing Rates
(Subject to Change)
| | | | |
| --- | --- | --- | --- |
| Package Description | Fishing | Accommodations | Cost Per Person |
| 7 Nights/6 Days Fishing | 2 Anglers Per Guide | 2 Per Room | $7,000 |
| 6 Nights/5 Days Fishing | 2 Anglers Per Guide | 2 Per Room | $6,200 |
| 5 Nights/4 Days Fishing | 2 Anglers Per Guide | 2 Per Room | $5,400 |
| 4 Nights/3 Days Fishing | 2 Anglers Per Guide | 2 Per Room | $4,400 |
| 3 Nights/2 Days Fishing | 2 Anglers Per Guide | 2 Per Room | $3,400 |
Single accommodations and fishing one angler with his own skiff / guide are available, but are subject to availability. Please call or email for single rates.
Included in the rate: transportation from Mangrove Cay airport to Mangrove Cay Club, round-trip; accommodations as described; daily guided fishing as described; all meals; refreshments onboard the boat, soft drinks, Bahamian Beer, House Wines, and Bar Liquors.
Not included and/or additional charges at Mangrove Cay Club: air travel to Mangrove Cay airport; upgraded wines and premium brand liquors; tackle, lures, flies; personal items; gratuities; 12% VAT. Additional charges can be paid at the lodge in cash, personal check or Traveler's check. Mangrove Cay Club does not accept credit cards.
– No guided fishing on designated arrival or departure days (Saturdays)
– No half day fishing rate available
– 5 Night / 4 Day fishing: minimum package available (specific dates – please inquire if interested).
– 4 Night / 3 Day fishing available only during low season (subject to change).
– Guide assignment based on a weekly rotation.