On the Big Hole River, Montana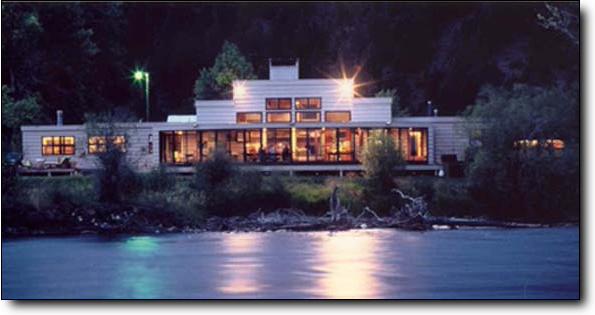 Dave and Christine Decker's Complete Fly Fisher is one of Montana's finest fishing lodges and is ideally situated directly on the legendary Big Hole River.
CFF specializes in dry fly fishing, which is best when the water levels drop sometime after the fourth of July.
The record fish at the Complete Fly Fisher is a 30-inch, 8-pound brown trout taken on a dry fly. That fish was the exception, but fish over three pounds are landed every year.
The Big Hole, Wise and Beaverhead Rivers were traditionally the Complete Fly Fishers main area of expertise. However, in recent years the lodge has expanded its repertorie of waters to include Rock Creek, the Ruby, Red Rock, Bitterroot, Clarks Fork, Jefferson, Madison, Missouri and Yellowsone Rivers, as well as Spring Creek Fishing. The Big Hole remains a main staple of the lodge's angling diet.

CFF has selectively guided anglers down Rock Creek for many seasons. Several years ago, through new partnerships with the U.S. and Lolo Forests Services, CFF has obtained the necessary permits to make this special creek available to all of its clients. For steady action and scenery, many anglers feel that Rock Creek is unequaled.
CFF has also obtained permission from the U.S. Forest Serivice to maintain a seasonal camp along the banks of Rock Creek, allowing guests to overnight in this wild and beautiful river corridor. Guests will enjoy comfortable accommodations and fresh cuisine
excellently prepared by Complete Fly Fisher staff. This wilderness adventure should be booked well in advance of your trip.
Throughout Montana and the American west, the Jefferson River is known for its trout of immense size and unyielding character. The harsh environmental conditions of the Jefferson and natural selection have left only the strongest and most aggressive survivors. These fish are opportunistic feeders, attacking high-protien whitefish, sculpins and crayfish. Complete Fly Fisher's biggest and strongest trout are routinely pulled from the Jefferson.

The Big Hole has over 100 miles of fishable water. While there is very good fishing near the lodge, most guests choose to float the river, stopping to wade the productive pools. The scenery is magnificent as you drift through cattle ranches and canyons. It is one of the very few western rivers that, in addition to brown, rainbow, and brook trout, holds cutthroat trout and grayling.
In addition to the Big Hole and it's tributary, the Wise River (pictured below), is also a freestone river. Big boulders and willowed banks make for great pocket water fishing.
The Complete Fly Fisher is an ideal place for couples, families, or groups composed of expert and novice fly fishermen. Experts will be challenged by the Big Hole's browns. Novices will return from a week's outing with a feeling of accomplishment, having been taught casting skills by competent instructors. The CFF staff teaches people to fish while they're fishing.
There is a tackle shop that carries Sage, Loomis, and Winston rods and accessories. Even if you arrive without a rod or reel, the CFF will outfit you with their brand name equipment, a service, which is included in the cost. To help you decide on when to schedule your angling adventure, a month-by-month description follows:
JUNE: From around June 10th, the giant Salmon flies begin to emerge in the Lower Big Hole River. This emergence steadily moves upstream until early July. Huge dry flies and nymphs that imitate the naturals will bring the big boys out. As large trout protect prime feeding stations, streamer patterns can bring thrilling strikes. High, fast water makes this a truly exciting time to be on the Big Hole River.
JULY: Golden stone and tremendous Caddis fly hatches replace the Salmon flies. As water drops and clears, comfortable wading is now possible and trout will spread out making for more diversified angling. July offers steady fishing from about dawn til dusk; and we do fish until dark! Weather can be particularly nice during July, with dry flies and sunshine the daily fare.
AUGUST: The hoppers are out! Caddis and small Mayflies are hatching early and late in the day. Excellent streamer fishing can be yours, along with the fish of a lifetime. Terrestrials are abundant and trout are looking for them. Flat-water angling is available for the spring creek devotee; small flies, picky fish, great challenge and usually superb weather!
SEPTEMBER: Fall is beautiful on the Big Hole and can generate some spectacular angling. Brown trout moving to spawn are very aggressive and smash big streamers. Steady dry-fly fishing and the season's lowest water bring anglers from all over the world to fish the Big Hole. While floating is still effective, wading can be tremendous sport and is recommended. Weather can range from hot and dry, to cool and wet, so come prepared for everything.
At the Complete Fly Fisher a maximum of 14 guests are accommodated in six spacious cottages and a master suite located in the main lodge.
The Complete Fly Fisher has traditionally been known for its excellence in the dining room as well. They take great pride in finding the most creative and enthusiastic chefs to prepare culinary adventures to accompany the world class fishing. Typically each week's menu is tailored to meet guests' preferences and pallet.



EQUIPMENT & ACCESSORIES TO BRING
Rods: DRY FLY and NYMPH: 8' to 9' for #4 to #6 lines.
STREAMERS: 8½ to 9½ for #6 to #8 lines.
Lines: All dry lines, weight-forward or double-taper.
Clothing: Fly fishing garb such as vests, waders, boots and the like are quite handy, but not absolutely necessary. We have at our disposal many items that you may need in this regard. Please inquire ahead. A good set of rainwear is essential because weather can range from hot and dry, to cold and wet. We highly recommend a hat with sun visor, polarized sunglasses, sunscreen and insect repellent.
In case you forget something, any or all of these items are available from Complete Fly Fisher's well-stocked Fly Shop at fair prices. If you have any equipment questions, please contact us.
NOTE: For those of you who do not have rods or reels, etc., Complete Fly Fisher has top quality equipment available for guests use at no additional charge.
Our Services are Free!
Contact us for Seasonal Discounts, Special Offers or Promotional Pricing
The 2020 rate for 6 nights, 5 days fishing at the CFF is $4,800 per person.
This rate includes: transfers to and from the Butte Airport and the lodge; expert casting instruction (as good or better than any fly fishing school); double occupancy accommodations in a cabin; all meals, including daily packed lunch and beverages; flies; unlimited use of brand name equipment from the Complete Fly Fisher's well stocked tackle shop; fishing license; expertly guided float trips; bed tax.
This rate does not include: Gratuities for guide and staff; participation in other lodge activities such as horseback riding, guided hiking or nature tours. These activities will be billed a la carte for payment at the end of your stay.
Depending upon availability, anglers may extend a stay beyond 6 nights/5 days. Trips can be extended at a cost of $960 per day (subject to change). This rate also applies for stays of less than 6 nights.
A 50% deposit per person is necessary to secure a reservation. The balance is payable upon departure from the Complete Fly Fisher in cash, travelers checks or by personal check.
We also represent guides throughout Montana and can design individual itineraries should you want to extend your trip. The Complete Fly Fisher is in great demand, so it is a good idea to plan well ahead.



(From L to R) Jefferson River, Bitteroot River and Beaverhead River