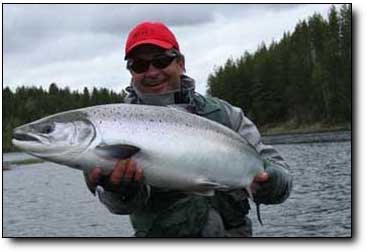 Russia's Kola Peninsula is well known as having the best Atlantic salmon fishing found anywhere in the world today. Kola Lodge provides comfortable accommodations and immediate access to this great salmon fishery. Guests at Kola Lodge, which sits directly on the banks of the Kola River itself, spend their days casting on the Kola and Kitza Rivers. These rivers both offer healthy populations of very large Atlantic salmon.
The Kola River is the place to fish for monster salmon. For many seasoned salmon fishermen, the chance at catching a 40lb.+ trophy salmon defines a great fishing experience. The beauty of the Kola River, as apposed to most other salmon rivers of the world, is that numbers of fish are not necessarily effected by size of fish. In most of the world's other salmon rivers the possibility of hooking a fish over 40 pounds is a far-flung dream, and in the few where this is a realistic possibility, one can expect to make many casts between takes. But somehow the Kola River has proven to be a consistent producer of both trophy salmon and healthy numbers.
The Kola River is situated on the western end of Russia's Kola Peninsula, just north of the Arctic Circle. The Kola is a big, brawling river strewn with large boulders and many huge rapids. Salmon need to be big and powerful to ascend these flows.
In fact, according to the Kola Lodge log book as of July 9, 2007, 185 fish over 20 pounds had been landed since June 1 of that year. 67 of these were over 25 pounds, 17 were over 30 pounds, and 4 eclipsed the magical 40-pound mark. The biggest landed to date this year (2007) was 44 pounds, but fish approaching the 50 pound mark have been taken in the past, and even larger fish have been lost. Individual catches of 30 – 40 fish per week are not uncommon in July on the Kola River with normal water levels, though June is the best month for targeting the season's biggest salmon.
2,600 Salmon were landed in the 10 weeks of fishing for 2008. The most productive week was July 5 – 12, 2008, where anglers landed 512 Salmon. This year (2008) the Kola had individual rods land as many of 60 fish in a week.
The Kola is big water and favors long casters. Accomplished spey casters will feel especially at home on the Kola. The Kola does not offer extensive wading, and especially in high water in June, many of the pools must be fished from boats to properly cover the water. There are wading opportunities, however, and the experienced guides will do their best to accommodate wading enthusiasts.
Whereas the Kola flows alongside roads and other structures (and even at one point through a village), the lower Kitza is generally a wilderness river. Kola Lodge guests often fish the Kitza in conjunction with one of the other beats on the Kola. Fish a Kola beat in the morning, for example, and then take the lower Kitza for the afternoon. Among many other beautiful pools, the lower Kitza contains the famous Monster Pool and the giant fish that give it its name. An Angler Adventures client landed a 48.5- pound Atlantic salmon at Monster Pool a few years ago.
The upper Kitza is available to Kola Lodge guests as well, though an entire day must be dedicated to fishing this water. This is because from the lodge the Kitza is approximately 40 minutes by car over rough road followed by a 25 minute hike into the river, and the day finishes with an hour's rowacross a lake to the take out spot. It's a lot of work but well worth the effort. Upper Kitza is not only incredibly beautiful, it can be extremely productive.
At Kola Lodge, anglers typically head out each morning at 9:00 am in vans towing trailered inflatables. Each guest and his personal guide is dropped off at the top of his assigned beat. He will spend the day floating and wading downstream. Each angler has his own guide and inflatable boat daily. Anglers are picked up at 7:00 – 7:30 pm at the tail end of their beats and transported back to the lodge. Dinner is served at 8:00 pm, and there is optional guided fishing from 9:00 – midnight for the diehards (there is no nighttime darkness this far north in June and July).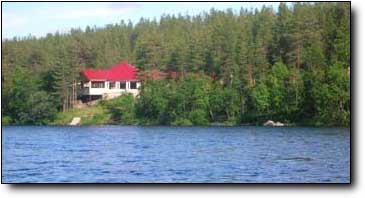 The Kola Lodge compound itself is just a few years old, and is a vast improvement over the somewhat dubious hotel where Kola anglers have been accommodated in years past. The main lodge houses the kitchen and large dining room, a spacious living room area with satellite TV and large picture windows and a porch overlooking Home Pool.
Anglers are accommodated in a complex of 17 individual cabins. Each angler has a private cabin with extremely efficient heating systems, a twin bed, table and chair, ample closet and shelf storage (plenty of hooks!), and private bath with hot shower. There is even a heated front porch / wader drying room in each cabin. Other camp structures include an open air dining room, a Finnish sauna, and a separate camp for the guides.
Our Services are Free!
Contact us for Seasonal Discounts, Special Offers or Promotional Pricing
Please call Doug Schlink at Angler Adventures for pricing and availability at Kola Lodge.