The Tigerfish is considered to be one hardest fighting freshwater game fish on the planet. It's physical makeup is of an apex predator at the top of it's food chain: stream lined body, deeply forked tail, adipose fin, large head with prominent eyes and strong, bony jaws, each with 8 large sharp protruding teeth. In addition to looking the part, they're ferocious hunters and will prey on fish up to 40% of their own size. The average Tigerfish weights between 8 – 12 lbs, however fish grow to over 20lbs.
Tigerfish are found in many rivers north of the Pongola River in South Africa and prefer well-oxygenated waters. Depending on the location, Tigerfish will show with different colors, however they're normally silvery with a bluish to dark green tinge on their back with black horizontal stripes and yellow to blood red fins with black edges. Tigerfish are also found in shoals of like sized fish, except for the big fish, which tend to be solitary hunters.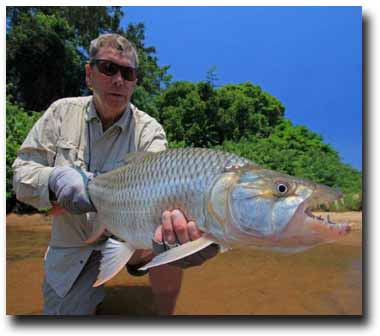 One of the few places where anglers can expect to land a 20 lb Tigerfish is on the Mnyera and Ruhudji River in southern Tanzania. When these rivers were discovered in August 2008, less than 15 people had fished their waters. In the nearly 50 years that people had been targeting Tigerfish on the fly, no one had landed a 20 lb tiger. In it's first season Mnevera produced eight Tigerfish over 20 pounds on the fly in eight days. The season has been limited 6 anglers / week during the best 16 weeks, August 1 – November 10, with the water is warming and clearing and the Tigerfish begin to feed aggressively.
The majority of the fishing is done while drifting downriver in 16ft aluminum boats with a 25Hp outboards, or while tied up / anchored near fast moving water and structure. Anglers will experience multiple beats on both rivers due to a strict beat rotation, which eliminates the possibility of over fishing: each beat is fished once every 7 days. The river structure comprises of fallen trees, long sand banks, steep mud drop-off's and rocky out crops, and throwing large flies like black Whistlers and Clouser Minnows is very productive.
There's one tent camp for each river: The Tengo Camp on the Mnyera and the Samaki Camp and Ruhudji, just outside the Selous game reserve. 6 guests per week will be accommodated in each camp for half of their stay. The camps are African style tent camps with an outdoor covered dining area where guests can enjoy meals or drinks from the full bar. Each tent contains two large single beds, hot and cold running water, showers, flush toilets, hand basins and linen is provided daily, with furniture that is fashioned from local timber. In order to access the camps, anglers will need to overnight in Dares Salaam, Tanzania in order to catch the morning charter flight (1 hour 35 minutes on a Cessna Caravan) to the dirt strip at the Mnyera River. From the landing strip, anglers will be transferred 30 minutes via land cruiser to the camp.
Our Services are Free!
 Tanzania Tigerfishing 2013 Rates
(subject to change)
The cost for 7-nights / 6.5-days fishing is USD $7,955 per person person based on double occupancy accommodations and a shared boat / guide daily. The season is late-July to late-November.
Included: Meet and greet in Dares Salaam; All transfers to and from airport; Private charter flight to and from Camp in a Cessna Caravan; six full days and two half days fishing on the Mnyera and Ruhudji rivers; All meals, water, soft drinks and limited beer, and accommodations; Boats and fuel (2 anglers per boat); Fishing licenses and concession fees.
Not Included: International Flights to Dares Salaam; Visa's $50.00 per person (Obtainable on arrival); Gratuities; wine and spirits; beer over the allocated amount in camp; Overnight accommodation in Dares Salaam.