Royal Coachman Lodge is uniquely situated on the banks of the Nuyakuk River in the Wood-Tikchik State Park region of Bristol Bay, Alaska. Just downstream of the outlet to Tikchik Lake, its location offers remoteness, solitude and great local fishing on the Nuyakuk River for the rare non-fly out day or after hours fishing. The lodge has no neighbors and no other boats, cars or planes passing by the lodge. Nowhere else on earth will you find such a wide variety of sportfish. The sheer numbers of fish that this fishery supports is mind-boggling. The area around Royal Coachman Lodge contains all five species of Pacific Salmon: Kings, Silvers, Sockeye, Chum and Pinks, along with seven species of freshwater gamefish, Rainbow Trout, Dolly Varden, Arctic Char, Arctic Greyling, Northern Pike, Lake Trout, and Sheefish!

Royal Coachman's veteran guides sit with guests each evening, around the fire or tying bench, planning the details of the next day's outing according to each client's preference. The lodge utilizes two DeHavilland Beavers on floats. Royal Coachman's guides have fished around the world and make this their career. They can help the beginner learn how to cast, or show the experienced fly fishermen how to reach a tricky undercut bank. They will give you as much or as little assistance as you desire.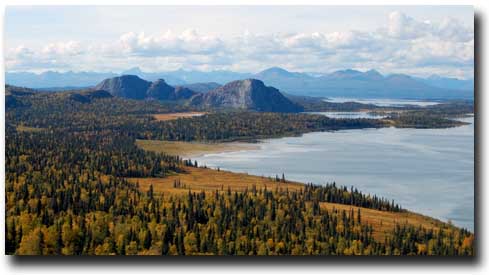 With two exclusive permits in the Togiak National Wildlife Refuge, one private trophy trout fishery permit, permits to fish Katmai National Park and Wood Tikchik State Park, three department of natural resources permits, and nearly 20 boats cached throughout the best fishing locations, Royal Coachman has honed it's competitive edge. Guests fish a variety of waters from very small streams to large rivers, lakes and the throughfares that connect them. By maintaining boats with jet units scattered throughout the region, and because of the variety of waters, private leases, and exclusive use permits held by Royal Coachman, you get the best fishing the region has too offer every day! These fishing destinations are remote and most of the time you'll be the only anglers there. Whether you're an expert fly fisherman or a beginning spin caster, you will find the angling adventure that you are looking for. And you'll catch a lot of fish.
It is routine to see schools of spawning salmon from the lodge, and Grayling rise in the lodge pool almost constantly. With a number of boats at the lodge, and downstream below the falls, Royal Coachman can access 75 miles of wilderness rivers right from the front door, with no large lake and four-foot whitecaps to contend with on rainy and blustery days.
When everything is fishing well, there are literally too many fishing options. Imagine trying to decide whether to fish for 25 pound pike on the surface, fresh sea lice covered salmon near the coast, hiking small creeks for Arctic Char in the mountain streams, Rainbows and Dollies on the Nushagak, Agulapak, Kvichak, etc, or a mixed bag of Grayling, Lake Trout, and Rainbows on Royal Coachman's home water. That's the dilemma guests face each day.
With Royal Coachman's capacity of 10 – 12 anglers per week, and a camp staff of 10 – 12 persons, this small, well-run operation has the advantage of ensuring guests personalized attention during their fishing adventure. The two DeHavilland Beavers used by Royal Coachman Lodge have ample capacity for guests, pilots and guides.
The main lodge houses the kitchen, dining room and lounge, library corner, one guest room with a private bath, and massage room. Comfortable and cozy, this is where you will plan each following days excursions. You and your guides will sit around the fire, and decide what type of fishing you would like to do, and plan the details of tomorrows outing. There is no pre-scheduled fishing program.
Royal Coachman has four finely furnished guest cottages each with living rooms, one and two bedrooms, and private baths. Each cabin or room has modern bath facilities, independent heat, excellent beds, and all the creature comforts of home, along with spectacular views of the river, the rapids, and the snowcapped peaks.
Our Services are Free!
Royal Coachman Lodge 2020 Rates
7 Night / 6 Day fishing package at the Royal Coachmen Lodge is $9,750 per person, per week.
Included in the rate are: Transportation from Dillingham to the lodge, all lodging, meals, soft drinks, daily guided fishing (one guide for each two anglers) by either boat, wading or float plane (weather permitting), preparation of salmon for transporting, and all flies and leaders.
Not included in the rate are: Transportation from Anchorage to Dillingham, personal gear, rods, reels, lures, liquor, fishing license (available at the lodge), King Salmon Stamp (if appropriate, subject to change), gratuities and alcohol.
NOTE: Alcoholic beverages are not sold at the lodge. Royal Coachman is not allowed to sell alcohol, and alcohol is not included in the package. If you would like to place an order to have at the lodge when you arrive Royal Coachman can help you arrange it by providing you with a liquor order form to complete and return prior to your trip.