Deep Water Cay Club (DWCC), located on Grand Bahama Island, is hard to beat for consistently productive bonefishing, top Bahamas' guides, state-of-the-art bonefish skiffs, outstanding facilities and management, all within close proximity to the USA. A good thing just got better. New owners (as of February 2010) are making substantial investments to the storied Club, fine tuning every aspect of operating a saltwater fishing lodge. Founded in 1959 by Gil Drake, Sr., DWCC has become an institution in the world of light tackle angling.
Newly constructed in the Spring of 2010, the Welcome Center will house a reception/reservation area, a retail shop with fishing and resort wear, dressing room, local arts and crafts, a pro tackle shop stocked with some of the best brands in the industry and a dive center. Adjacent is a tiki bar on the beach to welcome fishermen at the end of the day.
In the Fall of 2010, DWCC will have 10 brand new, state of the art skiffs to join four newly refurbished 16ft. Dolphin skiffs. These new flats skiffs include 5 Hell's Bay 17'8″ Professionals and 5 Hell's Bay 17'11" Marquesa skiffs, each powered by 90 h.p.
Yahama 4-stroke engines. The larger boats will be available to run to nearby Moores Island (approximately 30 miles or a 1 hour boat ride) allowing additional opportunities to fish for larger bonefish, permit and mutton snapper.
Also new to the fishing fleet is a 33′ World Cat used for reef fishing and offshore species including sailfish, marlin, tuna and wahoo. The boats are equipped with VHF radios, first aid kits, life preservers and fire extinguishers.
Slated for completion in the Spring of 2011, the entire DWCC boat storage facility will be moved to nearby Burrow's Marina, which will feature a full service repair center where all boats will be maintained by DWCC's expert mechanics. Guests will be picked up and dropped off at the completion of each fishing day at the DWCC docks and boats will return to the marina for refueling and storage. Old docks will be replaced by floating docks, allowing easier access to the boats.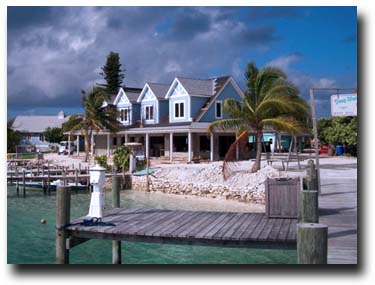 Deep Water Cay Club accommodates a maximum of twenty-two guests in oceanfront cottage rooms, which offer great views of the blue waters surrounding Grand Bahama. The well-appointed cottages are freshly painted and refurbished with all new bed and towel linens, air conditioning units, storm-proof front doors, fly rod racks and porches. These cottages can be described as luxurious in a relaxed way. Each cottage is clean and well-maintained and contain two full size beds, mini-fridge, coffee maker and walk-in closet for your convenience. Oceanfront porches with Teak Steamer Chairs complete the appointments.
The cottages are conveniently located just yards away from the Clubhouse, Welcome Center, pool and newly resurfaced tennis court.
The Founders Cottage and Drake House offer an even more spacious option for groups of four. Each has 2 bedrooms, full kitchen with dining areas, sitting and living room. Each offer great views from a wrap-around, beach-front veranda. These are a nice option for families or parties of 4.
DWCC's cuisine includes fresh seafood grouper, snapper, lobster as well as that all time favorite, conch. In addition to superb seafood, traditional fare such as roast rack of lamb with crusty rosemary potatoes is served.
Added to the original lodge in 1996, the DWCC Clubhouse elevated Deep Water Cay Club to the
position of one of the most prominent fishing lodges in the world – on a par with the "deluxe" flyout lodges in Alaska.
With views of both sunrise and sunset, the lodge contains a dining room, kitchen, restrooms, a cocktail bar with fishing photos and fishing log book, a living room/library, a game room equipped with a poker table, pool table, backgammon, computer with access to high-speed internet as well as a fully equipped fly tying table.
Attached to the lodge is a covered walkway to the Barracuda Bar, which overlooks the infinity pool and includes a grill room for parties/events, a flat screen TV, as well as a workout facility.
Despite the quality of its accommodations and food, the attraction of Deep Water Cay Club has always been flats fishing for bonefish, permit, barracuda, sharks, snapper, and jack crevalle. Set on the very private east end of Grand Bahama Island, Deep Water Cay Club is the gateway to over 250 miles of clear, pristine flats (see map).
Deep Water Cay Club employs a highly professional staff of Bahamas bonefishing guides including Mervin, Walter, Meko, Wendy, Joe T, Cecil, Simeon, Steve, Randy, and Mike T. who carry on the Pinder legacy, founded at Deep Water Cay Club. All are conscientious and knowledgeable about how to fish with bait or flies.
Fishing at Deep Water Cay Club
Besides the world class flats fishery, Deep Water Cay offers excellent offshore and reef fishing. From the Fall through the Spring, Wahoo, Sailfish, White and Blue Marlin, Mahi Mahi, and Tuna are found in the nearby Northwest Providence Channel, a short run for the Club's 33-foot World Cat center console sportfisherman.
Reef fishing is also close by – less than a mile offshore. Grouper, snapper and barracuda are the commonly caught fish, and the action can be fast and furious. Reef fishing is a perfect activity for everyone, and remains strong year 'round.
The service at Deep Water Cay Club is old fashioned in the best sense of the word. As with most Caribbean resorts, there is a noticeable informality in the way things are run, but activities are punctual. Breakfast begins at 7:30 a.m.
The fishing day lasts from 8:30 a.m. – 4:30 p.m. Deep Water Cay Club offers bonefishing as good as can be found in the Bahamas. The wadeable flats are hard-packed white sand, and the bones are easy to spot. Bonefish average 4 – 5 pounds up to 14 pounds. An estimated 250 miles of flats are within an hour's boat ride of the Lodge.
There is also a flat within walking distance of the lodge for independent fishing. This and many other flats are wadable at the lower stages of the tide. The three hour tidal difference between the east and west ends of the cay enable guests to fish medium to low tides and locate bonefish all day.
In addition to great bonefishing, there are good numbers of barracuda and sharks on the flats, as well as snapper, jacks and sometimes tarpon (not commonly) in the deeper cuts that dissect the cays. Two of the notable permit hot spots are Burrows Cay (30 minutes) and Moores Island (1 hour) by boat from the lodge. Both areas hold big permit averaging 28 to 34 pounds. The club permit record is 46 pounds. Mutton snapper and cudas can also be found on these flats.
Other activities and amenities include bottom fishing, shelling, birding, jogging and walking, beaching, swimming, snorkeling, massage and fitness center.
There are thatched umbrella-like covered areas for shade located directly in front of the lodge. There is a saltwater infinity swimming pool with lounge chairs nearby or you can swim just off the shore west of the main dock. There is, however, a strong current so it's suggested guests stay close to shore. Snorkelers can explore from shore or hire a boat for drift snorkeling trips to Thrift Harbor.
DWCC has a good selection of rods, reels, flies and lures in the small tackle shop located at their dock. Spin rod/reels rent for $16/day; fly rod/reels for $25 per day. If you want to rent equipment, it is best to reserve it in advance. Unless you plan to rent tackle, we recommend that each angler bring tackle suitable for bonefish, permit and barracuda, the most prominent species at Deep Water Cay Club. For
more information, please see Angler Adventures' Bahamas What to Bring List.
Deep Water Cay Club's tastefully decorated, air conditioned rooms, experienced guides and picture book setting contribute to its reputation as one of the premier bonefishing lodges in the Bahamas.