Sandy Point, Abaco, is one of the outstanding bonefishing destinations in the Bahamas. It has all the bases covered: good bahamas fishing guides, large numbers of bonefish (including some very big bonefish) and plenty of wadeable, hard-bottom bonefishing flats. It is also a good place to fish for sharks, big barracuda, jacks and mutton snapper. Though Bahamas permit fishing generally does not compare to places such as Ascension Bay, Mexico or Southern Belize, Peter and Gays offers access to some of the best permit fishing in the Bahamas. Pete and Gay's Guest House is situated at the center of this great Bahamas bonefishing spot.
From the lodge at Pete and Gay's, the fishing guides have fishing options to the south, north and east. The south offers miles of white sand bonefishing flats as well as tidal creeks which offer excellent bonefishing. To the north lay vast sand and mangrove flats and the famed Marls of Abaco. Directly off shore from Pete and Gays are Gorda Cay and Mores Island, both of which are well known for large bonefish and permit.
Pete and Gay Guest House is one of only two fishing lodges located in Sandy Point. Pete and Gays is owned and operated by Bahamas native Stanley White. Stanley is an excellent owner/manager and provides accountability and follow through on guest services like few other Bahamian bonefishing lodges we've dealt with. Stanley also has an excellent relationship with many of the areas top bonefishing guides, including Patrick Roberts, Nick, Tony, Derick Kendall, Val and other professional Bahamas bonefishing guides.
There are no wadeable bonefishing flats within easy walking distance of Pete & Gays Guest House (there is a beach you can walk and at the right tide you may spot some bonefish), but you can fly fish off the nearby (200 feet away) Government Pier for jacks, snappers and mackerel.
The fishing lodge itself is not fancy, but it is a clean, modern facility, completely renovated in 2000, and offers air conditioning and private baths in each of it's guest rooms. The fishing lodge is a two story building with a wrap around deck on the second floor located a short walk from the water. Of the 14 rooms, 4  (located on the second floor) are larger "mini-suites", available at an extra cost. A maximum of ten anglers can be accommodated. Bonefishing packages include airport transfers, meals, lodging and guided fishing. Pete & Gay is flexible as to the arrival days, length of your stay, and departure days.
Autumn Bonefishing: October, November, Early December. Excellent time for large bonefish and permit; other species also available. Conditions are generally quite pleasant, although there is a chance for a late hurricane or some early cold fronts. The average temperature during these months is 80 degrees (F), and the nighttime lows average about 70. Precipitation declines from an average of 6.5 inches in October to 1.3 inches in December.
Winter Bonefishing: Mid-late December, January, February, March. These are the best months for big bonefish. Good time for permit fishing, and perhaps best overall for barracuda. Daytime temperatures range around 77, and  night time is a pleasant 64. These are the dry months; average precipitation is about 1.5 inches or less. Of course, the weather can be variable: cool, cloudy, windy, and rainy conditions are possible.
Spring Bonefishing: April, May and June. Warming water and calming winds stimulate bonefish to school together. You may see and cast to hundreds of fish. There are good opportunities to sight cast to larger single fish on the flats, as well. Late spring can bring afternoon showers, and the warmer, calmer weather seems to bring out the insects. Expect daytime temperatures around 85 degrees, and nights about 72. Rainfall increases during this period to about 6 inches in June.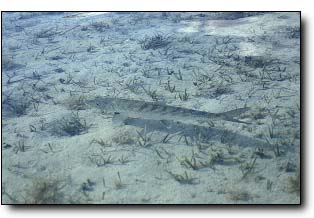 Summer Bonefishing: July, August, and September. Classic "tailing" time for bonefish on the flats, especially early and late in the day, when it's a little cooler. Early in the season, expect to find lots of permit on the flats. Some rain or a tropical storm possible, but temperatures are a warm 88 degrees during the day, and nights are a balmy 75. Rainfall is at it's highest during this period: expect about 5.5 inches average each month.
Breakfast and dinner are served in the Pete & Gay Guest House restaurant. Dinners are served family style with two main courses. The food has an authentic Bahamian flare and portions are generous. Lunches are taken aboard the boat. Every effort will be made to accommodate any particular likes or dislikes or dietary needs.
There are several ways to get to Pete & Gays Guest House. The most common routing is to fly to Marsh Harbour where you'll be met and transferred by car to Sandy Point.
This option is included in the package price. Other means of getting to Pete & Gays are:
– Schedule a private charter from Nassau
– Charter flight direct from Florida into Sandy Point, with a stop in Marsh Harbour or Nassau to clear customs.
– We will be happy to make recommendations for the best option for your group.
Our Services are Free!
Please call Angler Adventures for rates and additional information at Pete & Gay Guest House