Southern Belize, and particularly Placencia, has long been known as one of the top hotspots in the world for the elusive permit. While found in good numbers close to the mainland, the real action is found on the ocean flats located about 14 miles offshore near the barrier reef, an area known to cognoscenti as "Permit Alley". These skinny water, white sand wading flats are gin-clear ocean water and offer what many consider the ultimate angling experience, stalking tailing permit on foot! When fishing the top 6 hours of the tide, it is not unusual for anglers to get 20, 30 or more legitimate shots at tailing permit.
Crossing the open ocean between the mainland and permit alley is a weather dependent affair in a small flats skiff. But fortunately for permit lovers, Tarpon Caye Lodge, owned and operated by world-renowned permit guide and guru, Charlie Leslie, is located smack dab in the center of this permit haven. A sea-worthy canopied 28-foot launch insures a comfortable ride out to the Caye. But permit aren't the only game in town. For those who like diversity, there are plenty of tarpon (hence the name, Tarpon Caye), bonefish and other species to keep you occupied.
What distinguishes Tarpon Caye Lodge from other lodges is the flexibility of the daily fishing schedule. Charlie's motto is, "we do fishing here!" Most other lodges operate on a set daily schedule, such as 8:00 am to 4:00 pm, irrespective of the tides. The permit fishing in the Alley, is extremely tide dependent. They are up on the flats feeding on the top 6-hours of the tide. If you had low tide at 12:00 noon and fished a conventional 8:00 am to 4:00 pm lodge schedule, you'd likely not see many permit between 9:00 am and 3:00 pm. However, at Tarpon Caye, if your preference is to concentrate on permit, with a tide like this, you'll have toast and coffee at 4:00 am, and be out on the flats at daybreak to catch the last few good hours of outgoing tide. Then return to the lodge for a full breakfast and siesta, snorkeling, or use the lodge's sea kayaks to paddle down 5 minutes to the flats on the south side of the Caye to fish on your own. Then you'll had back out with your guide in mid-afternoon to catch the best part of the incoming and top of the tide. Fishing such a schedule practically guarantees permit anglers will have shots at fish during every hour of their fishing day!
The tarpon lagoon for which the Caye takes it's name, is a few pole pushes from the dock, and is usually chock full of resident tarpon in the 20 – 50 pound class. From April through November, migratory 'poons in the 50 – 100 + pound range may be encountered both in the lagoon and on a number of the deeper flats in the area. Bonefish are not only plentiful on many of the flats, but these ocean fish tend to be much larger average size than the mainland fish. All the flats are from 3 – 20 minutes run time from the dock. This may be the only destination on earth where you have a shot at a Grand Slam without traveling more than a mile from the lodge!
But flyfishing or spinfishing for the "Big Three" is just the tip of the iceberg. Opportunities for bottom fishing, conventional trolling and offshore casting and flyfishing are nearly limitless. The cut through the Barrier Reef is just 7-miles from the Caye, and the drop off just beyond can produce sailfish and blue marlin during the spring months, and what Charlie refers to as "Little Big Game Fishing" for, Dorado, wahoo, kings, amberjack, barracuda and more. The channels within minutes of the Caye also produce king mackerel, Spanish macks, wahoo, Dorado, bonito (little tunny), blackfin tuna and more. Bottom fishing yields over 7-species of groupers, 5-species of snappers, jack crevalle, bar jack, triggerfish and more. Regardless of your species or method of preference, Tarpon Caye guides are both well equipped and well schooled in catching just about anything that swims in these waters!
Accommodations at Tarpon Caye are in 3 simple but comfortable double occupancy cabañas on stilts overlooking the Home Flat to the east. Each cabaña is furnished with 2 double sized platform beds with comfortable new mattresses and head board reading lights, writing table and chair, tiled floors, cathedral ceilings to help keep the cabañas cool, fully tiled private baths with hot and cold water. Each is fronted by a private veranda with hammock and two Adirondack style deck chairs overlooking the water. For 2009, Charlie is converting the current clubhouse to a 2-bedroom, quad occupancy cabaña suite to increase occupancy from 6 to 10 guests.
The new dining room/clubhouse will feature an open-air deck & dining area overlooking the water where anglers enjoy a relaxing happy hour before sitting down to one of Tarpon Caye's signature Caribbean Gourmet dinners. Charlie (an excellent chef himself) recruits only the very best chefs from the mainland and oversees the menu. The food is outstanding!
Power on the island is generated full 110 volt so your DVD player or other appliances will plug right in. The main generator is shut down at 9:00 pm but a 12 volt system provides ample electric lighting throughout the night. Note: a new solar power system is anticipated for 2009 which will give 110 volt service 24/7.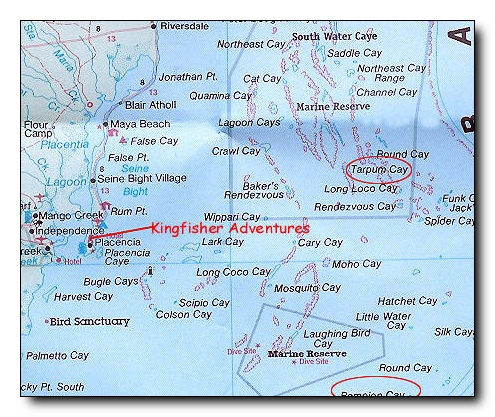 A pump driven 12,000 gallon rain water storage system provides ample water pressure to all the cabañas. For communications, the lodge provides free Internet service (WiFi is planned for the 2008/2009 season), free incoming calls to the lodge, and use of the phone to make outgoing calls using a prepaid phone card (available on the Caye). The new bar will even have satellite television for those who can't live without their CNN!
When not fishing, eating or otherwise relaxing, guests may enjoy the complimentary use the lodge's sea kayaks or snorkeling equipment. Optional snorkeling or diving charters may be arranged for non-fishing guests.
Travel to Tarpon Caye is through international arrival in Belize City followed by a 40 minute Tropic Air flight to Placencia. Guests are met at the airport and driven to Tarpon Caye's 28 foot boat launch for the 45 minute boat transfer to the Caye.
Our Services are Free!

Contact us for Seasonal Discounts, Special Offers or Promotional Pricing

Tarpon Caye 2017 – 2018 Package Rates

(Subject to change)

| | |
| --- | --- |
|  March / April / May 2017 | Two Anglers Per Boat |
| 7 Night / 6 Days Guided Fishing | $ 3,550.00 per person US |
| 6 Night / 5 Days Guided Fishing | $ 3,150.00 per person US |
| 5 Night / 4 Days Guided Fishing | $ 2,750.00 per person US |
| 4 Night / 3 Days Guided Fishing | $ 2,350.00 per person US |
| June 2017 – February 2018 | |
| 7 Night / 6 Days Guided Fishing | $ 2,950.00 per person US |
| 6 Night / 5 Days Guided Fishing | $ 2,650.00 per person US |
| 5 Night / 4 Days Guided Fishing | $ 2,350.00 per person US |
| 4 Night / 3 Days Guided Fishing | $ 2,050.00 per person US |
Included in rate: Ground transfers from Placencia airstrip to transport boat and return; Boat transfer to Tarpon Caye from Placencia and return; Meals: Breakfast, Lunch & Dinner (all boats take out a packed lunch when going out to fish – upon request); Beverages (sodas, bottled drinking water); Accommodations: private cabin (2 max per cabin); Daily Housekeeping; Guided Fishing: guide, boat, fuel, gear* Complimentary use of snorkel gear and kayaks; Wi-Fi internet; Taxes.
*NOTE: Fishing gear of rod and reel/line only, is included. If you require lures, flies or any other artificial bait, etc., it is not included. You can either bring your own or TCL will have available for sale – upon request.
Not included in rate: Airfare to Belize City from the US; airfare from Belize City to Placencia; Alcoholic beverages; items of a personal nature; Fishing tackle; Fishing license ($25 US per angler/week); gratuities to guide and staff; and any additional tours/sightseeing days.  Other expenses might include tips to baggage handlers at Belize International Airport, $1 (US) per bag is adequate and $20 (US) or $40 (BZ) Belize Departure Tax (which includes Passenger Security Screening Fee approx. $2.50 BZ, Protected Area Conservation Trust Tax $7.50 BZ and Belize Travel Tax $30.00 BZ = $40 BZ or $20 US). Airport fees and tax rates subject to change.
***Single Occupancy rates available upon request****
For complete details about Tarpon Caye Lodge please contact Doug Schlink at Angler Adventures.