Paloma River Lodge sits among the beautiful Andes Mountain Range in Chilean Patagonia. Rivers have cut through the mountains to form narrow valleys and lakes here that are filled with large numbers of brown trout and rainbow trout. Paloma River Lodge offers easy access to these unspoiled waters.
Paloma River Lodge is surrounded by high mountain vistas, blue water and big trout. The peaks of the Chilean Andes rise high above the surrounding valleys, their glacial mantles giving rise to the cold, rushing rivers that make this region an angler's dream.
Many say that this region of southern Chile is a reminder of what is was like to fish the American west approximately 50
or more years ago. Paloma River Lodge is far from any highway, paved boat ramp or crowd. Not to mention the trout, which are large and aggressive and will rise eagerly to a variety of large dry flies.
Many of the region's waters are accessible only by Paloma River Lodge clients. Even seasoned anglers will find the lodge's scenery and unpressured brown trout unique. Of course, the other great attraction of the Paloma River Lodge fishery is its population of very large trout (5+ pound fish are not uncommon). In addition to the rivers and lakes that are well known, some additional access points have been secured through local farmers that are long time friends of Paloma River Lodge owners.
While some of the trout are taken on streamers at Paloma River Lodge, about 80% of them are hooked on dry flies. All of the dry fly patterns used there are unique to this lodge, most imitating six species of beetle unique to the area. The dry-fly enthusiast will love successfully fishing big (sizes 4-10), high-floating patterns all summer long. Streamers are productive all year round but their key roll is in the lakes and during the fall season. Nymphs have typically not been used in the rivers but they can be productive when sighting fish in on of the crystal clear lakes.
Conditions around Paloma River Lodge can be challenging at times but the rewards are worth it. The lodges uses 4-wheel drive vehicles, jet boats and drift boats to access fishing areas. There is some walking required in certain

instances, such as when accessing sidechannels of the Paloma River or to the outlets of the lakes. Wading as fairly easy because the river bottoms are not slick. Some excellent fishing can also be found in the harder to reach rivers for those anglers who are willing and able to walk greater distances.
For beginning anglers we recommend spending a couple of days on the smaller creeks as a warm-up before hitting the big rivers. The wind can be a factor, particularly in November and December, but it tends to calm down by mid-January.
Though Patagonian weather is varied and unprediactable, February, March and April are generally the best months to avoid the wind.
Anglers that can cast 40 feet will be able to reach most of the fish in the lodge's rivers. Intermediate to expert fly fisherman that follow the guides suggestions should expect to see 20 to 30 trout a day. The weather can drastically reduce productivity but shut-outs are very rare because of the variety and large number of accessible lakes.
Trout between 16 and 18 inches are average. There are many over 18 inches and it is not uncommon to get several chances at browns over 22 inches. As far as the size of the fish is concerned, an average day here can outweigh a good day on most Montana or Idaho rivers. Superb days here will leave an impression on even the most experienced of anglers. Doug Swisher had a memorable day at Paloma River Lodge when in his last hour of fishing he landed ten fish between 18 and 23 inches.
The fishing at Paloma River Lodge is good from early November to mid April. The best dry-fly fishing generally occurs from January to the end of March. March brings cooler mornings and evenings and the lowest river volume, but the cooler days bring the truly big fish out of the lakes and into the rivers for spawning. The prespawn streamer fishing can be incredible from mid March to mid April.
The lodge is a very comfortable 1,980 sq. foot construction. There are 4 spacious client bedrooms, each with a queen size bed and private bathroom. A maximum of 4 rods per week will be sold, so each client will have his or her own private room. Couples may share. The kitchen is open to view from the dining room and the large common room, where fishing stories will be shared over a large selection of Chilean wine.

The lodge has two Aire Super Puma 14′ self bailing rafts, with rowing frames employed for most float trips. For exploratory fishing access to the lower stretches of the Paloma River, a modern 17′ jet sled is used. Paloma River Lodge also keeps 2 additional boats permanently at key lake fishing access points.
Lan Chile, American and United provide daily flights from New York – Miami – Santiago or Los Angeles – Santiago, which connect with domestic flights to and from Balmaceda (2 1/2 hours). From Balmaceda, a Paloma River Lodge a representative will drive you to the lodge (1 1/2 hours).
POSSIBLE EXAMPLE OF THE WEEKLY FISHING PROGRAM
This is an example of where you will be fishing during your stay at Paloma River Lodge. Itineraries can always be changed to suit individual preferences.
Day 1 – Saturday
Reception at the airport and drive to Paloma River Lodge for lunch and accommodations. Many possibilities are available for a half day wade fishing or rest after your long flight.
Day 2 – Sunday
After a short 20-minute drive to the Mogote River, wade fish along the upper Paloma River, making your way to a motor boat. Motor up to fish the outlets of Lake Desierto and Azul. Browns here average 14-16 inches with a good number above that size.
Day 3 – Monday
A 30-minute drive puts you on the Mogote River. Wade fish here for many browns in the 10″ – 14″ range. The Mogote River has the largest population of fish in our area, which means lots of action on dry flies. Some fish up to 18″.
Day 4 – Tuesday
Take a 5-minute drive to the drift boat used on the Paloma River. The browns here love Paloma's own "Big Ugly" dry fly in size 4. The average brown trout on the Paloma River will range from 16 to 20″ with a good chance at a 22″ or bigger fish.
Day 5 – Wednesday
Jump back into the drift boat and fish the middle stretch of the Paloma River. On this stretch you have many channels to wade fish, notably the famous "El Gringo" and Sleeping Fish channels.
Day 6 – Thursday
You will be run down river to the lower Paloma River to fish its most isolated stretch. After lunch you will wade fish up to the Lake Elizalde outlet. This water often presents true match-the-hatch opportunities for some of the largest fish of the week.
Day 7 – Friday
Ride in the jet boat down to the lowest reaches of the Paloma River and Lake Caro. These fish can be truly called "untouched". 1998 is the first year that this part of the river was fished by our flies and the only road to Lake Caro is a horse trail. Lake Caro has another river that enters it; the Paloma guides are waiting for an adventurous soul to check it out.
Day 8 – Saturday
A farewell breakfast and the return drive to the airport for your departing flight.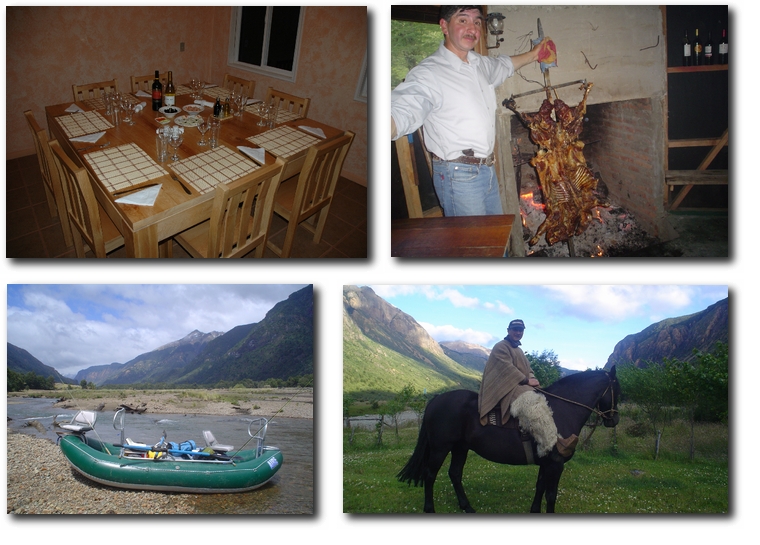 Our Services are Free!
Contact us for Seasonal Discounts, Special Offers or Promotional Pricing
Please contact Angler Adventures for current rates
Included: pick-up from the Balmaceda Airport; daily guided fishing by vehicle/foot and by Aire Super Puma drift boats or jet boat; accommodations at Paloma Lodge as described, all meals with house wine and beer; soft drinks, tax.
Not included: International airfare; flies; use of fishing tackle; departure taxes; laundry, tips to guides and staff, hard liquor (a limited selection is available at the lodge though you may want to bring your own); fishing license. Tips and gratuities range from 10 to 15 percent of the lodging rate and are also not included. Items of a personal nature such as telephone calls, baggage handling and overweight charges are the responsibility of the client.