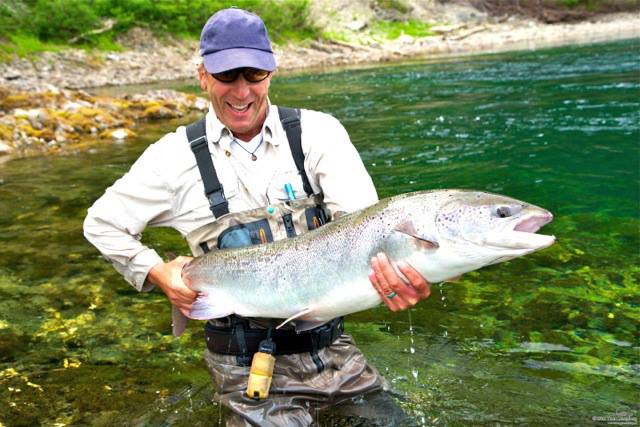 Camp Brûlé – Prime Time Atlantic salmon – Last Week of June
Due to a cancellation, two rods have just come available for the week of June 24 – July 1 (Tuesday to Tuesday) at Camp Brûlé on the Petite Cascapedia River. Brûlé fishes three of the best rivers in Quebec: the Petite, the Grand Cascapedia and the Bonaventure. Those acquainted with these great rivers will tell you the last week in June is THE WEEK – Best of the Season – period! This is a week that's usually passed down father to son or friend to friend. This is a rare opportunity and will not last long! Call 800-628-1447 or 860-434-9624 today.
The Maritime Mountains are enjoying the heaviest snowpack in years and excellent water levels are expected throughout the summer. With the best exchange rate in recent years, Americans are enjoying about a 10% discount, making 2014 a good bet for a Canadian salmon trip!
Camp Bonaventure has just 2 rods open for a great week, July 10 – 16. This is a superb dry fly / sight fishing week on the beautiful Bonnie, renowned as one of the world's clearest rivers. There are also a few slots available later in July for shorter packages, and just two rods open during the prime fall fishing weeks of September 1 – 7 and September 14 – 21.
Country Haven Lodge on the Miramichi has rods available the week of July 13, and the full moon tides of July 12 should bring an excellent push of fresh fish! Further upriver, Wilson's Sporting Camps has a few rods available the week of July 20 when that full moon push should be up to Wilson's pools! Wilson's also has 2 rods open for the third week in September, historically considered one of the best weeks for the fall run.
There are still rods available during August. While historically thought of as a bit risky, consider the fact that the Miramichi has seen the best fishing of the season during the month of August in 5 of the last 10 years.
For those looking farther afield, the beautiful country of Iceland has some of the world's best salmon fishing. The East Rangá, one of the country's top producing rivers (nearly 5,000 salmon to 18 rods in 2013) still has a couple rods open for a prime time 3-day slot July 21 – 24. And the Blanda, one of the north coast's best big fish rivers has an excellent slot available on the infamous "Beat 1", July 30 – August 3 (4-days fishing). These are full service, luxury lodge packages, but for economy minded anglers, we can also arrange "self catered" fishing (either guided or unguided) on some excellent rivers both north and south. Combination trips can be arranged. Please call for details.
Even More Atlantic salmon Space – Hosted Weeks. Call for details or to confirm your spot.
Brûlé Spey School – noted Atlantic salmon authority, Spey caster extraordinaire and author of the highly acclaimed "Atlantic Salmon Magic", Topher Browne will be hosting a Spey School at Camp Brûlé the week of July 27 – August 3, and there are still a few rods available.
Master reel maker, William Olson will host a 4 night/3 day trip August 3rd – 7th to Camp Brûlé. Olson's beautiful serpentine handle reels have been compared with such classics as Bogdans and Vom Hofes. The Petite is the coldest river on the Gaspé and frequently fishes very well deep into August.
The Petite Cascapedia hosts a good run of big males in late September and west coast steelhead guide, Brian Chou will be at Camp Brûlé teaching his cold water steelhead Spey techniques September 20th – 25th and world renowned painter and noted salmon angler, Galen Mercer will be capturing the spectacular fall colors along this beautiful river the final week of the season.
Salmon Lodge on the Grand Cascapedia has an opening for just 1 rod during Henrik Mortensen's hosted week, August 10th – 17th. Henrik is widely acclaimed throughout Europe as the Master of Scandinavian Underhand casting. Beginners and advanced Spey casters will benefit from his knowledge, and The Salmon Lodge has access to some incredible water (C sector) during the month of August.
This post is over 1 year old. Contact Angler Adventures for current pricing and discounts.