Camp Bonaventure is situated on the stunning south shore of Québec's Gaspé Peninsula, nestled in a natural stand of white birches on the bank of the Bonaventure River. Guests at Camp Bonaventure are immersed in a truly unforgettable Atlantic salmon fishing experience on what's been described by many as "the clearest salmon river in the world". This Atlantic salmon fishing lodge and sporting lodge has been designed for the most discriminating fly-fishing enthusiast and specializes in sight fishing for Atlantic salmon on some of the world's clearest and pristine rivers.

Camp Bonaventure has been designed with your every convenience in mind and built to satisfy the most discriminating sporting requirements. Camp Bonaventure provides comfort, service and standard of sport that repeatedly delights guests. The friendly and professional lodge staff will make you feel right at home from the moment you arrive until you depart.
Camp Bonaventure provides its guests the opportunity to fish over 80 miles of three fabled Atlantic salmon rivers is Québec's Gaspé Peninsula. This area of Québec boasts some of the best and most renowned Atlantic salmon rivers in the world, like the Bonaventure, the Grand Cascapedia, and the Petite Cascapedia.

The Bonaventure is legendary for water clarity. Spring fed and stable in all but the most severe spate, the Bonaventure will present the angler an astounding number of sight casting opportunities. The headwaters of the Bonaventure River (as well as the Cascapedias) begin high in the Chic-Choc mountain range in the heart of the Gaspé Peninsula. Supplemented by numerous springs, the Bonaventure reliably provides cold, clear water throughout the entire season. Some of Camp Bonaventures' very best salmon fishing occurs at times when other rivers experience poor fishing due to high water temperatures or low water conditions.
Camp Bonaventure's typically rotate through pools on the Bonaventure, the world famous Grand Cascapedia where salmon in the forty-plus pound class are not uncommon, or the jewel like Petite Cascapedia, which is known for its gin clear picturesque pools holding big salmon and enormous sea-run brook trout.
Fishing at Camp Bonaventure is done either by wading or in the traditional Gaspé fashion, from a 26-foot river canoe. During the early season the rivers allow for a combination of both wading and fishing from the canoe. Later in the season, the lower water levels are more efficiently fished by wading.
Camp Bonaventure provides a laid back and relaxing atmosphere. The main lodge building features spacious and comfortably appointed living room, fully equipped fly-tying desk, and dining room with thirty-foot river-stone fireplaces. There is a large deck overlooking the river: a great place to enjoy a morning coffee or nightcap underneath the stars and share fishing stories. The main lodge also has four comfortably appointed guest rooms, each with a private bath and screened porch, providing accommodations for up to eight guests. In addition to the main lodge Camp Bonaventure has a 2-bedroom private guesthouse that offers a little more privacy. Designed for quiet and relaxation it features a spacious private living room with a huge thirty-foot fireplace, two spacious bedrooms with private baths and screened porches, and a wonderful patio complete with Adirondack chairs. For an added level of privacy, Camp Bonaventure will deliver fresh coffee and juice in the morning and hors d'oeuvres before dinner to guests staying in the guesthouse, if they prefer.

Camp Bonaventure also has a convenient and well-designed rod room on the property. This separate building features private storage areas for each angler's gear and waders, a rod rack that can accommodate even a 15-foot Spey rod, and a radiant heating system that will dry gear overnight. Guests will meet their guide in rod room each day, which always has fresh coffee in the morning and cool drinks when anglers return after a day on the river.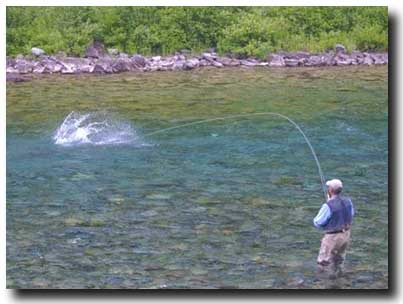 Camp Bonaventure employ's a full time chef who prepares a diverse menu of fine dining that includes fresh local seafood, prime beef and a number of other excellent meals. Breakfasts feature a number of favorites including homemade wild berry jams, local maple syrup and fresh breads baked daily. Lunches can be taken picnic style on the river or enjoyed back at the lodge. Before dinner enjoy tasty appetizers with your favorite drink. The evening meals are served in the dining room, in front of an open fireplace, overlooking the beautiful Bonaventure River. Camp Bonaventure is happy to accommodate and guest's special dietary requirements or preferences.
Our Services are Free!
Contact us for Seasonal Discounts, Special Offers or Promotional Pricing
Camp Bonaventure 2020 Rates
Camp Bonaventure opens for guests on June 10th as to ensure that fresh salmon are in the rivers when the first anglers arrive. The Atlantic salmon season officially opens in Quebec on June 1 with Salmon traditionally first arriving in late-May. Camp Bonaventure offers 3, 4 and 7-day packages:
A three day package would be an arrival on a Sunday and fish Monday, Tuesday and Wednesday or an arrival on Thursday and fish Friday, Saturday and Sunday.
3 days $3525 CAD
A four day package would be an arrival on Sunday and fish Monday, Tuesday, Wednesday and Thursday or an arrival on Wednesday and fish Thursday, Friday, Saturday and Sunday.
4 days $4700 CAD
A seven day package runs from Sunday to Sunday, Wednesday to Wednesday or Thursday to Thursday.
7 days $8225 CAD
Single supplement, please add $900 per day, includes a private bedroom with bath and one-to-one guide ratio. Please note that a single angler without a fishing partner is not required to pay the single supplement. The supplement rate is only for an angler who requests to fish alone, have a single bedroom and a private guide.
The non-fishing rate is $300.00 per day which includes lodging, meals and snacks.
All prices are subject to a 14.9% government sales tax.
Included in the Rate: Double occupancy accommodations, meals, wine with lunch and dinner, snacks, guided fishing with 2 anglers per guide, transportation while at the lodge, high-speed wireless Internet access; CD with photos taken by the guides.
Not Included in the Rate: Travel Expenses; Fishing license; Gratuities; 5% GST and 9.9% QST tax; Alcohol; Personal Items; Fishing Equipment.
This post is over 1 year old. Contact Angler Adventures for current pricing and discounts.