On June 23rd, 1990, Ken Jamieson, member of the Ristigouche Salmon Club was fishing out of the Club's Pine Island Camp on Cross Point Pool, about 6 miles above Red Pine Mountain Lodge. At 6:00 pm, using a 9 foot, 9 weight rod, a 15 pound test tippet and a #4 double Silver Rat, Ken hooked a VERY large fish. After a 1-hour & 15-minute battle, Ken was able to beach the monster (it dwarfed the net) and guide Charlie Adams, with the assistance of two passing canoeists, was able to measure and quickly release the massive fish.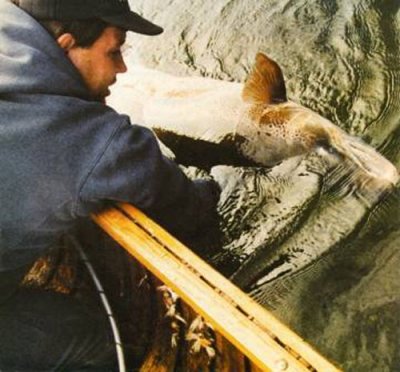 A Giant Restigouche Atlantic Salmon taken in June 1988 by Mike Crosby. Estimated weight, 60 pounds. No, it's not a tarpon…and it's not even the largest salmon from the Restigouche!
The giant salmon measured 68 1/2 inches in length and 29 inches in girth. Using the old William H. Wood formula, L X G squared divided by 800, this fish weighed an incredible 72 pounds. However, using the modern adjustment (considered more accurate for salmonids and nearly identical to the G.H. Maunsell formula from the 1933, "The Fisherman's Vade Mecum), this fish would top 76 pounds. The Ally Gowan formula, developed over years from salmon that had been harvested, weighed and measured from the River Tay in Scotland, would put this fish at 86 pounds! Even using the most conservative Wood Formula as an estimate, at 72 pounds, this fish was clearly the largest Atlantic salmon ever landed in North America. (see formulas below)
The IGFA lists Donal O'Brien's 47 pound salmon from Quebec's Cascapedia in 1982 as the current world record on fly with a 16-pound (8 kg.) test tippet. The all tackle record was 79-pounds, 2-ounces taken in 1928 on heavy conventional rod and reel on the Tana River in Norway. The largest Atlantic salmon ever taken by flyfishing was 74 pounds, landed in 1921 on the Aaroy River in Norway. As the Restigouche is under New Brunswick catch & release regulations, we'll never know the exact weight of Jamieson's giant salmon. But not only was it the largest Atlantic salmon ever taken in North America, it qualifies as one of the largest Atlantic salmon ever taken on rod & reel in the world!
Capturing a 50-pound Atlantic salmon is something that might occur once every quarter or half century. Well consider Jamieson's monster salmon came just 2-years after Mike Crosby of Halifax released a fish estimated at 60+ pounds on the Restigouche (see photo above). And in the past 20-years, there have been numerous other releases of Restigouche fish topping the 50 pound barrier (most recently a 52 pounder in 2007)! At Red Pine Mountain Lodge, we've lost a few that we believe might have topped the magical 50 pound barrier (our lodge record is 47-pounds, weighed). But it's only a question of time before some lucky angler at Red Pine breaks the 50-pound mark. Wouldn't you like to be the one?
F

ormulas to Estimate Weight of Atlantic Salmon
William H. Wood Formula: Length X Girth Squared Divided by 800 (L & G expresssed in inches)
L
G
G Sqrd
L X G Sqr
800
Est Lbs.
68.5
29
841
57608.50
800
72.010625
Modern Adjustment for Salmonids: Length X Girth Squared Divided by 750
L
G
G Sqrd
L X G Sqr
750
Est Lbs.
68.5
29
841
57608.50
750
76.81133333
Maunsell's "Fisherman's Vade Mecum" formula (LX4/3) X G sqrd/1000 (L & G in inches) = Lbs
L
68.5
1.3333
91.33
G
29
sqrd =
841.00
product
76809.41305
divisor
1000
Pounds
76.80941305
Gowan Formula: K (constant factor of 41.4) X L X G Sqrd = Kgs. (L & G expressed in meters)
Inches
x Conv.
Meters
L
68.5
0.0254
1.7399
G
29
0.0254
0.7366
K
L x
G x
G x
wgt. Kg
41.4
1.7399
0.7366
0.7366
39.0830149
2.2046
wgt. Lbs.
86.16
For Reservations or more information, contact
Doug Schlink
800-628-1447 – 860-434-9624
Fax 860-434-8605
E-Mail:doug@angleradventures.com
PO Box 872, Old Lyme, CT 06371
web site: AnglerAdventures.com