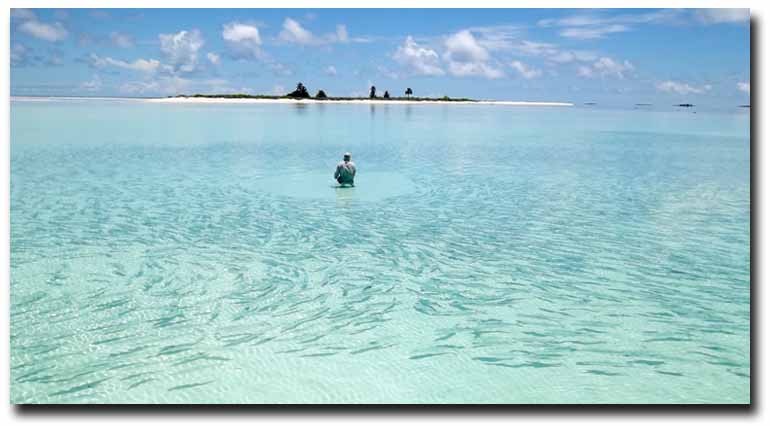 "Don't expect to see this every week", Gerhard Laubscher, owner of FlyCastaway told his audience in Darien, CT on July 18, 2012. But you get the idea. Start with a remote island in the middle of the Indian Ocean, add less than 100 anglers a year, and you'll find bonefish that behave differently. Giant Trevally's (GT's) and Permit too. Although this picture was taken at Farquhar, the bonefishing is even better on St. Brandon's. After seeing his presentation, no one in the room doubted Gerhard's pronouncement, "St. Brandon's is the best bonefishing on the planet for both numbers and size." The "school" fish are 6 – 7 pounds. The best week of the season, 10 bones over 10 pounds were landed, and the season is short: Only 12 – 14 weeks per year! Talk about resting already unpressured flats!!
St. Brandon's also has the best permit fishing (Indian Ocean Permit), as well as barracuda, sharks, and a variety of trevally. The above applies to St. Brandon's spring and fall. St. Brandon's doesn't have as many GT's as Farquhar, but almost all of the GT's caught at St. Brandon's are BIG (50 – 100 lbs), particularly in the fall.
Click here to view the presentation on St. Brandon's Atoll, Mauritius.
Farquhar is famous for it's variety: GT's, bonefish, trigger fish, humphead parrot fish, a variety of grouper, snapper, sharks, Napoleon Wrasse, Job fish, and more (all on a fly). In fact, one of our clients landed 18 different species on a trip in April 2012. There are 2 distinct seasons on Farquhar: The fall has good variety fishing, but it's overshadowed by the awesome GT fishing. Lot's of fish and good size (40 – 80 lbs). Bonefishing is consistent spring or fall for bones up to 8 lbs. The spring season at Farquhar has even greater variety, with more triggerfish and milkfish than the fall, but not as many GT's.
Click here to view the presentation on Farquhar Atoll, Seychelles.
The seasons are short, designed to target the optimum weather / fishing conditions:
Farquhar is open October – mid-December & late-February – early-May
St. Brandon's is open October – mid-December & April – June
Only 31 rods left for the 2012 – 2013 Season!
< border="1" cellspacing="0" cellpadding="0">
Farquhar 2012: USD$7,500
Rods
St. Brandon's 2012 / 2013: Euro 6,700
Rods
October 13 -20, 2012
1
November 10 – 19, 2012
1
October 20 – 27, 2012
1
March 29 – April 7, 2013
6
November 17 – 24, 2012
 2
May 2 – 11, 2013
3
May 13 – 22, 2013
3
May 24 – June 2, 2013
6
June 4 – 13, 2013
8
Call us today (800-628-1447 or 860-434-9624) to hold dates for 4 week without obligation.
This post is over 1 year old. Contact Angler Adventures for current pricing and discounts.