Turneffe Island Resort is located on the Caye Bokel, in the southern part of Turneffe Atoll Island Chain. The Turneffe Atoll is located 30 miles off the coast of Belize and the only inhabitants on Caye Bokel are the resorts personnel and guests.
Turneffe Island Resort is 5 – 10 minutes from clear, pristine flats. If you enjoy walking the flats in pursuit of bonefish and permit, there is no better place than Turneffe Atoll's miles upon miles of ankle deep flats that lie between the Turneffe Islands and the surrounding reef. These flats are composed of hard sand, coral and eelgrass and nearly all these flats are wadable. It's not uncommon to see schools of 25 or more tailing bonefish against the dramatic and unusual background of palm-studded mangrove islands and crashing white surf on the barrier reef that is unlike anywhere else in the world. Tailing
permit sometimes appear on the shallow flats on the high tides. However, permit are also available on the deeper flats, creeks, or deeper water areas like "the elbow".
Tarpon are available in mangrove creeks from approximately mid-May through December with the peak tarpon fishing occurring June, July and August. The average size of the tarpon landed at Turneffe Island Resort is between 40 – 50 lbs, but during the peak of the migration, it's possible to get shots at 150 lb + fish. There is excellent grouper and snapper fishing in the many mangrove creeks surrounding the lodge.
To preserve this special fishery, the resort has limited the number of anglers each week to 8 and rotate fishing certain flats to insure the fish stay hungry and happy. English is the native language of Belize, a former English colony. The guides at Turneffe Island Resort have years of experience fishing and guiding anglers on these waters. The guides fish out of Dolphin Super Skiffs with 50 HP, 4-stroke outboard engines.
Turneffe Island Resort has first-rate facilities, especially considering its remote location. All rooms and cabanas (optional upgrade) have been extensively renovated. Every room at Turneffe Island Resort opens up to a lovely white sand beach and has ceiling fans, air conditioning and a private bathroom. We recommend it for wives and families provided everyone enjoys diving or fishing. When you visit this beautiful island you are guaranteed privacy. Turneffe Island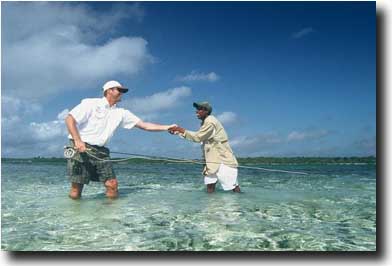 Resort will organize special events, such as picnics and boating for "non activity" guests, but realize that all activities center around the water. Non-activity guests are welcomed, and may enjoy windsurfing, volleyball, kayaking, swimming, sunfish sail boat use and beach combing.
Diving: The most spectacular dive sites in Belize – Lighthouse Reef, Blue Hole, Glovers Reef and Half Moon Caye – are all within an hour ride by boat. (Call for diving rates). Excellent snorkeling / diving is also available near the lodge. Turneffe Island Lodge operates two new Pro 48 boats. One is used for the diving program and the other used for guest transfer and deep-sea fishing. There is no better diving in the Caribbean.
A 50% deposit is necessary to reserve space at Turneffe Island Resort and after receiving your deposit we will send a complete list of tackle and equipment to bring. Final payment is due 65 days prior to departure.
Angler Adventures has considerable experience making arrangements to Belize. We can assure you the lowest currently available airfares. Turneffe Island Resort suggests a mid-day Saturday arrival (there are no activities scheduled for Saturdays) on either American or Continental Airlines, in order to connect to the boat transfer to the lodge mid afternoon.
Our Services are Free!
Contact us for Seasonal Discounts, Special Offers or Promotional Pricing
Fishing Packages
2017 – 2018
(all rates subject to change)

Saturday – Saturday
7 Night

Saturday – Wednesday
4 Night

Wednesday – Saturday
3 Night

Deluxe Room

$4,390

$2,790

$2,190

Superior Room

$4,890

$3,190

$2,490

Private Villa

$5,890

$3,790

$3,090
Turneffe Island Resort also offers Beachcomber Packages which include guided snorkeling trips, kayaks, Day trip to Lightreef Atoll / Blue Hole and Booby bird santuary, Dive Packages which include daily scheduled dives, tanks, weights and night dive and also Combo Packages. Please call Angler Adventures for these package prices and specific details.
All rates are per person in US dollars and based on double occupancy.  Dive, Combo, Resort, and single occupancy packages are available upon request. Children 12 and older are welcome. Please ask about Turneffe Island Resort's Special Family Weeks. Rates are subject to change. No refunds are given for unused portions of packages and no substitutions can be made between packages.
All packages include: Resort accommodations; all meals; hors d' oeuvres; transfers to/from Belize City.
Fishing packages included: daily guided fishing; flats fishing skiff, 2 anglers per boat (fishing hours are 8:00 AM – 5:00 PM).
Not Included: airfare to Belize City; fishing equipment; staff & guide gratuities; bar tab; dive/snorkel equipment; Belize departure tax ($37 US); 12.5% tax.