Across the border from Esquel in Argentina, and deep into the Coyhue forests of the tenth region of Chile flow the azure depths of the Futaleufu river.
A world away from the hustle and bustle that even sleepy Esquel represent, the "Big River"; (for this is how Futaleufu translates from the Tehuelche tongue) rolls along, amid some of the most unspoiled mountain scenery on the planet.
South of the Chilean lake district, Futaleufu is a stand alone fishery. The freestone giant grows healthy stocks of rainbow and brown trout that are fed by abundant hatches of mayfly, caddis and stone flies. A heavy resident stock
of fish and great hatches combined with classic fly water make the Futaleufu a trout fisherman's paradise. Average rainbows and browns are in the 14″-16″ class but much larger fish are caught regularly.
There is even the occasional sea-run fish, guaranteed to put a bend in your rod! In truth though, whilst the chance of a big fish is a daily occurrence, it's hard to be totally focused on the fishing in a place this special.
There's a magic in the valley that transcends mere fishing. Futaleufu is a place to re-charge your batteries, to feel your spirits soar.
The lodges inaccessibility through the Valle de las Escalas make this part of the river unique, lazy horseback trails wind down to the rivers edge, a riot of Lupins and other wild flowers, no engines pollute the river here chemically or audibly and time appears to have stood still. Futa Lodge stands sentinel on the river bank wishing you well on your daily fishing foray, its lights twinkling a greeting in the evening as you return from the river.
Since the mid -eighties Futa Lodge has welcomed the greatest names in fishing, from Lefty Kreh and Mel Kreiger to Lee and Joan Wulff. The reason they came is the same now as it always has been, Futa represents the best of Chilean fishing, hospitality, accommodations, guiding and service.
The Fishing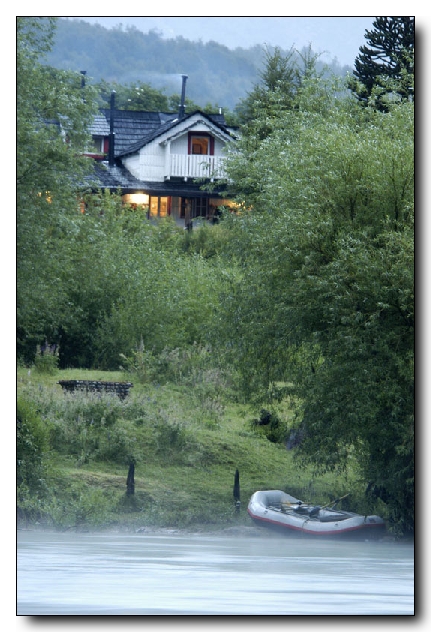 Futa Lodge fishes primarily for Brown and Rainbow trout, with dry and wet flies in the Futaleufu river itself. The lodge also fishes neighboring tributaries and lakes which are mostly populated by Browns and Rainbows.
Other species occasionally encountered in the Futaleufu and Espolon rivers include Chinook, Silver & Atlantic Salmon, Sea-run Brown Trout and Steelhead. During a full week stay, anglers can visit different waters each day.
Easy access to some of the prime water on the Futaleufu river from right in front of the lodge. Great wade and drift boat fishing. Superb Dry fly and Streamer fishing. Varied fishing program taking in local tributaries and Lakes.
Fly Gear: Nine foot 4-7 weight rods for dry flies, 5-8 weight rods for wet-flies and streamers. Floating lines and sink tip and fast sinking lines. 8 foot to 12 foot leaders tapered down to two pound tippet for dry-flies and tapered down to 6 lbs for streamers.
Flies in Dry fly would be all mayfly patterns from size 12-20, spent patterns in similar sizes. Nymphs and Scuds in sizes 10-18 weighted and un-weighted. Streamers, Sculpins and Wooly Buggers in sizes 6-12.
Fishing Schedule is flexible but will normally start after breakfast at 8:00 AM – 8:30 AM. Shore lunches are the norm followed by fishing in the afternoon until into the evening. Seasonal changes will take into account the changing light but early season fishing may be as late as 10 PM, late season as early as 7 PM.
Futaleufu Lodge is strictly a catch and release fishery.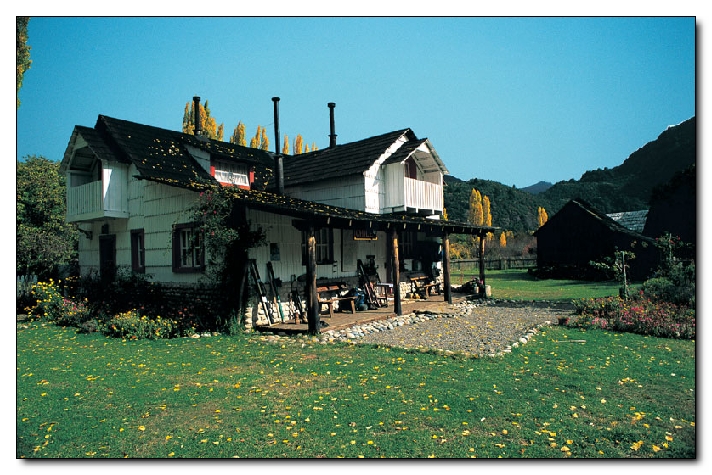 Location: Futa Lodge is situated in the Valle de las Escalas on the Futaleufu River, about half way between Puerto Montt and Coyhaique, 40 minutes drive from the village of Fuateufu.
How to get there: From Argentina, there are weekly flights to Esquel. You will be met by a lodge representative, cross the border to Chile and driven to the lodge (approx 1 1/2 hours)
By air from Santiago and Puerto Montt to Chaiten. You will be met in Chaiten and transfers to the lodge by 4WD vehicle (approx 4 hours).
From Puerto Montt you can also charter direct to the Futaleufu airport, where you will be met by a lodge representative and driven to the lodge (approx 40 minutes).
Facilities & Services
Capacity of 6 rods. Accommodations: Guests are housed in the main lodge, in comfortable twin rooms with private bathroom. Bedrooms have efficient wood burning stoves, and bathrooms are newly modernized, with plenty of hot water.
Extended Dining room, living room and bar areas with ample room for relaxing by the log fire.

Fly-tying table and extensive selection of materials. Fly-shop fully equipped with flies, rods, reels, lines and selected items of clothing.
Professional Local and International English speaking guides, trained in first aid and C.P.R all of whom are also qualified casting instructors. Quality custom Built fishing Rafts with swivel ended frames Fore and Aft. 4WD double cabin vehicles.
Full stable of horses, so anglers can access rivers on horseback should they choose to do so.
All inclusive bar featuring local spirits and the famous pisco sour cocktails. Wonderful wine selection served with dinner. Our wines ar
e selected from Chile's finest vineyards. Gourmet cuisine featuring a variety of typical Chilean dishes such as curanto and sopaipillas, home made breads and desserts and fresh vegetables from our kitchen garden.
Cooked shore lunches served with wine, beer and hot drinks. Lamb asados, attended by a local dance troop who will demonstrate the Cueca (national dance). This special evening has been a long standing tradition at the Lodge and most popular with guests.
Maid and laundry service. 24 hour internet service.
Non-fishing activities:
White-water rafting and kayaking in the Futaleufu River.
Horse-riding through the magical coyhue forests.
Hiking to local waterfalls.
Bird watching
Our Services are Free!
Contact us for Seasonal Discounts, Special Offers or Promotional Pricing
Futa lodge 2020 – 2021 Rates
Rates are based on double occupancy and shared guide 7 nights / 6 days of fishing, $5,950 per person (subject to change). Shorter packages and Special packages combining fishing in Futa Lodge and Nervous Waters lodges in Argentina can be arranged.
The lodge is open from December – March.
Included: Lodging, meals, local spirits and wines at the lodge, transfers from Chaiten or Esquel, fishing license
Not included: gratuities for guides and staff, airfares, laundry service, transfer from Bariloche or Esquel (price available upon request).