Flamingo Cay Lodge is the only lodge situated on Andros' famous west side. Other lodges do fish Andros's west side, but only by navigating the island's creek system for up to an hour by boat over choppy seas, often at an additional fuel surcharge. From Flamingo Cay, huge western bones are only minutes away. Nestled in a private, secluded cove, Flamingo Cay is a unique private retreat that offers some of the best bonefishing and waterfowl hunting in the Bahamas.
Flamingo Cay was acquired by the Bethell Family in the 1920's. Charles W.F. Bethell maintained the property for waterfowl shooting in the 1950's and was host to The Duke of Windsor and other celebrities. Grandson and current owner/operator Charles B.M. Bethell III, restored the existing camp and has developed a unique sporting destination for waterfowl and flats fishing enthusiasts.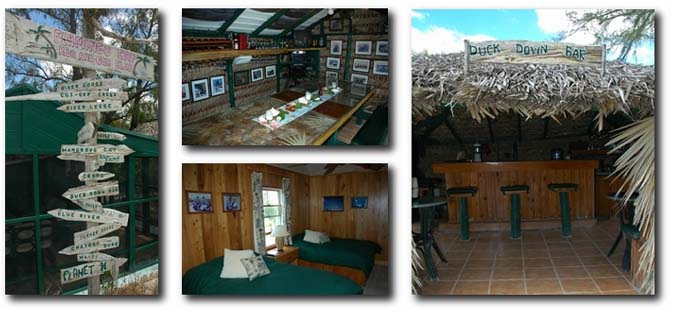 Huge schools of medium to large bonefish roam Andros' pristine, white sand flats and permit and tarpon are sometimes found along the shoreline and in many of the island's rivers and lagoons.
Flamingo Cay has the latest up-to-date flats boats, including 4 Hell's Bay Boat Works, powered by 90HP motors and a Air Gator airboat for special hunting and fishing tours.
Guides are experienced and have access to miles of unpressured flats. Some of Andros's biggest bonefish call these western flats home and seldom see flies.
Anglers can also fish William Island and Billy Island, 45 minutes or so from the lodge via one of the Hell's Bay skiffs. Besides big bones, this area is home to resident tarpon and permit.
The vast creek systems on Andros' west side form a complex of mangrove swamps. Anglers sit up high above the marsh watching ducks, egrets, and other birds scatter in all directions. Hidden within these mangroves are inland flats that become landlocked during certain tides. At these times the angler can enjoy a "captive audience" of bonefish; the fishing can be spectacular. Anglers are dropped off and the bottom is suitable for wading. Flamingo Cay is also offering exploratory trips to south-west Andros by float plane.
Flamingo Cay Club offers four-star amenities and gourmet dining. It is accessed primarily by seaplane. It will become clear, looking down on Andros from the air, exactly why Flamingo Cay Club has become so well know for great fishing in an extremely secluded setting. Thousands of miles of unexplored, untouched bonefish flats extend in all directions. Flamingo Cay is alone on Andros' entire west coast, approximately 30 miles from the nearest outpost. Cruising schools of bonefish are visible as you make your final approach and land on the flats directly in front of the lodge.
Flamingo Cay lodging includes three cottages. "Last Cast" is a two story cottage the can accommodate up to 6 guests in 4 bedrooms. The upper level has two bedrooms with 2 full-sized beds in each as well as a private bath and sitting area with French doors that open onto an upper deck that boasts an incredible view of the creek.
The lower level has 2 large bedrooms, each featuring a queen-sized bed and private bath. These rooms have French doors that open onto a porch. Spacious lounging areas and a wet bar complete this cottage.
"Cloyd's Cottage" accommodates up to 4 guests and consists of 2 bedrooms, each with 2 full-sized beds and private bath. This cottage has French doors that open onto a porch, complete with a self-service wet bar and sitting area overlooking the creek.
A smaller cottage, "Blast and Cast," features two private bedrooms, each with one full-sized bed and a shared bath. This quaint cottage features French doors that open onto a private deck overlooking the creek.
Flamingo Cay's capacity is 8 persons. The lodge is open for fishing from October 15th to June 5th. Fishing and waterfowl shooting can be combined during the shooting season (October 15th – March 31st).
For current availability and pricing, please call Angler Adventures.
Included in the rate: double occupancy lodging; all meals; all beverages; guided skiff fishing based on either single or double occupancy with boat/guide; Government room tax; housekeeping gratuity.
Not included in the rate: Air travel to Nassau International; airport departure tax; baggage overweight charges; Guide gratuities; telephone calls; fishing tackle and flies; items of a personal nature; Bahamas Value Added Tax (Effective January 1, 2015).
Transportation
The lodge is only accessible by air therefore; clients are transported via floatplane. All floatplane commuters originate from Nassau. There are two flight options available into Flamingo Cay. A Cessna Caravan charter for groups of four or more or two smaller floatplanes. Flight rates are approximately $500 per person (subject to change), based on 6 people sharing the aircraft.
Our Services are Free!
Contact us for Seasonal Discounts, Special Offers or Promotional Pricing