Experience "ALL INCLUSIVE" world-class accommodations and exceptional service on a private cay while fishing pristine Bahamas bonefish flats, diving the warm, azure Caribbean Sea, or relaxing on your villa's private verandah.
The remote north and northwest Andros Island flats and the seldom-fished Joulter Cays can be explored with professional, knowledgeable and personable Kamalame Cay fishing guides. Staff naturalists will also take you snorkeling, scuba diving, hiking or sea-kayaking to reveal an unspoiled Andros Island.
On the Cay, a freshwater swimming pool, directly looking over a pristine, white sand beach is at your disposal. The palm covered Tiki Bar with fully stocked "top shelf" bar is located right at the pool. A tennis court rounds out the on-site activities.
We are able to offer you an all-inclusive, luxurious package at a price that reflects absolute quality. Discover the complete comfort of Kamalame.
Fish the abundant water close by the villa, venture to the fabled Joulter Cays just 30 minutes (by car) north of Andros, or even explore the untouched northwest side of Andros Island. And, who would want to miss the angler-tested, guide-approved North Bight?
If you choose, each day, you will be taken by an air-conditioned vehicle to meet your guide and boat (Maverick skiff with poling platform) at one of these fishing locations so that every angler will have an  opportunity to access the different available areas.
If you favor a more relaxed pace, or if you just can't stop fishing at the end of the day, wander onto Staniard Creek's expansive flat out the backdoor of the Cay. Andros is well known for its large bonefisd, and our visits to the Joulters with Kamalame have confirmed this. Fish averaging a solid 4 pounds, and many in the 9-pound-plus class, are encountered while even larger bones work the flats' edges. There have been some permit caught in the Joulters; however, these fish should be considered a bonus. It is a very impressive fishery.
The fully-equipped, center console 24 foot sportfishing boat sits at Kamalame's dock ready to take you to the nearby reef and beyond to explore a vibrant fishery. Combine this exciting offshore action, Kamalame's extraordinary facility, and the opportunity to be one of the lucky few to stalk Andros' famed bonefish in rarely touched water, and you have all the makings for the trip-of-a-lifetime.
Accommodations
Extraordinary attention to every detail is a hallmark of the accommodations at Kamalame Cay.  Several accommodation selections are available. From private villas, to duplex cottages with private entrances and common living area, to the quaint Angler's Nest cottages, Kamalame has many lodging options to choose from.All of the villas at Kamalame Cay have private patio areas off the bedrooms, huge closets, fully stocked fridges with cold Kaliks, water and juices. All of the accommodations have ceiling fans and air conditioning and the use of a golf cart to explore the Cay at your leisure. Some of the villas or cottages offer an over-sized soaking tub for relaxing which will allow you to relax in your Kamalame Cay Turkish bath robe.
Miles of beautiful exclusive beach directly in front of the villas beckon the beachcomber. It is not uncommon to walk the beach and find sand dollars and exotic shells.
For larger groups wanting more deluxe and private accommodations, the owners home at Kamalame Cove sits on 4 acres and offers 7,500 square feet of living space with 4 exquisite waterfront bedrooms, a secluded fresh water pool set among palm trees, private access and your own chef at your disposal. The private open air "Great Room" overlooks the sea on three sides.
The "Great House" on the Cay serves as a perfect gathering place for meals, cocktails and fish tales. It is decorated with art and antiques from the owner's collection, filled with comfortable oversized furniture, and wrapped with an inviting verandah that offers a tranquilizing panoramic view of the sea.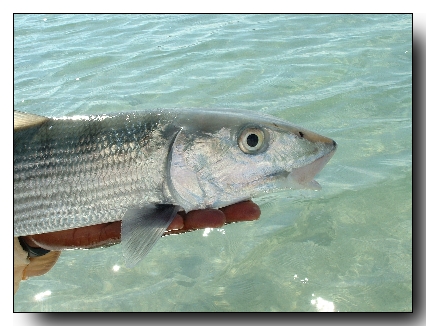 Outstanding candlelight dinners are served with elegance and feature delicious soups, salads, fresh fruits and vegetables, succulent lobster, fresh fish and other delightful main dishes. Meals are accompanied by fine wines and topped off with amazing desserts. The "all-inclusive" bar is always at your disposal and after dinner aperitifs usually include a wonderful selection of cognacs and other treats presented by matre de "Herrington".
These magnificent meals are elegantly presented by Kamalame's top-notch chef and his attentive staff. Wonderful breakfasts are served buffet-style with fresh orange juice and made-to-order omelets. Generous boat lunches of roasted chicken and beef tenderloin help complete a perfect day on the water. Kamalame Cay is peaceful solitude with all the amenities.
Our Services are Free!
Contact us for Seasonal Discounts, Special Offers or Promotional Pricing
For current availability and pricing, please call Angler Adventures.

Silver Top Villa (3 bedroom suite) & The Cove (4 bedroom suite) priced upon request.
Included in the rate: guided fishing as described; accommodations as described, hearty breakfast, picnic lunch and dinner with house alcohol, wine and beer daily.
Additional charges at would include: Airfare; Resort taxes and fees; Andros Town airport transfer; Bahamian departure taxes; Bahamas Value Added Tax (Effective January 1, 2015); fishing guide gratuities; off-shore fishing option, scuba diving, equipment rental; Spa treatments or other items of a personal nature.
Note: No personal checks are accepted; only cash, travelers checks, and Visa, MasterCard, or American Express Credit Cards are accepted for any extra expenses incurred while at the lodge.
How To Get There
Charter flight arrangements can be provided from Miami, Fort Lauderdale, Orlando, West Palm Beach and other US cities as well as from Nassau in the Bahamas. Floatplane or Helicopter services from Nassau can be chartered to land  right at the lodge. Also, there is twice-daily commercial air service from Nassau to Andros Town Airport.
Other Activities
The third longest barrier reef in the world is just a mile from Kamalame's beautiful beach, offering divers and snorkelers the perfect opportunity to savor exceptional experiences without the hassle of long boat rides, crowded dive sites, marginal accommodations, and mediocre food.This lush, living reef harbors many wonders from gently swaying sea anemones tucked in brilliant coral to tiny seahorses that gracefully ride the current. Watch rainbow-colored parrotfish snack on the coral as animated clownfish parade in front of you. Explore the bustling shallows, follow huge grouper through coral caverns, keep watch for majestic manta rays gliding over the deep blue, or just quietly drift along the edge of the dramatic wall that plunges 6000 feet to the bottom of the "Tongue of the Ocean."
Kamalame's on-site PADI certified instructors in conjunction with Small Hope Resort provide top-notch equipment and service on this remote island. If you have not tried diving, this is a great opportunity to take the Discover Scuba Diving course or get your full diving certification. Experienced divers will revel in the 100-foot visibility and amazingly diverse marine life.
Why not immerse yourself in the clear, warm Caribbean from the complete comfort and relaxed elegance of Kamalame.
Additional activities at Kamalame include beachcombing, windsurfing, tennis, swimming in the freshwater pool and nature walks with a staff naturalist. You may want to consider paddling one of the Cay's sea-kayaks through the gentle inland creeks that meet the sea at Kamalame's doorstep. Guided  sea-kayak trips that include lunch are easily arranged.
In 2005, Kamalame Cay added a luxurious and peaceful Spa Retreat, situated at the end of a new pier, which directly overlooks the blue azure shades of the ocean.