Water Cay Bonefish Lodge is ideally located just east of the Horn off Grand Bahamas North Shore. The lodge is situated on the southern shore of Water Cay, a small island 3-miles north of mainland Grand Bahama. Water Cay is a remote island with only 3-full time residents and despite the glow of Freeport (the second largest city in the Bahamas), the experience at Water Cay is similar to the more remote out-island lodges in the Bahamas. This north central habitat is rarely visited because the other lodges on Grand Bahama (all located on the southern shore) do not need to travel to Water Cay to find good fishing of their own. As a result, there are very few boats fishing these waters near Water Cay and by taking only 6 anglers at any one time, Water Cay Bonefish Lodge ensures that the north shore's vast bonefish habitat remains virtually untouched.

Many anglers opt for more "remote" areas, like Andros or Abaco, believing Freeport is too developed. But as the second largest island in the Bahamas chain, there is more to Grand Bahama than the hustle and bustle of Freeport, and the North Shore offers countless miles of wilderness bonefish flats. In many ways, the fishery is similar to the Marls of Abaco or the west side of Andros, with deep cuts, perfect flats and rocky bottomed bays that allow for a fair mix of fishing from the skiff and wading. It is not unusual to spend a few hours poling an area (while casting to many schools of fish) and then pop out around a corner and see the lodge! The complexity of the bays, creeks and flats that surround the lodge can be quite deceiving.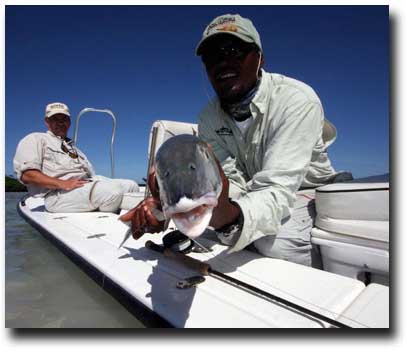 The lodge building consists of a common area, 3-guest rooms and 6-staff rooms. The common area contains the kitchen, dining area, lounge, bar, and fly tying area. The 3-guest rooms are located to the left of the common area, and each air-conditioned room contains two twin beds, full bathroom and shower, a closet, a chest of drawer and a ceiling fan. The rooms are decorated in traditional Bahamian colors and native décor. To the right of the common area are the 6-staff rooms. All the water for the lodge is produced and filtered by an extensive reverse osmosis system allowing guests to have purified water right from their bathroom taps. The lodge also has small deck in front of the lodge, a guest favorite for swapping fishing stories and sipping a cold Kalik as the sun sets over Bahaman flats.
Water Cay Bonefish Lodge's fishing program is run by master Bahamian guide Sidney Thomas. Sidney has a tremendous bonefish pedigree. At 44 years of age, he has worked for all the best lodges on Grand Bahama either as their head guide or as a key bonefish guide. Devoted and hard working, Sidney is the "real deal" when it comes to guiding.
Sydney and his team of guides (Ezra Thomas and Greg Rolle) have adapted a unique style of catching big bonefish: "Bonefish got to eat. And to eat, bonefish got to get up onto their flats and find food. It's nice to see those big tails waving in the sunlight on the incoming water. We see them and we fish 'em directly. What I mean is that I like to have my guys go straight for the fish. No leading or putting that fly where you think them fish are gonna be. Just try to hit them on the head. The fish at Water Cay haven't seen many flies and so when they are hungry, they ain't shy. You might think that your cast spooked them because they take flight twenty or thirty feet. But more times than not, the fish spin in a circle looking for what made the fuss. If they think it's a 'cuda or shark or maybe a bird, they'll keep moving. But if the coast is clear, those big fish will come right back to the spot. If you are there, then they are gonna eat every time. We hook a bunch of BIG bonefish this way."
The guides at Water Cay Bonefish Lodge use 18′ Beavertail Bonefish skiffs with 40-hp Evinrude E-tec engines on jack plates. Each boat has steering console, two seats for anglers in front of this console, automatic trim & tilt engines. A cooler for lunches and cold drinks doubles as a seat for the guide behind the console. All boats are double hulled, self-bailing and each has a cell phone and a VHF radio for communication with the lodge and with one another at all times. Each boat is also equipped with 2 spinning rods for anglers to use if they choose. One rod is a med-action rod for bonefish and the other is a med-heavy action rod for barracuda or permit.
Water Cay Bonefish Lodge offers superb angling opportunities while still being close to the Bahamas' second largest city. And with Freeport being so easy to reach (with many daily non-stop flights into Freeport from Miami, Ft. Lauderdale, Atlanta & Charlotte), it doesn't involve great hardship to reach some spectacular angling opportunities. Great unpressured fishing, a superb guide staff, a comfortable, well-appointed lodge and good solid food all makes Water Cay Bonefish Lodge a great choice for your next adventure.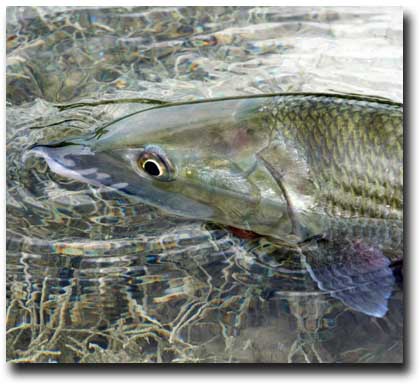 The winter months are the times for big fish, but as the water temps stabilize in late March, the school fish show up in massive numbers and the big trophy fish mix with the schools. This integration lasts until late fall when the big fish once again go out on their own as they are able to better tolerate the cooler water temps. For the angler, this means Water Cay has it all, both big fish and school-sized fish. Permit show up consistently near the northern cays as soon as the winter winds calm and the water temps climb.
Our Services are Free!
Contact us for Seasonal Discounts, Special Offers or Promotional Pricing
Water Cay Bonefish Lodge 2017 – 2018 Rates
(subject to change)
| | | |
| --- | --- | --- |
| Package | Double Occupancy | Single Occupancy |
| 7 Nights / 6 Days Fishing | $3,757 per person | $4,725 per person |
| 6 Nights / 5 Days Fishing | $3,327 per person | $4,080 per person |
|  5 Nights / 4 Days Fishing | $2,790 per person | $3,542 per person |
| 4 Nights / 3 Days Fishing | $2,252 per person | $2,956 per person |
| 3 Nights / 2 Days Fishing | $1,607 per person | $2,418 per person |
Included in the rate: Round-trip transfers from Freeport / Water Cay; guided fishing as described; accommodations; meals; use of the lodges spinning rods; non-alcoholic beverages; laundry; use of the lodge's fly tying tools and materials; use of the lodges kayaks; Bahamas Value Added Tax (Effective January 1, 2015).
Not Included: Airfare; gratuities; purchases from the lodge (hats / Tee-shirts); luggage fees; Alcoholic beverages; Bahamas fishing license.