El Pescador Resort on Ambergris Caye in Belize is the oldest and most established fishing lodge in Belize. It's also one of the premier fly fishing destinations for a "Grand Slam" and one of the only areas where tarpon can be caught on the flats, year-round. Ambergris Caye is considered an island, but it is really the southern most tip of the Yucatan Peninsula, and is tucked behind the northern reaches of Belize's barrier reef. Ambergris Caye is separated from the rest of the Yucatan by a canal dug by the Mayan's to facilitate trade routes, and tucked behind the Belize barrier reef. The constant high-quality fishing at El Pescador is primarily due to a nearly perfect location with the protection from the reef and a neo-tropical / semi-arid climate (averaging less than a 10 degrees F variation in temperature and 25 inches of rain, year-round).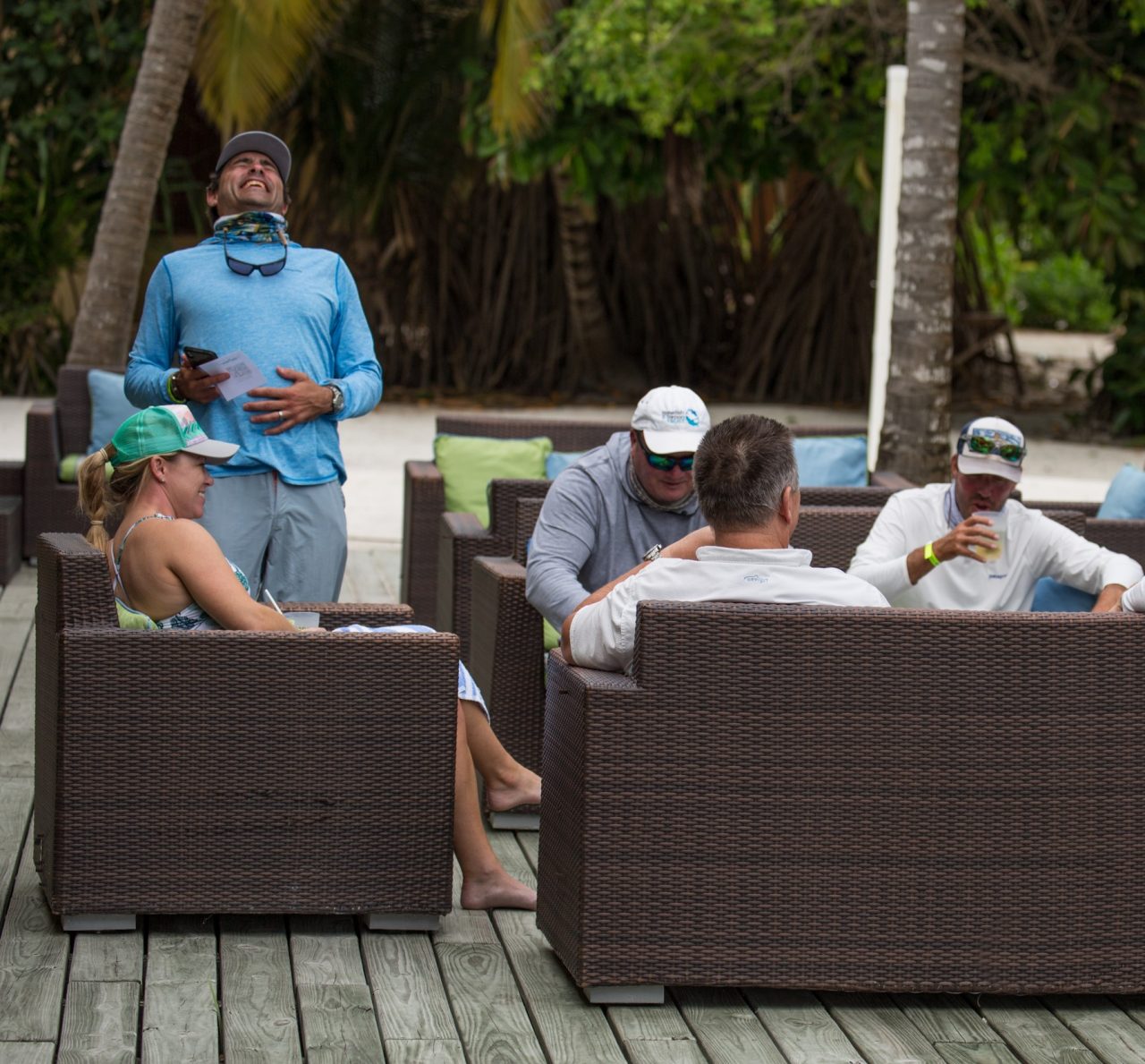 El Pescador's fishing program is based around a healthy resident tarpon population (10 – 90 pounds) that can be found in 3-5 feet of water virtually 12 months of the year. There are few angling experiences that can rival the excitement of stalking tarpon on the clear, shallow flats located 45 minutes by boat from El Pescador. When conditions are right you might see hundreds of tarpon on the flats and jump several in a day. In late summer (July, August & September) the tarpon migration practically doubles the tarpon population at El Pescador and larger tarpon, well over 100 pounds, are available on the flats and on the reef.
In addition to the some of most productive year-round tarpon flats in the world, El Pescador has excellent fishing for bonefish and permit on protected flats closer to the lodge, and along the mangrove edges in the lee of the wind. The bonefish typically average 1-3 pounds, but larger bonefish (up to 5-6 pounds) are available. Most of the permit are less than 15 lbs and are frequently sighted in schools, however, larger permit (up to 30 pounds) typically show up during the tarpon migration.
Snook are available in the lagoons and mangrove-lined creeks, but not abundant. Also prevalent in the lagoons, on the flats, or out on the reef (in season) are Jack crevalle, barracuda, sailfish, dolphin, tuna, king mackerel, grouper, snapper, big-eyed jacks, wahoo, sharks of all sizes, and scrappy ladyfish. For fishermen who want to fish offshore or the Belize barrier reef, El Pescador has several larger (38-52 foot) boats available for charter.
El Pescador prides itself on having a staff with some of the most experienced guides in Belize; many have been guiding at El Pescador for over 20 years! The guides have extensive knowledge of this fishery that comes from a lifetime dedicated to learning where the fish are and how they behave. El Pescador guides are also excellent technical fishermen and experts at efficiently and safely handling the 23-foot Mexican super-pangas flats boats you'll be fishing from.
The El Pescador lodge building is comprised of the dining room, bar, fly shop (the only Scientific Anglers Mastery Series Shop in Belize), and 13 guest rooms. The accommodations at El Pescador are comfortable and spacious, not fancy. Each room has a ceiling fan, air conditioning, private bath with two sinks and a hot shower, and has a view of water. El Pescador introduced their luxury accommodations with a collection of 8, one, two, or three bedroom villas (click here for more information on the El Pescador Villas).
Guests at El Pescador or El Pescador Villas have access to a wide variety of amenities for your enjoyment after a great day of fly-fishing, snorkeling the reef, or inland adventure. The experienced staff at El Pescador, will be happy to help you arrange help you arrange any number of activities. At El Pescador the amenities include a restaurant, a bar, 3 fresh water swimming pools, massage services, exercise room, complimentary kayaks and bicycles, fishing instructor / host, SCUBA diving instructor, concierge, WI-FI, tour office, gift and sundry shop, and the only Scientific Angler Mastery Series Fly Shop in Belize. An attractive white sand beach stretches for miles in front of the lodge. Swimming off the El Pescador dock is preferable to wading because of the amount of seaweed that gets washed ashore.
El Pescador's restaurant specializes in native Caribbean cuisine made with fresh local produce and seafood. The meals are "family style" and each evening El Pescador either features two entrees or a buffet at dinner. Evening meals are served on the outdoor deck or in the dining room and El Pescador encourages everyone to dine together in the evening.
Pescador also offers a variety of non-fishing activities that range from snorkeling to Scuba diving to almost a dozen Eco-tour options, like one day and over night sightseeing trips to ancient Mayan ruins located on main land Belize. The town of San Pedro is 10 minutes away by boat and is comprised of several hotels and bars and can be an enjoyable way to spend an afternoon or evening. Please call or email for more information on the non-fishing activities.
As you can see from the information provided, Angler Adventures has considerable experience making arrangements to Belize. We can assure you the lowest airfares to Belize City, round-trip including customs fees and tax.
Our Services are Free!
Contact us for Seasonal Discounts, Special Offers or Promotional Pricing
El Pescador, Ambergris Cay Rates
Effective December 16, 2019 – December 15, 2020
All rates are per person, longer packages available (Rates subject to change)
Number
Of Lodge
Nights

Number
Of Days
Fishing

One Per Boat
One Per Room

Two Per Boat
One Per Room

Two Per Boat
Two Per Room

One Per Boat
Two Per Room

3

2

$3,125

$2,525

$2,300

$2,900

4

3

$4,100

$3,200

$2,900

$3,800

5

4

$5,075

$3,875

$3,500

$4,700

6

5

$6,050

$4,550

$4,100

$5,600

7

6

$7,025

$5,225

$4,700

$6,500

Extra Night +
Extra Day Fishing

$975

$675

$600

$900
El Pescador, Ambergris Cay Rates
Effective December 16, 2020 – December 15, 2021
All rates are per person, longer packages available (Rates subject to change)
Number
Of Lodge
Nights

Number
Of Days
Fishing

One Per Boat
One Per Room

Two Per Boat
One Per Room

Two Per Boat
Two Per Room

One Per Boat
Two Per Room

3

2

$3,175

$2,575

$2,350

$2,950

4

3

$4,150

$3,250

$2,950

$3,850

5

4

$5,125

$3,925

$3,550

$4,750

6

5

$6,100

$4,600

$4,150

$5,650

7

6

$7,075

$5,275

$4,750

$6,550

Extra Night +
Extra Day Fishing

$975

$675

$600

$900
Villa upgrade

Double Occupancy

Single Occupancy

1, 2, or 3 Bedroom Villas

$75 per person per night

$100 total per person per night

Villa upgrades are done a room-to-room equivalency: 1 standard room upgrades to a 1 bedroom Villa, 2 standard rooms upgrade to a 2 bedroom Villa and 3 standard rooms upgrade to a 3 bedroom Villa.
There is a 3 Night minimum stay at El Pescador, Ambergris Cay. Most fisherman stay at least a week.
Complete Dive Packages are also available. Please call for more information.
Fishing Packages Include: The number of nights lodging and days fishing specified in your package, round-trip air, land and sea transfers between Belize City and El Pescador, hotel tax, sales tax where applicable; hors d'oeuvres; 3 meals per day, local Belizean beverages including local beer, soda and rum, complimentary use of all amenities (pools, Internet, kayaks, bikes, etc.) and a welcome drink.
Not Included: Imported beverages, liquors such as Scotch or Cranberry juice, Fishing license, Park fees (if applicable), fishing gear (may be borrowed based on availability), diving gear (may be rented), gratuities.
Special Pricing available June 15 – December 16. Buy a single occupancy package and your roommate comes free. Call or email Angler Adventures for more information on this great deal at one of Belize's top fishing destinations.
Reservation Policy: A non-refundable deposit of 50% per person is necessary to secure a reservation, after receiving your deposit, we will provide you with a complete list of tackle and clothing to bring.