The El Pescador Villas are the luxury accommodations at El Pescador Resort on Ambergris Caye, Belize. Eight exotic and well appointed two-story villas are each comprised of 3-bedrooms, 3-bathrooms, a great room, and a verandah. All of the El Pescador Villas have coral stone tiled floors, walls filled with paintings, crafts and tapestries by local artists, and are decorated with handcrafted furniture of tropical hardwoods, bamboo, or traditional wicker. There is also an exotic array of tropical flowers and greenery are tucked here and there to welcome guests to paradise.
Two sets of four villas are set on opposite ends of El Pescador's main lodge building in the tropical gardens, surrounding a private pool, and provide stunning views. The villas are only a short walk from the main lodge; far enough away allow guests privacy but close enough to allow access to all of the amenities and services offered at El Pescador. Amenities include 3 swimming pools; Complimentary Kayaks; Complimentary Bicycles; Fishing Instructor; SCUBA Diving Instructor;
Email service; Tour Office; Gift and sundry Shop; The Exclusive "Scientific Angler Mastery Series" Fly Shop in Belize; Bar and Restaurant.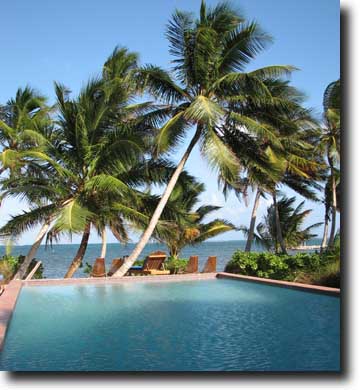 The Great-Room in each villa is on the second floor. To access the great-room, guests ascend a dramatic plank staircase and pass through a mahogany door. All the Great-Rooms have high cathedral ceilings with polished Belizean hardwoods. In the Great-Room, there is a dining area (comfortably seating 6 for dinner), a full kitchen with all the appliances and gadgets, and a large open living area. This large open room has great views of the Caribbean, the beach, and the barrier reef.
French doors lead from the Great-Room to the 250 square foot covered verandah on the second floor. The verandahs are furnished with sofas or hammocks offering a great place to enjoy the sea breeze, the sunrise, or the sunset. The ground floor also has a covered verandah with private entrances to both downstairs suites with views of the beach, the Caribbean Sea, and the Barrier Reef. It's no wonder that the verandahs become a favorite spot for El Pescador Villa guests.
Each two-story El Pescador Villa has 3 bedrooms, one on the second story and two on the ground floor. Each bedroom has an excellent view of the Caribbean. These master suites are fully self-contained with luxurious bathrooms, featuring his and hers hand-made ceramic sinks and matching tiles, excellent showers, spacious closets, and fluffy towels. The suites are configured to "lock-off", enabling guests to have 1, 2, or 3 bedrooms and enjoy their own private unit. In other words, it's possible to have the entire villa as a home-away-from-home, or request only a single suite.
Our Services are Free!

Contact us for Seasonal Discounts, Special Offers or Promotional Pricing

El Pescador, Ambergris Cay Rates

Effective December 16, 2018 – December 15, 2019

All rates are per person, longer packages available (Rates subject to change)

Number
Of Lodge
Nights

Number
Of Days
Fishing

One Per Boat
One Per Room

Two Per Boat
One Per Room

Two Per Boat
Two Per Room

One Per Boat
Two Per Room

3

2

$2,905

$2,305

$2,080

$2,680

4

3

$3,865

$2,965

$2,665

$3,565

5

4

$4,825

$3,625

$3,250

$4,450

6

5

$5,785

$4,285

$3,835

$5,335

7

6

$6,745

$4,945

$4,420

$6,220

Extra Night +
Extra Day Fishing

$960

$660

$585

$885
El Pescador Ambergris Cay 2019 "Villa" Upgrade Rates

All Rates are per person per night (Subject to change)
Click on this link for Villa Information

Villa upgrade

Double Occupancy

Single Occupancy

1, 2, or 3 Bedroom Villas

$75 per person per night

$100 total per person per night

Villa upgrades are done a room-to-room equivalency: 1 standard room upgrades to a 1 bedroom Villa, 2 standard rooms upgrade to a 2 bedroom Villa and 3 standard rooms upgrade to a 3 bedroom Villa.
There is a 3 Night minimum stay at El Pescador, Ambergris Cay. Most fisherman stay at least a week.
Complete Dive Packages are also available. Please call for more information.
Fishing Packages Include: The number of nights lodging and days fishing specified in your package, round-trip land and air transfers between Belize City and El Pescador, sales tax where applicable; hors d'oeuvres; 3 meals per day, local Belizean beverages including local beer, soda and rum, complimentary use of all amenities (pools, Internet, kayaks, bikes, etc.) and a welcome drink.
Not Included: Imported beverages, liquors such as Scotch or Cranberry juice, Fishing license, Park fees (if applicable), fishing gear (may be borrowed based on availability), diving gear (may be rented), gratuities.
Reservation Policy: A non-refundable deposit of 50% per person is necessary to secure a reservation, after receiving your deposit, we will provide you with a complete list of tackle and clothing to bring.