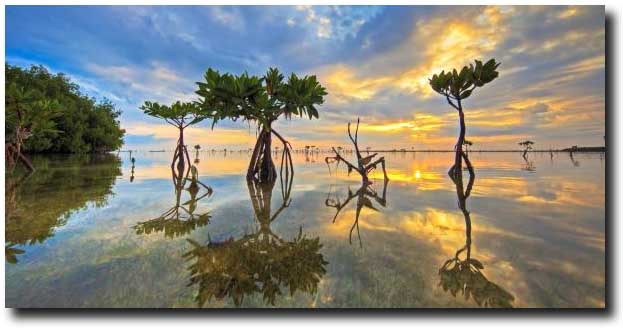 Our flats fishing "what to bring list" has always been a source of pride here at Angler Adventures. It's a way of sharing 28 years of experience testing tackle, flies and techniques, weeding out what doesn't work and highlighting what does.
We've updated and expanded it, adding links to new pages with photos and graphics to help visualize fish spotting, strip sets, the casting clock, etc. We've added tips on fishing weedless flies, types of hooks and proper release techniques. It's worth reading before your next trip south.
Highlights
"We've expanded our "list" with suggestions and tips to help you understand not only what to bring, but why to bring it."
"Essential Tackle when wading includes: Pliers, hook sharpening file, box of flies, extra leader material, and water."
"One of the biggest mistakes is to not adjust your fly to changing water depths. Your fly should be weighted so that it sinks to the bottom quickly and stays near the bottom when you strip. A good rule of thumb is that your fly should reach the bottom in about 3 seconds."
"When a bonefish takes the fly, you will feel resistance with your line hand as you begin the "strip" part of the retrieve. Normally this gradual pulling against the resistance is all you need to set the hook. Avoid setting the hook with the rod."
"You must go light in skinny water, meaning no weight other than the hook."
"The most common mistake is to take too many false casts…no more than 4."
Tips
"Bonefish like crabs just as much as permit."
"The most important thing you can do before casting is to stretch your fly line"
"Cast very close to a tailing fish, as he is focusing on a small area."
"The investment of a $70 – $80 on a new fly line is one of your best investments prior to an important trip."
"Many anglers use too thin or too light a tippet. We recommend the strongest tippet practical for the situation."
"Every time you tie on a fly, test the knot strength before fishing! Be sure to check your hook point after catching a fish and keep it sharp!"
"A dropping fly will invariably result in a take from a fish. If he goes nose down, tail up, he's taking your fly!"
"Check your leader regularly for wind knots or abrasion and replace if worn or weakened."
"TEST YOUR KNOTS. More fish are lost due to leader or knot failure than any other reason."
This post is over 1 year old. Contact Angler Adventures for current pricing and discounts.