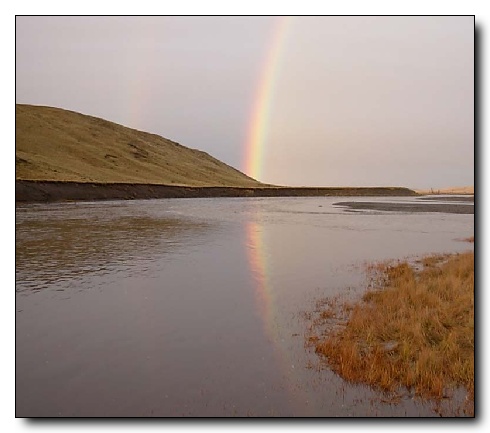 Aurelia Lodge, Estancia Rosita and Estancia Aurelia are situated on the southern bank of the Rio Grande, and occupy the large triangular tract of land between the Rio Grande and its tributary, the Rio Menendez. For years, the owner, Ricardo Hermoso, was occupied with other businesses, not the least of which was running these two working ranches, and found it more expedient to lease most of the Rio Grande water to another outfitter, and operate the fishing on a part time basis, primarily on his 15 miles of the Rio Menendez.
However, when the lease ran up in 2006, Senor Hermoso decided to hire a fishing manager, refurbish the lodge, and run a full time fishing program for the duration of the sea-run trout season.
Senor Hermoso recruited a Rio Grande native, Peter Pereira Mullins to run the operation. Peter, who has fly fished the Rio Grande all his life, holds a degree in Tourism and Hotel Management, had also guided at Despedida Lodge for 7 seasons. Peter recruited a staff of experienced and enthusiastic guides and has personally trained them all.
The Rio Menendez is a smaller river, with more intimate water and is a bit more technical. Wading the Rio Menendez requires a stealthier approach and frequently smaller flies, and presents a challenge that appeals to many experienced anglers.
While "bigger water" than Menendez, the Rio Grande is really a medium size river, with gentle gradients and easily waded, gravel-bottom pools. While the pools can be covered adequately with a single-handed rod, double-handers have become popular and deal with the famous Tierra del Fuego winds more efficiently. Aurelia Lodge's pools are varied and interesting with island pools, traditional runs, undercut banks and meanders. All the pools are ideal fly water.
All told, Aurelia Lodge offers 8 miles of double bank fishing on the Rio Grande and 15 miles of double bank fishing on the Rio Menendez.
The lodge is approximately 83 kilometers from the airport at Rio Grande City. The main lodge is set back several miles from the Rio Grande. Aurelia Lodge blends the traditional estancia styles with more modern. For example, dinner may be served in a modern and elegant formal dining room one evening, and the following, a traditional gaucho "asado" Served in the "Quincho" dining room.
The fishing day is divided into two 4-hour fishing sessions to take advantage of the most productive, low-light periods of the day. Anglers depart Aurelia each morning at 8:00 am for the river and their assigned beat. Each two anglers will have their own guide and 4 WD vehicle equipped with exterior rod holders. You can drive right up to most of the pools so very little walking is required.
Those fishing the Rio Grande will meet at the comfortable fishing hut over looking the river, for a sumptuous midday meal followed by the traditional siesta. Anglers on the Menendez return to the main lodge for lunch and siesta. You head back out in late afternoon and fish until dark. Then all will return to Aurelia's main lodge for a gourmet dinner featuring a selection of exquisite Argentinean wines.
The 2018 rate at Aurelia Lodge is: February / March = $6,290 US per person per week and April = $5,032 US per person per week. Cost for a non-angler guest is 50% of the angler rate.
Included: Roundtrip transfers from Rio Grande airport to the Lodge; 7 nights double occupancy accommodations; 6 full days guided fishing, 2 anglers per guide; all meals with fine seletion of wines and beers; hard liquors and cocktails before meals at the lodge; internet access; fishing license.
Not Included: International airfare to Buenos Aires; hotels or transfers in Buenos Aires; airfare from Buenos Aires to Rio Grande; ground transfers from Rio Grande; fishing license; personal equipment, laundry service; staff and guide gratuities.