The New Blackfly Lodge, located on a picturesque harbor on the east side of Abaco, over looking the Atlantic Ocean, opened March 1, 2012. The new lodge features an open kitchen, bar, dining room floor plan, a full service fly shop, and accommodates 8 anglers in 8 single bedrooms, each with their own bath. The two story, classic Bahamian lodge has two levels of wrap around verandas, offering outside dining overlooking the 14 acre harbor/marina all within the 220-acre residential development project called Schooner Bay. Additionally, several "angler cottages" will eventually be offered for sale. Lindroth Development Corporation, LTD is undertaking the massive Schooner Bay development.
Blackfly Lodge employs 4 boats and guides to fish the southern half of Great Abaco Island. The 18-foot custom East Cape skiffs, powered by 90-hp E-tec outboards have padded seats / backrests and custom padded leaning bars with a fold away seat on the bow. The skiffs are trailered to various boat ramps, the closest being Crossing Rocks, less than one mile away. Blackfly fishes the Marls from Crossing Rocks, Mores Island, Gorda Cay, Sandy Point, Cross Harbour and Cherokee Sound. To get an idea how vast and varied this fishery is, Blackfly has divided this bonefish real estate into 6 zones.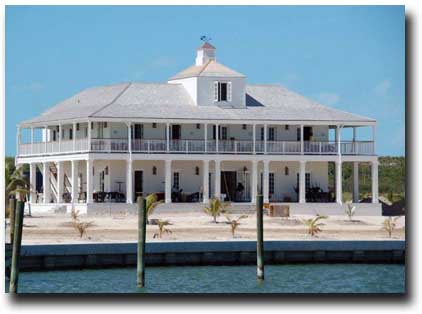 Fishing Zones: The fishing grounds that surround Schooner Bay form six distinct zones each rich in a variety of species and large enough to support the entire lodge fleet if weather were to force all boats to fish in one zone. Only the most severe weather would cause a cancellation. Each zone supports similar species yet each as a unique offering in both species and habitat. Bonefish, Permit, Snappers, Sharks, Barracuda, and Tarpon (limited and seasonal) are among the species found on these waters.
Fishing at Blackfly Lodge is varied, and fishing as many of Blackfly's "zones" as possible is the goal on every trip. Blackfly plans each fishing day according to the direction of the wind and general conditions at the time, as well as what forecasters are calling for. There is no set schedule other than to try to fish all sectors when possible, in order to give each angler an opportunity to experience everything southern Abaco has to offer. The cost of your trip reflects fishing in each of these areas. Therefore, returning to some of our more distant fishing grounds, such as Mores Island, would incur an additional cost for fuel and oil only.
Zone 1 – Crossing Rocks Ramp Northward to the southern edge of the Marls out to Big Mangrove Cay
Fishing can begin as soon as the boat is launched from the ramp at Crossing Rocks. The shallow water inlet is home to resident fish, from mudding schools to large single fish in double-digit sizes. A run though the mangrove creek from the inlet is exhilarating and builds the anticipation of days fishing. Fishing can begin as soon as the boat clears the creek. Schools of fish can be seen feeding in the bay and working the edges of the numerous islands.The wade fishing is exceptional in zone one with miles of firm bottom flats that drop off into deeper mud and grass flats. It would take weeks if not months to explore all that zone one has to offer in the extensive creek system that forms the southern reaches of the world famous Marls. To the West lies Big Mangrove Cay. This is a series of small cays surrounded by deep water and turtle grass flats. As the tide comes in typically feeding fish work the flats and numerous schools feed along the shore. Sharks and Barracuda are abundant and Permit can be seen in good numbers during the warmer months.
Zone 2 – Crossing Rocks Ramp southward to Sandy Point
Zone 2 is an 18-mile shoreline extending from Crossing Rocks to Sandy Point. Numerous islands, creeks and flats create an unlimited habitat for many species. Small to large bays form the shoreline providing cover in the wind to huge numbers of fish, including large schools of mudding or tailing fish along the shore and sometimes bonefish, jacks, and snappers all feeding together.
Zone 3 – Cross Harbour Flats
Cross Harbour Flats System comes directly out of the blue waters of Hole in the Wall making it one of the best flats in the Bahamas for really big fish. Large numbers of Permit and double digit bones can be seen regularly on this flat. This flat system would be accessed by trailoring 20-minutes from Schooner to Sandy Point, plus 20-minutes by boat.
Zone 4 – Blue Water and Ocean Flats
Blue water and ocean flats. The blue water fly fishing opportunities at Schooner are unprecedented. The
legendary blue water of Southern Abaco is only minutes from the mouth of the Schooner Bay Harbor. Dorado, Tuna, Billfish and many other species abound in this rich offshore environment. This blue water zone is virgin territory for anglers seeking the thrill of connecting with large ocean fish on the fly. When weather permits the run to Hole in the Wall can produce amazing opportunity to connect with some of the toughest fighting fish in the world as well as exploring ocean flats that hold very large bones and permit. The lodge does not currently have an offshore boat, but plans are in the works.
Zone 5 – Cherokee Sound
A 20-minute trailoring to Cherokee Sound will put our anglers in one of the best ocean flats on the planet. Lush turtle grass flats that intersect gin clear white sand flats have produced some Bonefish up to 14 lbs. This area will be the zone that receives the most pressure making the fish a bit more challenging to catch, however the numbers and size of these fish are legendary.
Zone 6 – Mores Island
Mores Island is the largest of some 10 -12 cays that sit on the edge of the northwest providence channel and comprises about a 20 sq. mile area of gorgeous bonefish habitat. Eighteen miles from the Crossing Rocks ramp, a 30-minute (weather dependent) run across relatively shallow water brings you to the edge of this fishing fantasy. The incoming tide brings large schools of bones onto the flats, including double-digit fish.
Mores Island is also noted as a Permit destination and with a summer run of Tarpon.
Our Services are Free!
For current availability and pricing, please call Angler Adventures.
Blackfly Lodge has partnered with Thomas & Thomas rods, Hatch reels and Airflo lines, and has a 9-weight setup for every boat, as well as 10 or 12-weights as needed at no additional cost. They also dell flies, leaders, Costa Sunglasses and other flats fishing accessories. Some of the favored local patterns they sell are King of Abaco, Queen of Abaco, Clint's Secret Fly, Vaughn's Peel & Eat for bonefish, as well as the Key's Velcro Crab in olive, EP Crabs in two tone and the standard Merkin patterns. They sell Umpqua and Scientific Anglers tapered fluorocarbon leaders and tippet.
Non-Anglers:
Blackfly is first and foremost a fishing destination, however there's a beautiful beach a short walk from the lodge and Marsh Harbour, the second largest city in the Bahamas is only 30-minutes away by car. Marsh Harbour has a good amount of shopping and there are a number of tourist activities to occupy non-fishing companions.