On December 14, Angler Adventures was notified by the owners of Casa Blanca and Playa Blanca that Bobby Settles had resigned as managing director of the two well known fishing lodges located on the remote south side of Ascension Bay, Mexico.
The announcement was a bit of a shock, since Bobby had been the managing director and driving force behind Casa Blanca since its inception in 1988. In fact, many people think Bobby Settles owns Casa Blanca.
Actually, the entire island and buildings, which comprise Casa Blanca and Playa Blanca, are solely owned by Roberto Hernandez, a wealthy Mexican banker and businessman who's holdings include a number of hotels in Mexico. Roberto and Bobby were partners in the business of Casa/Playa Blanca only.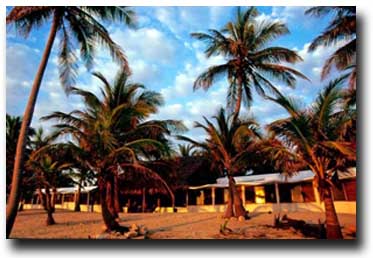 Casa Blanca
Bobby Settles' decision to leave Casa Blanca was mutual and amicable. We're not sure we'll ever know exactly what happened behind closed doors, but there was no animosity. Even though Settles has now partnered with a competing fishing lodge further north on the Yucatan, he assured us he has no intention of hiring Casa / Playa guides.
The announcement was followed by a phone call to Angler Adventures from Settles' replacement, Santiago Brockmann, a native of Mexico, educated in the U.S. Brockmann, who has 10 years in the hospitality industry, managing hotels for Hernandez, told us that Casa/Playa Blanca would operate as it always has, as an outstanding fishing lodge, with the same guides and personnel. "We realize how important the guides are to our success," Brockmann said. "I give you my personal guarantee that your clients will be well looked after".
Brockmann further assured us in announcing that Mike Ledezma, who has managed Playa Blanca for years, would oversee the management of both Playa Blanca and Casa Blanca, while they look to hire a new manager for Playa Blanca.
Ledezma worked closely with Settles and the admiration is mutual. "If they're smart, they'll hire Mike Ledezma to manage Casa Blanca" Settles told us in an interview, and that's precisely what Brockmann did.
Ledezma confirmed that "all room and guide assignments will be honored, everything will run the same. The only change will be improvements to the fishing program and we hope to upgrade the menu." Improvements include the recent purchase of 8 new outboard engines, an indication of their commitment to the fishing program.
We have also spoken with several long time clients, who've recently returned from Casa Blanca or Playa Blanca. The consensus: Everything was top shelf, as it always has been. "The same well-oiled machine," reported one veteran Casa & Playa client.
Playa Blanca
After many phone calls and much discussion, Angler Adventures is confident that Casa and Playa Blanca will continue to offer the high quality fishing and travel experience we and our clients have come to expect. We realize that Bobby Settles is irreplaceable, and his unique personality will be missed by those who knew him, but everything changes and we expect these two great lodges will continue as such for many years to come.
For more information and bookings, contact Angler Adventures.
This post is over 1 year old. Contact Angler Adventures for current pricing and discounts.