"The Best Trip We've Ever Had"
During the past decade, Russia's Kamchatka Peninsula has emerged as the premier destination for anglers in search of trophy rainbows and Pacific salmonids.
It is frequently described as, "the way Alaska was 30 years ago".  While rivers such as the Zhupanova have been highly promoted and have received the most press, these have also received the most fishing pressure, in some cases from multiple outfitters.
But fortunately, there are many other fantastic fisheries on this 100,000 + square mile land mass, and many of these receive very little pressure.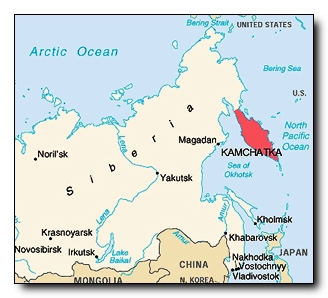 Ouzel Expeditions was the first American company to explore Kamchatka and the first American outfitter to bring US clients to Kamchatka in 1991.Owned and operated by Paul & Sharon Allred, Ouzel Expeditions has been outfitting quality float trip expeditions in Alaska since 1978.
With an emphasis on personal attention,  Ouzel typically takes groups of only 6 to 8 anglers, and carries a staff including an American host/head guide, veteran Russian guides, a translator, and a kitchen staff of two.
Ouzel has rights to fish numerous rivers on Kamchatka, including the Zhupanova.  But, it is on lesser known  rivers, where they are the sole outfitters, that Ouzel's guests are assured they'll be the only anglers on the entire river.
The Rivers
Case in point, Angler Adventures' client Alan McRae recently returned with his party from a float trip on the Kapushka, one of the several fine rivers on which Ouzel holds the exclusive fishing rights.  The Kapushka is quite comparable to the Zhupanova in terms of size of fish, but may produce slightly better numbers.  Rainbows up to 31 inches have been taken by Ouzel guests on the Kapushka.  Alan reported no fish reaching the magic 30 inch mark, but said most of his rainbows fell in the 24 – 28 inch range.  Alan concentrated mainly on rainbows, and reported averaging 6 – 12 big bows each day.  He described these as beautifully full-bodied, well-conditioned fish, "incredibly big"!   Alan took most of his bows on top with dry flies and mouse patterns.  The rest of the group enjoyed the diversity, as the Kapushka was enjoying an incredible run of pink salmon and hard fighting arctic char, along with the world-class rainbow fishing.
Alan commented that the food, the comfort and amenities of the tent camps, and the professionalism, affability and responsiveness of head guide, Todd Hiibner and his entire staff, far exceeded their expectations.    He added that his group has traveled and fished extensively for the past 20 + years, and their consensus was that this was the best trip they'd ever taken!
Besides the Kapushka, Ouzel is the sole outfitter on the Medved and the Kartuska Rivers.  The Medved is another producer of 30-inch bows, while the Kartuska rainbows run between 20 – 28 inches, but are more numerous than on either the Kapushka or Medved.  Along with the Zhupanova and several other lesser-known rivers, they have a greater variety than most outfitters from which to choose.
They generally rotate rivers, scheduling a week on the Medved, followed by a week on the Kapushka (which also helps keep fishing pressure down on each).   But another huge advantage over other outfitters is Ouzel's flexibility to make last minute changes.  Should the river you are scheduled to fish "go out" with heavy rains, Ouzel will switch to another river. This is not an option with other Kamchatka outfitters – you book a week on a certain river, and if she goes out, that's just the luck of the draw.

The Cost
Ouzel plans to operate 10-weeks of float trips for parties of 6 to 8 anglers in 2005.   The 2005 rate for the above itinerary is $4,100 + $150 visa processing = $4,250 US per person.  Included in this cost are: Visa support & processing, interpreters, and licenses, all transportation in Russia, helicopter flights, buses, ground transportation, & city tours.  On the river, Sotar rafts, waterproof gear bags and camera bags, a large kitchen tent, North Face sleeping tents, sleeping bags, pads, and pillows are provided.
Each trip is staffed by Russian guides, cooks, a Russian interpreter and one American guide.
Not included are: airfare to and overnight in Anchorage; airfare on Mavial / Magadan Airlines, Anchorage to Petropavalovsk (estimated at $1,375 round trip for 2005); meals and hotel costs in Petropavalovsk ($150 per person per night); gratuities; fishing tackle and flies.
Rebookings with Ouzel Outfitters usually runs at above 70%, so available space is limited.  If you would like to inquire about space or receive information on the 2005 program, please contact Angler Adventures:
This post is over 1 year old. Contact Angler Adventures for current pricing and discounts.