Southwest Montana: Trout Fishing, Travel Credit, Private Water & Getting the Band Back Together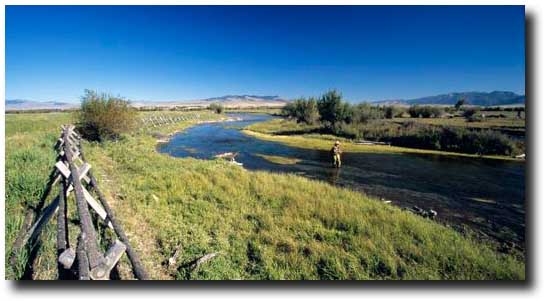 Southwest Montana, particularly the area around Butte & Bozeman, holds some of our favorite trout fishing in the United States and there are healthy freestone rivers and tailwaters being fed by cool runoff from the Rockies. There's an incredible number of spring creeks and meadow streams full of big trout. In addition to the great fishing, there are a few lodges that go above and beyond on a regular basis. Want to know why we love Southwest Montana – visit one these lodges this summer and find out.
Healing Waters – Great Access to Private Water
Healing Waters is our newest operation in Southwest Montana. The lodge is steeped in Montana tradition, co-owner Greg Lilly is the son of Bud Lilly, owner of Bud Lilly's Trout Shop in West Yellowstone. Healing Waters has a laundry list of top notch rivers, streams, creeks, sloughs, and still waters; some are reserved for exclusive use of Healing Waters clients. Click here to learn more about Healing Waters.
Five Rivers Lodge – Travel Credit
Five Rivers has been a favorite of ours for quiet some time. There is a plethora of blue ribbon trout rivers within 30 minutes drive from the lodge – enough water that you could stay for an entire month and never fish the same stretch twice. Five Rivers reports ideal water conditions and snow pack for the 2013 season. Five Rivers is offering a TRAVEL CREDIT when you book your trip. Click here to find out how to earn your travel credit.
Complete Fly Fisher – Getting the Band Back Together
After selling the Compete Fly Fisher 7 years ago, Dave Decker and his wife Christine have repurchased the lodge and are investing in renovations and refurbishments to bring the lodge back to its past prominence. From buying new luxury bedding to expanding the guest cabins, the Deckers are making the place sparkle. Click here to read more about the Complete Fly Fisher.
This post is over 1 year old. Contact Angler Adventures for current pricing and discounts.