Thinking Outside the Boat: Wading for Bonefish in Bahamas on the Flats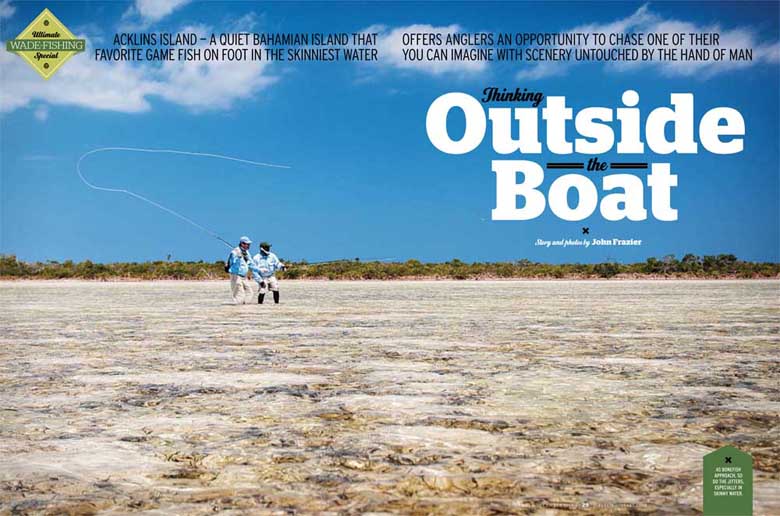 "The challenge and rewards of sight-fishing for bonefish with fly tackle increase greatly once you step outside the boat and pursue them on foot. Wading for bonefish provides every textbook fly fishing scenario imaginable. Virtually every bonefishing destination offers wading opportunities, but there's one Bahamian island in particular that's home to a true mom-and-pop lodge that specifically caters to those who want to experience bonefishing in its purist form – Acklins Island, home of Grey's Point Bonefish Inn." – John Frazier
Wading puts you in the bonefish's environment. It allows you to get close to the fish. It provides the opportunity to approach fish down wind. Two anglers can fish at the same time. It's good exercise. It enables you to fish water too shallow for a boat. Sometimes it's easier to catch fish on foot, sometimes it's harder. Regardless, there's a lot of satisfaction to tracking down your prey on foot
In his fascinating article in the November / December issue of Fly Fishing in Salt Waters entitled, "Thinking Outside the Boat", Editor John Frazier refers to his wading experiences as Grey's Point Bonefish Inn, Acklins Island, Bahamas, as a "religious experience".
If you'd like to add a little religion to your favorite sport, click all the links below!
This post is over 1 year old. Contact Angler Adventures for current pricing and discounts.