The Rio Grande in Tierra del Fuego, Argentina is without question the finest sea-run brown trout river in the world. The first and most famous lodge on the river is the legendary Kau Tapen. Kau Tapen first opened in1985 and remains at the foremost of the world's best fishing lodges, boasting not only a private tract of 16 km of some of the most productive water on the Rio Grande, but provides the ultimate luxury fishing lodge experience. It is little wonder Kau Tapen enjoys a loyal and almost fanatical clientele.
Fishing at Kau Tapen
The giant sea-run brown trout is the rarest and most prized of anadromous fish, and there is no other river in the world capable of producing seatrout of the size and numbers found in the Rio Grande. Unlike other anadromous species, sea-run brown trout don't ascend the river in one or two large runs, but tend to migrate in small schools from November through April so the fishing is productive throughout the season. The river has been managed as a catch and release fishery for a number of years, resulting in a remarkable increase in size of the fish. The average Rio Grande brown is now around 12-pounds and 20-pounders, once considered exceptional fish, have become almost routine. The 30-pound mark has become the new benchmark, and a number of trout eclipsing this mark have been released in recent years. These are big brown trout!
The river is fly fishing only and techniques employed are similar to those used in steelheading and Atlantic salmon fishing. Subsurface presentations with sink tip lines are generally more effective in the cooler water temperatures of early and late season, while floating lines and smaller flies (even dry or skated flies) are effective in warmer midseason water temperatures.
As with all salmonids, fishing is concentrated on the more productive low light time periods early and late in the day. The Rio Grande is a serpentine with many meanders creating numerous undercut banks, which are favored lies for these migratory brown trout. It is a relatively small river providing very easy wading. While double-handed fly rods have been increasingly popular in recent years, most pools can be easily covered with a single hander.
Weather and conditions at sea can affect fishing productivity and as with any other river, several days of hard rain could make the river unfishable, but the Rio Grande clears very quickly, usually overnight.
Kau Tapen's Accommodations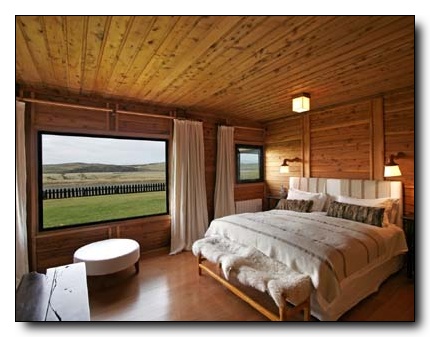 Kau Tapen's guests enjoy spacious and tastefully appointed guest rooms, an experienced and attentive staff, and superb cuisine complimented by fine Argentine wines that will delight the most discriminating palette. Kau Tapen has eight comfortable bedrooms, each with private bathroom, and is limited to twelve anglers per week. Upgrades to single accommodations may be requested (subject to availability). During "off" hours and between fishing sessions, guests congregate in the attractive living area, where cocktails are served, and stories of productive flies and angling successes are exchanged in comfort near a central fireplace. Other amenities include massage, sauna and a steam room and drying rooms for wet gear. The dining schedule revolves around the most productive fishing hours and fine meals are served, exemplifying the hospitality of gracious Argentine hosts.
Kau Tapen's Location
Built by its owners, the Carreras family, the lodge and its adjacent 25 kilometers of the Rio Grande and Rio Menendez is situated about 90 minutes by car west of Rio Grande City on the right (southern) bank on the enormous working ranch, Estancia La Retranca. The lodge itself is located within minutes of the best pools on the Rio Grande. Estancia La Retranca neighbors the huge holdings of Estancia Jose Menendez and Estancia Maria Behety, which are on the lower river. These are stretches where Joe Brooks and notable Argentine anglers first explored this fishing over forty years ago.
Kau Tapen was not only the first fishing lodge on the Rio Grande but also in Tierra del Fuego and remains the southern most fishing lodge in the world. Brothers Fernando and Jorge de las Carreras, direct descendants of Jose Menendez, later went on to build Villa Maria lodge downstream on Estancia Jose Menedez and Toon Ken Lodge upstream on Estancia San Julio. They later formed the company Nervous Waters that now owns a total of 8 lodges in Argentina, Chile and the Bahamas. Nervous Waters' fishing lodges have become synonymous with the ultimate in luxury and attention to detail.

Our Services are Free!
Contact us for Seasonal Discounts, Special Offers or Promotional Pricing
Kau Tapen 2019 Rates
December 29, 2018 – January 5/ March 16 – 23, 2019 the cost is $7,950 per person per week
January 5 – 12 / March 9 – 16, 2019 the cost is $8,950 per person per week
January 12 – March 9, 2019 the cost is $9,950 per person per week
March 23 – 30, 2019 the cost is $6,950 per person per week
Prices are subject to change and are based on double occupancy accommodations and each two people sharing a guide. During these time periods the minimum stay is 7 nights and run Saturday to Saturday.
Included: 6.5 days guided fishing by vehicle/foot, one guide/4-wheel drive vehicle per two anglers; 7 nights accommodations at Kau Tapen; all meals and beverages; alcohol; round trip ground transfer from Rio Grande to lodge; taxes; and a "warm-up session of guided fishing (3 anglers per guide) the evening of your arrival.
Not included: airfare to Buenos Aires; airfare to Rio Grande; transfers or hotel and meals in Buenos Aires / Rio Grande; Transfers from Ushuaia ($250 per person each way); Fishing License ($450 per person); departure taxes; laundry, tips to guides and lodge staff; tackle; flies; possible sightseeing tours during layover in Buenos Aires.
Single occupancy (single room / shared guide) cost is an additional $500 per week (subject to availability) and non-fishing is $650 per night.
Fishing Season in Tierra del Fuego
Usually November through April, with prime time considered Christmas through late March.
How To Get To Kau Tapen Lodge
By air from Buenos Aires to Rio Grande, served by Aerolineas Argentinas with flight time of approximately 4 hours.
Facilities and services at Kau Tapen Lodge
Capacity: 12 rods
Rooms: 9 en suite bedrooms
Dining room, sitting room, bar, wading room, fly-tying table
SPA: sauna, finish shower, relax and massage area.
Telephone and internet access
Gourmet dining, with Argentina's famed beef and fine wines, traditional Asados (BBQs) and delicious desserts
Maid and laundry service
Fly shop fully equipped with flies, rods, reels, lines, and suitable clothing and Argentine crafts
First class Professional international and Argentine guides. All our guides are able to give casting lessons with single and double handed rods (Spey casting)
Comfortable 4-wheel drive trucks fitted with rod racks and VHF radios
Unparalleled bird watching and rich wildlife (flamingos, foxes, llama-like guanacos)