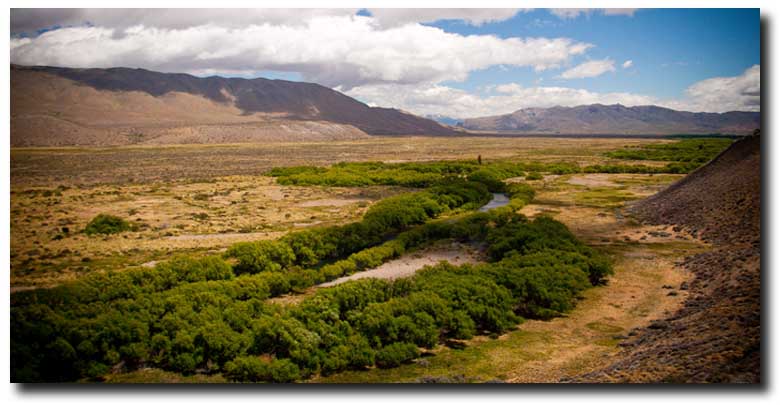 There are few places left in the world like the Chubut River, and fewer still that offer non-stop dry fly fishing for good-sized browns and rainbows. The Chubut is so remote, most of its trout have never seen a fly and you won't see a car, airplane or another human for 4 days. Most anglers fish exclusively with dry flies and loose count of the trout landed in the 12 – 22 inch range, with a few larger fish ending up in the net.

The 65-mile Chubut float starts at the "Vuelta del Rio" (turn of the river), where the river takes a 90-degree turn towards the Atlantic. The float passes through fishy looking riffles, runs and pools, almost entirely inside a private 250,000 estancia. Why 4 days? That's how long it takes to get to the next road. You can spread the float over 5 days, if you prefer.
Anglers pass through a variety of Argentine landscapes and the river will evolve from banks lined with willows to open, winding sections with cut banks and fabulous riffles where some heavy brown trout take hoppers and big stone flies.
All of the camping equipment is provided (including electricity provided by a small generator, a portable toilette, and shower facilities). Staff sets up Camp and prepares dinner. Clients have unlimited fishing time. The facilities are simple, however our outfitter, Jorge Graziozi, has perfected the logistics, so anglers want for nothing, except for more time on the Chubut.
Angler Adventures is offering a special rate $2,900 per person (normally $3,250) for the 4-day Chubut float for group of 4 or more anglers. The rate includes, 2 nights accommodations at Arroyo Claro, 3-nights camping on the Chubut, 4-days fishing, meals, drinks, camping equipment and transfers from Bariloche.
Click here for more information on Arroyo Claro and the Client reviews on Chubut Float.
This post is over 1 year old. Contact Angler Adventures for current pricing and discounts.